You made it, it works and it's awesome, but now what? You want to sell it but how do you get from the shop bench to the shopper? Fortunately, NextFab has a number of resources to help you get from making to selling.
Maker's Market
One of the simplest ways to get selling is through local craft markets. NextFab has hosted a number of community markets for makers and is involved with other organizations to help provide market accessibility to NextFab members.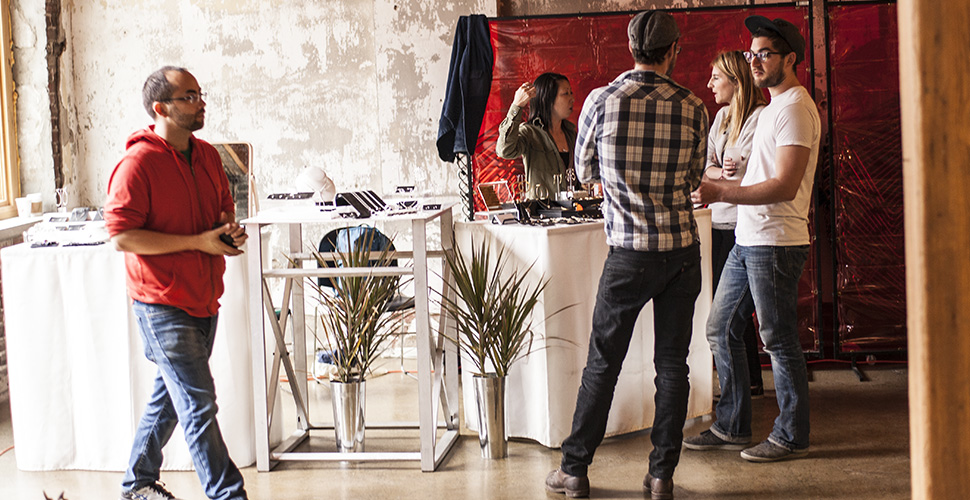 NextFab member Elizabeth Karasek is a design engineer for a helicopter company. She loves learning new (and old) manufacturing processes. Her insatiable interest lead her to NextFab, where she primarily focuses on jewelry making in the studio on North 4th Street.
Elizabeth explains how the markets have helped her sell her jewelry and also learn more about sales, "The maker's market was my first vending event to display and sell my jewelry. The markets focus on the community, are not very expensive as a member, and are a friendly, low stress environment that teaches sales skills. These markets allow me to understand what I need to work on and what I am doing properly in selling my work."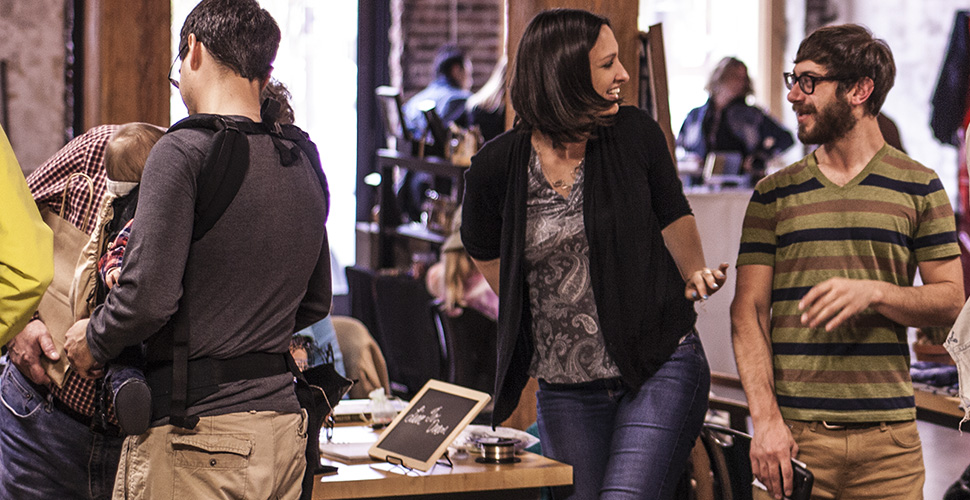 I have to admit, I was a bit nervous to be at the other side of the table because I usually attend craft shows for fun! – Elizabeth Karasek
Continuing, Elizabeth says, "The markets I have participated in within the last year gained me more vending opportunities. After promoting the market over social media and email, an old friend invited me to vend at a holiday party. A friend of mine also invited me to consign with the Schuylkill Center. I made some connections through the market with Nextfab members who recommended other craft fairs and events to participate in. Some local organizations were also suggested to me such as In Liquid and the Cosmopolitan Club. I firmly believe that creative people need to stick together and encourage each other!"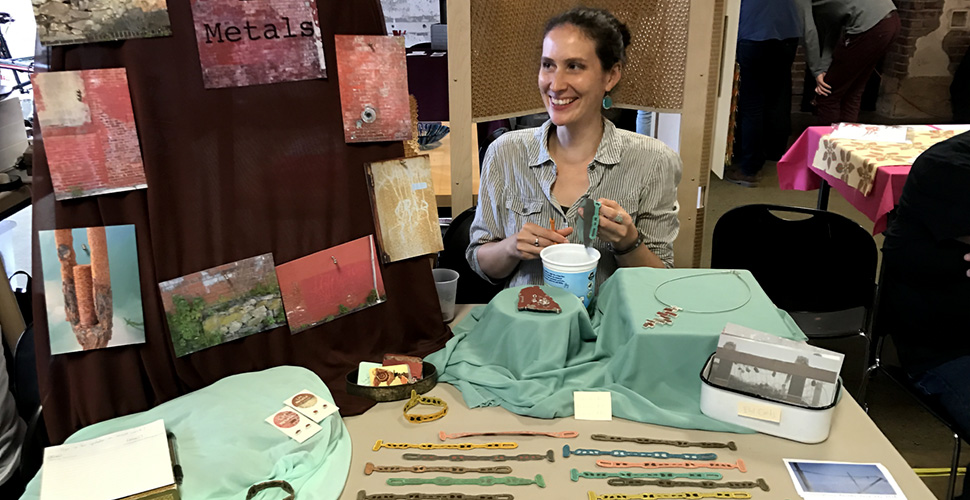 "The market helped me continue developing skills in presenting my work, guided me in adjusting my display, and encouraged me to begin pursuing other venues." – Julia Huntington
 Julia Huntington works in metals, found materials, photography, and textiles.  She started working in metals during college but took a break to focus on her degree in occupational therapy.  In 2016 she refocused on her art.  Looking for studio space in Philadelphia, she found NextFab.
Julia explains her work, "Much of the time, I focus on making intricate one of a kind art jewelry pieces. These pieces explore the private contemplative experiences engendered by large-scale, sparsely populated public spaces, incorporating materials or imagery from specific sites." She learned digital embroidery as part of the process for one of her pieces, and through learning the potential of the technology, she utilized it for production style jewelry. She continues, "Distinct pieces can be made from one design, and this can be presented for sale at an affordable price, rather than being oriented towards a gallery. The bracelets I developed are basically fabric chains: they are a digitally embroidered rendering of a photographed chain from a harbor."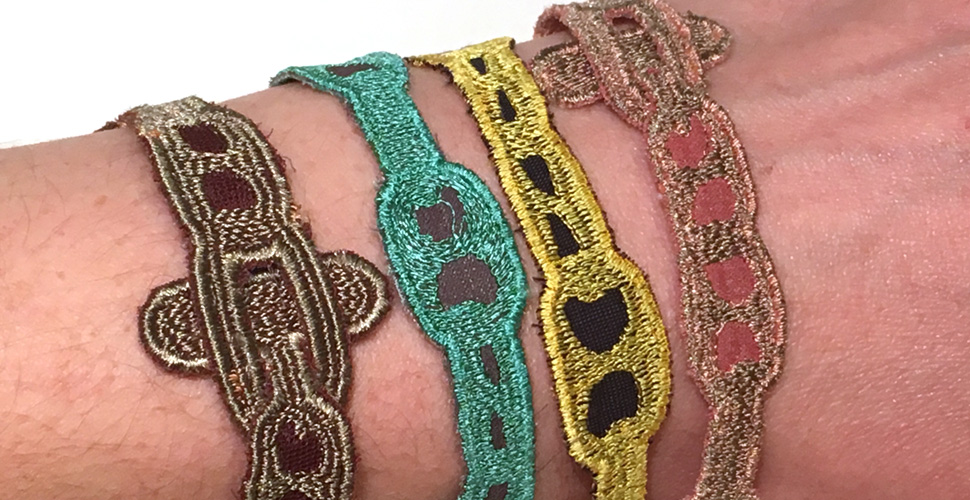 At the maker's market, Julia met another artist whose work was complementary to her own.  Networking with her helped her discover other venues for selling as well as stimulating ideas for new work. Julia continues, "I am still in the process of exploring other avenues, such as online stores, but am planning to start a catalogue on my website through which people can contact me if interested."
Marketing Staff Support
Just like the technical staff are available for ad hoc advice about projects, materials, and machines, Marketing staff are available to help members navigate taking their projects and products to fruition. NextFab's Assistant Marketing Manager, Marcelle Rice, is always ready to help:
"I make myself available to members who want to discuss digital marketing techniques for their brand. But I'm not the only one from the admin team that does this. Everyone from our CFO to our Education Manager is here to offer their advice to members. And even when there are questions we can't answer, we can always point someone in the right direction because there are a ton of great resources in and around the city. Our members are the best example of what NextFab is capable of and so we really like to show them off. We do this in a few different ways on our website, by featuring links to their crowdfunded projects or by representing their entire brand. And, as the one who manages NextFab's social media accounts, I'm always happy to share stories of our members' success with our followers."
"If you're working on any project, big or small, no one is going to just step in and offer to do the work for you, but what we can offer is to make the job easier by providing guidance and a fresh perspective." – Marcelle Rice
Another wonderful staff resource is Anna Solomon. Anna explains, "Our staff's skill set is constantly evolving and expanding. I am happy to help people navigate our staff expertise to connect them with the right resources.
Product Refinement and Business Incubation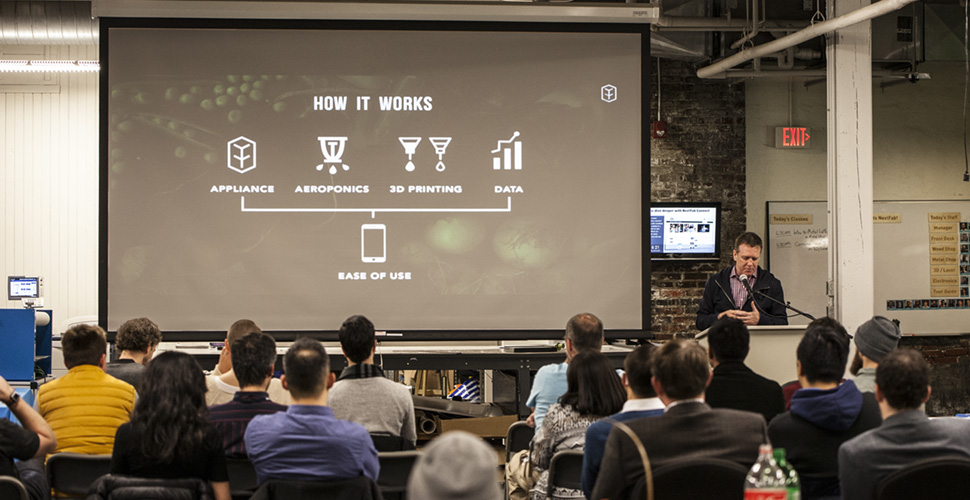 If you tend toward more tech oriented making, you may require a very different path than what local markets offer. NextFab's RAPID Hardware Accelerator is an exciting resource for technological hardware development. Through the RAPID program, tech start-ups have access to office space at South Philly and Wilmington locations, business coaching, workshops, events, business competitions and an impressive network of fellow developers, vendors, and investors. Essentially, it helps you take your product idea and turn it into a full blown business.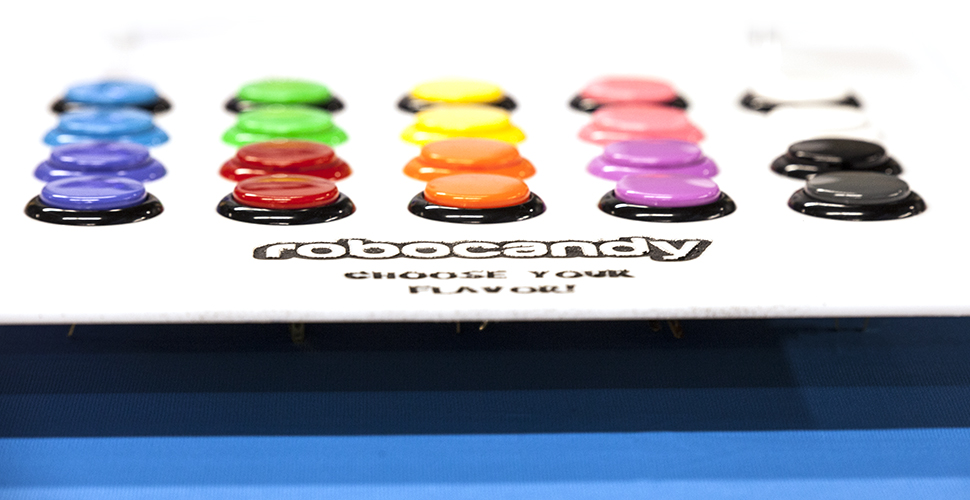 RAPID program director Todor Raykov explains, "The RAPID hardware accelerator program is a great opportunity for entrepreneurially-minded NextFab members to step up their game and decrease the time they need to spend to get their products to market. Long-time member Langston Clement of Robocandy (www.robocandy.com) decided to apply for acceleration in order to get access to consulting resources and an infusion of capital from NextFab. He graduated from the program in November of 2017 and is now one stop closer to realizing his dream of building and selling modular arcade cabinets for eSports tournaments and retro gaming enthusiasts."
RAPID participants span a broad range of technologies from educational to environmental to medical. You can learn more about the RAPID program and other venture services programs here.
"From Making to Selling" Events
NextFab has also developed a series of events designed to support entrepreneurs, makers, and enterprising artists in their journey from making to selling. These events range from panel discussions to individual speakers. On February 15th at our North Philly location we'll be hosting Earl Boyd, Director of Entrepreneur Services for Entrepreneur Works. Entrepreneur Works is a nonprofit organization that offers access to microloans, business training, and one-on-one guidance to hundreds of entrepreneurs each year. Earl will cover the first steps you need to take in order to create a successful business in his presentation: Getting Your Idea To Fly.
Register for the event below.
Sign-Up for Our Newsletter