How many times have you seen a jewelry DIY video and thought, "I can do that!" You get excited, buy all the necessary parts and tools, and then sit down and realize that you have no idea where to start. More commonly, have you ever seen a unique ring and thought, "I'd love to make that," but stopped there because you felt like you didn't have the tools, training, or any idea of where to start?
You're not the first (and certainly not the last) person to have these thoughts or feel like they have the passion but no direction. In this "Ultimate Guide to Running a Jewelry Business" series, we'll get into the more nitty-gritty details about running a business, but let's start at the beginning: harnessing your passion and setting a direction.
What motivates you?
What about jewelry sparks your interest? What part of this field catches your eye? There are many reasons to get into the jewelry-making industry. Maybe it's a passion for intricate, detailed work, a love of shiny things, or a drive to create a unique style or design that hasn't been done before. We've added some possible motivations below, but we encourage you to dig deep and find your reason for diving into this world of creativity:
Money: There's nothing wrong with a money-motivated mind. If you enjoy making jewelry and want to use it as a side hustle until it can be a full-time career, go for it.
Sharing your work: Not interested in making a ton of cash? We get it. Sometimes, it's just the satisfaction of seeing someone wearing or using the design that you so lovingly crafted that really brings you satisfaction.
The challenge: Have you ever considered how small and intricate some jewelry can truly be? That's not luck–that's time, patience, passion, and dedication.
You want Meghan Markle wearing your work: Okay, not necessarily, but maybe you want to be a household name. Having aspirations for your work to be widely praised is admirable

.
Understanding your motivation will help guide your next steps: pinning down your inspiration, finding your style, figuring out what pieces to create, and considering your materials. Your motivations may change over time, but we all need a place to start. 
Where does your inspiration come from?
Who or what inspires you? Is it your hometown? Your friends? Your family? Your dog? Probably not the last one, but we won't rule it out as a source of inspiration. Your inspiration helps guide your style—your internal vision.
NextFab Wilmington member and owner of the glamorous Cherné Altovise, Cherné Jean-Louis, gives her inspiration credit to her family for encouraging her to start her business. Growing up, her grandmom was a designer and her family shared a love for fashion. Her passion for jewelry design, inspired by her grandmom, and having the support of her family was just the spark she needed to start Cherné Altovise. 
Kristi Habedanck, another NextFab member and founder of m. et al, said her inspiration for her business came from her first-ever class at the Main Line Art Center. The instructor, Layne Freedline, asked, "Kristi, have you ever heard of cuttlebone casting? If not, you should Google it." 5 years later and she is designing and creating sterling silver rings and pendants using this cuttlebone casting method.
By the way, if you want to learn more about the technology we provide to support techniques like cuttlebone casting, schedule some one-on-one time with our jewelry-making experts!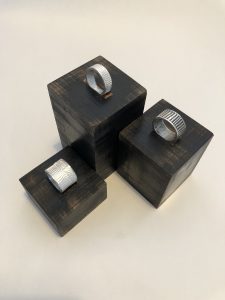 If you live in the Philadelphia area and are struggling to find your inspiration or spark, we recommend taking a walk down Jeweler's Row on 8th and Sansom.
Get a feel of the types of businesses that exist in the jewelry industry and breathe in the inspiration. Jeweler's Row also has an association called the Jeweler's Row District which holds events, block parties, and other social gatherings to get to know other jewelry makers in the area.
Don't feel like leaving the house? Create a mood board! You can do this in Photoshop, Canva, Pinterest, or use a corkboard on your wall. Simply cut out photos from magazines and articles that inspire you, print them out, and hang them up to see your vision. 
Inspiration can come from anywhere (yes, even your dog), so keep an eye out for it.
What is your style?
Are you more bohemian? Glam? Minimalist? A mixture? Define your style to start, but don't feel limited. This can change with time and branch out into other areas in the future, but right now, we're aiming to pin down a starting point. The mood board we previously suggested can come in handy with this part too. Take time to figure out your color schemes, patterns, and brand. Do you like making small, twisted infinity rings? Do you prefer Irish jewelry and want to make your own Claddagh bracelets? This is a good time to have those concepts in mind.
Take some time to research what has been done. The aim isn't to copy a previously made design, but to be inspired by it and learn about new methods of creating–again, think about the cuttlebone casting example we mentioned earlier. Researching what is out there can also help you understand what areas of design may have a gap, currently, and where your business can branch into. See what has been done and innovate on it.
When considering what style you want to make, it might also help to envision your own style and how you would like to incorporate your jewelry into your everyday looks.
For example, Cherné brought her personality and style into all of her jewelry pieces. She combined her love of fashion and artistry to create bold, beautiful, and sparkly jewelry that will make you feel like a million bucks—just look at her Instagram! Putting your creativity and uniqueness into your pieces will make them stand out.
View this post on Instagram
What type of jewelry do you like making? 
Better yet, what pieces of jewelry do you like wearing? Whether it's rings, necklaces, earrings, bracelets, or others, determining what style of jewelry you love and want to make is essential. As Kristi says, you should "Wear your jewelry every day and everywhere! You are a walking, talking advertisement for your products." 
Being your own model and showing off your jewelry is a great segue into a conversation with a potential customer or jewelry-making mentor. Knowing what you want to make helps decide your tools, methods, process, price point, and more, so having a general concept in mind helps plan out the more detailed parts. You can decide to make multiple types of jewelry, just factor that into your plan later on.
What materials do you want to use?
This question always leads to the next one, "Even if I choose my materials, I don't necessarily have access to the tools I need to make my jewelry." No stress, we'll talk about that in just a second.
There are endless possibilities for materials options. We've added a few below:
Silver

Gold

Platinum

Stainless steel

Titanium

Wood

Gems

Beads

Stone

Glass

Clay

Shells
Some jewelers stick to common materials, while others try out-of-the-box techniques. Lia Huntington, NextFab member and owner of Brick & Wire, collects images and materials from her surroundings and incorporates them into her jewelry and sculptural pieces. Her current products include fragments of brick set in silver stud earrings, layered enameled earrings, and digitally embroidered bracelets.
View this post on Instagram
Jewelry can be as simple or complicated as you can imagine, but don't let the fear of not having the tools or instruction be the reason you don't pursue your passions. If you're looking for a private studio or shareable tools to jumpstart your journey, NextFab has what you need. We offer shared and private workspaces, tools, machines, classes, resources, and access to experts that can help you feel more confident in your process. Our expert-led classes on soldering, annealing, bezeling, enameling, and personalizing will help you feel confident in your work and increase your production quality immediately.
Bonus Question: Have you had any formal training in jewelry design? Would you like to?
If so, you're already on the right track. If not, no problem. Here are some ways to learn more about the jewelry industry:
Earning a 4-year degree
Many colleges and universities offer majors in 3D design and jewelry design. These types of programs will serve as a great foundation for your education and offer perspective on other disciplines in art.
Here are some colleges in Philadelphia that offer 4-year degree programs in jewelry:
Apprenticeship
What's better than learning from an expert? Jewelry is considered a trade skill where the best way to learn is by doing. Oftentimes, more established jewelers will allow a person to apprentice under them so that they can share their skillset. Before you begin an apprenticeship, consider the type of work that this jeweler does and if the methods they are using are the type of skills you want to learn. This is a great way to connect with other makers and learn about their experiences.
Workshops/Courses
Workshops and specific jewelry courses are the perfect way to branch out and expand your skillset. You can try a new technique, learn how to grow your business, or take it to network with other creative minds. Whatever your motivation is, here are some educational opportunities NextFab provides:
Jewelry Classes

–  Our jewelry-making classes teach you how to make your own jewelry, use our hand tools and equipment, and learn a new technique that you can add to your products.

Artisan Accelerator Program

– If you're looking to jumpstart your business, NextFab offers an 8-week experience twice a year for 6-8 entrepreneurs that gives you the essential tools, support, and structure to focus on the things that matter to build viable businesses.
We also recommend checking out BEaJEWELER for resources to get started in the industry.
View this post on Instagram
If you are ready to turn your passion into a career, surrounded by inspiring and creative minds in the jewelry industry, reach out to NextFab today to get started. Our classes and one-on-one private training sessions are suitable for makers just graduating from art school or looking to enhance an old skill. They will give you the expertise and confidence to create and sell the jewelry you envision. For more tips and tricks about starting your business in jewelry design, stay tuned for more blogs within the "Ultimate Guide to Running a Jewelry Business in Philadelphia" series.
Sign-Up for Our Newsletter