NextFab's RAPID Hardware Accelerator is more than just a business incubator or a product development program. The RAPID program has become a magnet for innovative thinkers and doers who are actively designing the future. The Fall 2017 cohort were such a diverse and interesting group that I wanted to dig a little deeper into who they are, where they come from and what makes them tick.
I was always the IT person in my family. Whenever something was broken, they would bring it to me and I would fix it. I had a knack for technical things, building things, fixing things.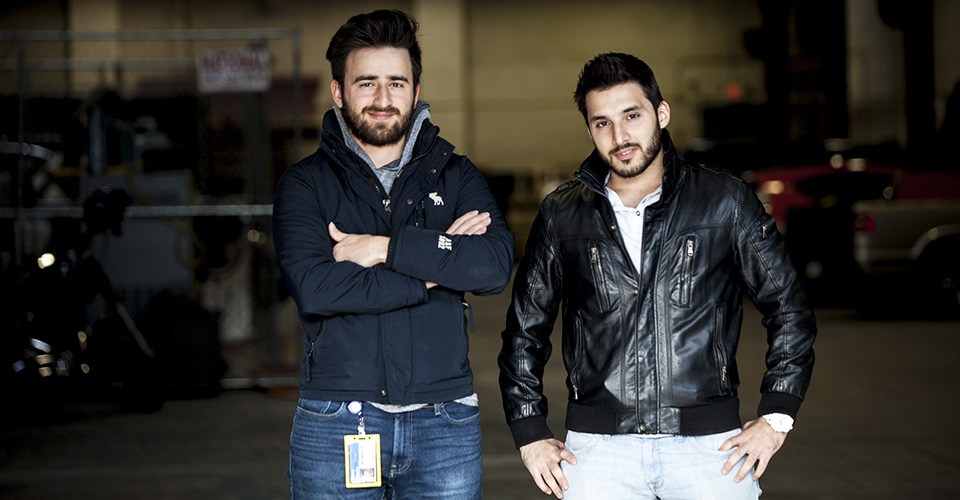 Alperen Topay
The son of Turkish immigrants, Alperen Topay was born in a Berlin ghetto. He lived there until the age of twelve, when his parents, seeing few opportunities for Alperens future, decided to move back to Turkey. His education and cultural access was better in Turkey, where he attended high school through his junior year, when an exciting, but intimidating option opened up to him. His cousin had gone to a boarding school in Connecticut and his uncle wanted to help him go to school there as well. Alperen tells me, "When my uncle presented this opportunity to me and I was ready to take it. I had always wanted to go to the US, a country where technology starts."
Alperen made it to the US and graduated from the school, setting him up to attend college in the US. After narrowing his options to strong engineering schools, he decided that Drexel's urban location in Philadelphia best suited him. He enrolled in the engineering program and began to pursue his dream.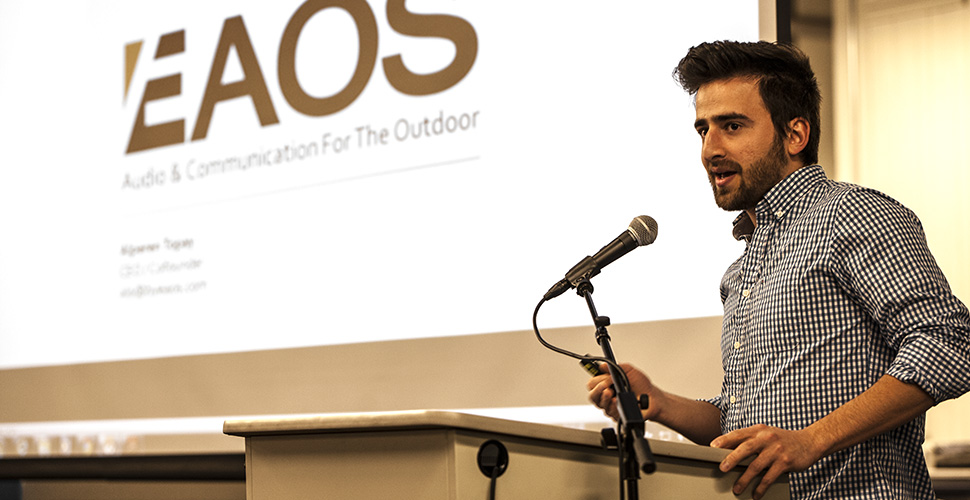 Alperen's uncle had owned a small motorcycle when he was younger, living in Turkey, "A 100cc bike. My cousins would ride it around and I would ride it when I could. I thought it was really fun, and my dad was into adventure riding, but I never really owned a motorcycle until my freshman year of college. I needed a vehicle that didn't have parking issues. I got a scooter my freshman year and every year I slowly upgraded. I've owned a total of 6 bikes.
Motorcycles met engineering and EAOS was born.
"During my junior year at Drexel, I was doing a 6 month co-op. My co-op job required that I commute -on my motorcycle," Alperen explains, "I was stuck in traffic a lot and being stuck in traffic on a motorcycle is really boring. My roommate recommended using headphones and I immediately saw a lot of flaws with headphones that were not designed for that purpose. I looked into Bluetooth helmets but they were problematic because of wind noise and other problems. Headphones didn't have wind noise issues but were uncomfortable, and Bluetooth helmets were comfortable but the audio quality was bad. I thought, why not combine the two? I spoke to my roommate (co-founder Emin Faki) about it. I told him the problems I was having and that I couldn't find any solutions online. He said, 'Yeah, I have the same issues,' I was like, 'Why don't we build something?'" Fortuitously, Emin was a marketing student. This gave EAOS a strong foundation in engineering and marketing. "We immediately started talking to riders, trying to understand the problems they might be having. Emin would wave at a motorcyclists stopped at red lights to talk to them, he would stop them.. well, they wouldn't all stop! But if they did stop, he would first see if they were wearing headphones. A lot of the time the answer was 'yes'. A lot of motorcycle riders wear headphones. We started to understand that other riders wanted a better solution."
EAOS' flagship product, SlimBuds, are Bluetooth earbuds that fit comfortably under any helmet which make them ideal for activities that require wearing a helmet; such as motorcycle, bicycle, and power-sports. They don't fall out and provide clear audio at any speed. They come with a remote control which allows the rider to control his/her audio with zero distraction. EAOS is also developing an app that provides awareness and communication features to the rider, such as siren and horn detection or single ear monitoring.
Having successfully raised over $100k through their Indigogo campaign, getting excellent product feedback from motorcyclists and now completing the RAPID Hardware Accelerator program, Alperen's company is off to a great start.
I asked Alperen, reflecting back on his life, if he'd imagined that he would end up where he is now. "Back then, I never thought I could own a business, manage people.. that stuff was always out of the question for me. I just hoped I could get a regular career, be an engineer. When my uncle said to me,'Hey, you should take this opportunity' [to go to the US] I was ready to take it. I didn't know how it would happen. My family didn't have the money to send me. I didn't know how to get a Visa or do any of that stuff. I didn't have anyone around me who did. But then one day this opportunity presents itself. I accepted it and it changed my life. It was a scary experience, I came here by myself at 17 years old, it was a leap, but you can't be afraid to take advantage of those opportunities."
The NextFab community is so broad. I wasn't expecting to meet all of the lawyers, investors and people who can actually help us out. We met them through day-to-day interactions and the programs that they organized. Those networking opportunities are warm introductions versus trying to meet people out in the world where you don't have any connection at all. And the other companies in the program were great, we tried to share our experience as much as we learned from theirs.
The Fall 2017 Cohort graduated on Thursday November 30th, but Alperen and his team have an office space at NextFab and are active members of the startup community here.
"They made a ton of progress during the course of the RAPID program, but what I really appreciate about them is that they are humble, focused on delivering great customer experience, and careful when making decisions that would have a long-lasting impact on their business," said Todor Raykov, who runs the accelerator program.
If you have a great hardware concept and want to join Alperen and other teams at NextFab, we are accepting applications for RAPID's Spring 2018 cohort through January 18. Learn more about our RAPID Hardware Accelerator and apply here.
Sign-Up for Our Newsletter