The Genesis of NextFab's Robotics Program
NextFab has been working toward a robotic arm for several years. It took a lot of research, training and development as well as a healthy amount of physical and mental work to get a working robotic arm to materialize. Matt Watson has been the force behind, around and inside the robot. As we near completion of the setup of the machine and its custom built environment, I spoke with Matt about the process of getting the robot up and running and what to expect when all systems are go.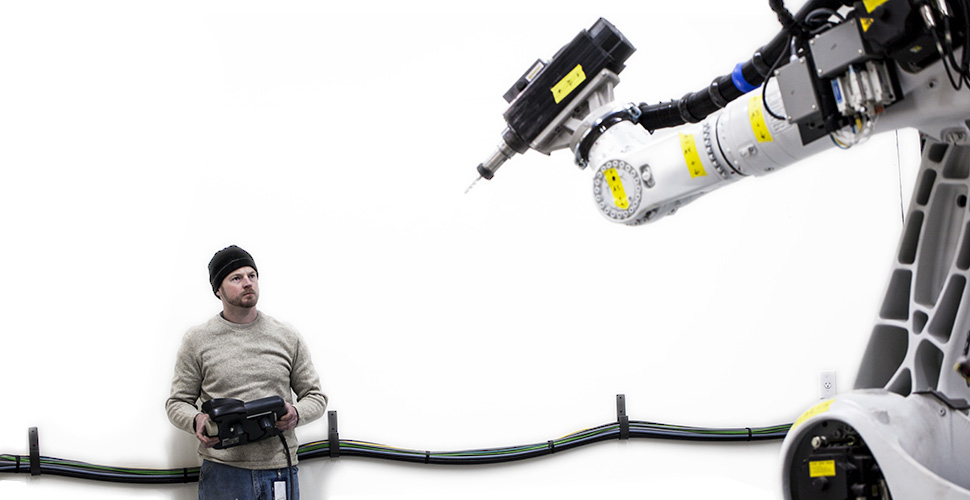 Matt tells me, "About two to three years ago we started exploring options around robotic milling. NextFab's vision is to continue to offer cutting edge technology and tools to our community, and to continue supporting makers, entrepreneurs and those who want to learn. The world has shown that robotics is a rapidly evolving industry with a wide variety of applications and uses."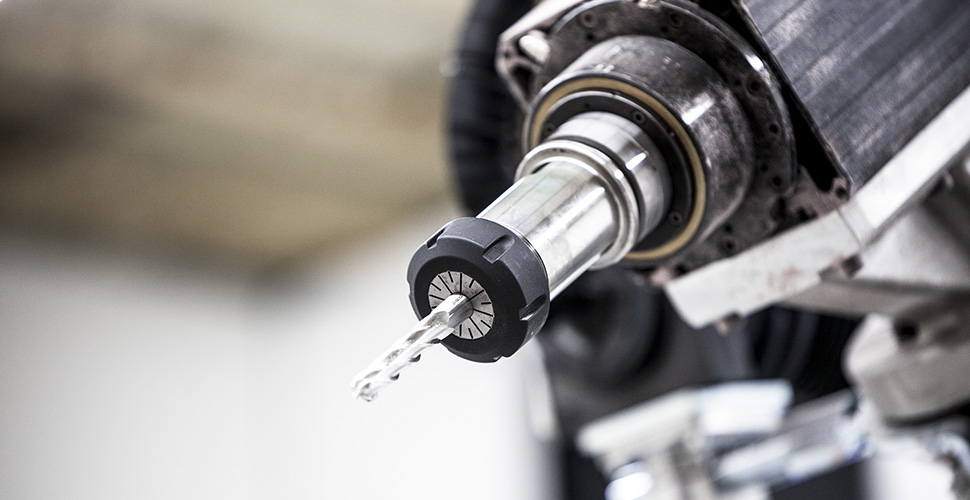 Meet the Robot
The robot is a Kuka KR210. It is a former medical robot used to treat tumors in cancer patients. Consequently it's in great shape and a lot cleaner than one would expect from a used industrial robot. The Kuka is the third robotic arm that Matt has worked on. Matt worked with a number of other arm systems prior to setting up the Kuka, including a previous candidate for NextFab. The process of learning and working with these systems deepened his knowledge of robotics.
The current machine was sourced through a PA Department of Education grant program for job training. The program is called RERAMP (Readiness for Employment in Robotics and Advanced Manufacturing Program) and the goal of it is to provide training and assistance with job placement in the manufacturing industry. The funds from the grant enabled NextFab to source the current robotic milling system and build the enclosure and classroom to support it. While the program is currently underway, Matt hopes to have the "Intro to Industrial Robotics" class up and running in a few months.
Man vs Machine
As an expert in metals and metal processes, Matt is well versed in CNC machining. Working with "x", "y" and "z" axes and material considerations are second nature to him. However, working in more advanced robotics in "open space" requires a deeper dive and an evolution of his skillset.
Matt explains, "My experience with CNC machining, logic controllers, electronics, programming, and my nerdy thirst for knowledge have helped significantly. Those skills have been honed and developed during my time here at NextFab."
Matt expanded on those skills in robotics training, attending formal training at Fanuc Robotics. He also trained in toolpathing with NexGenCAM and with Robotic Solutions Inc.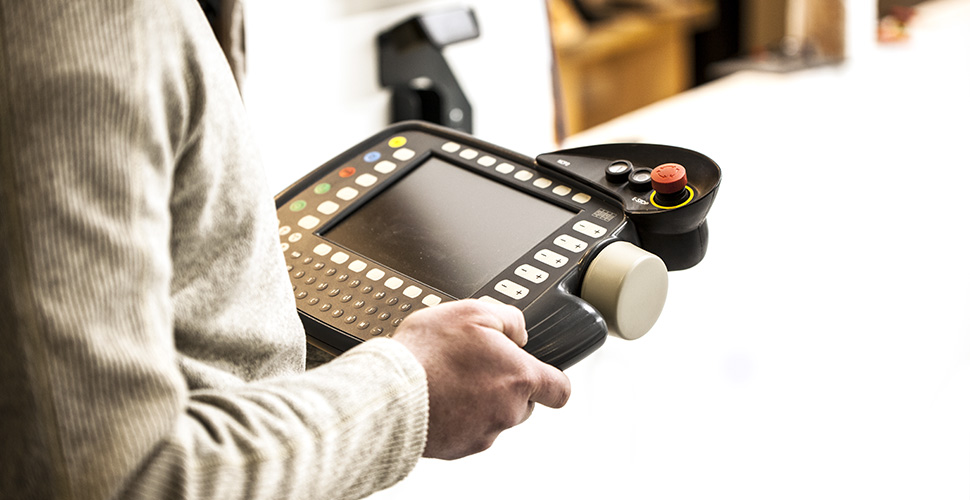 "I've really enjoyed just working on and dreaming about the capabilities that this robot can offer. I classify myself as more mechanically inclined, rather than artistically gifted. To be able to make things I normally couldn't by hand is incredibly exciting. This is quite literally, the cutting edge of technology." – Matt Watson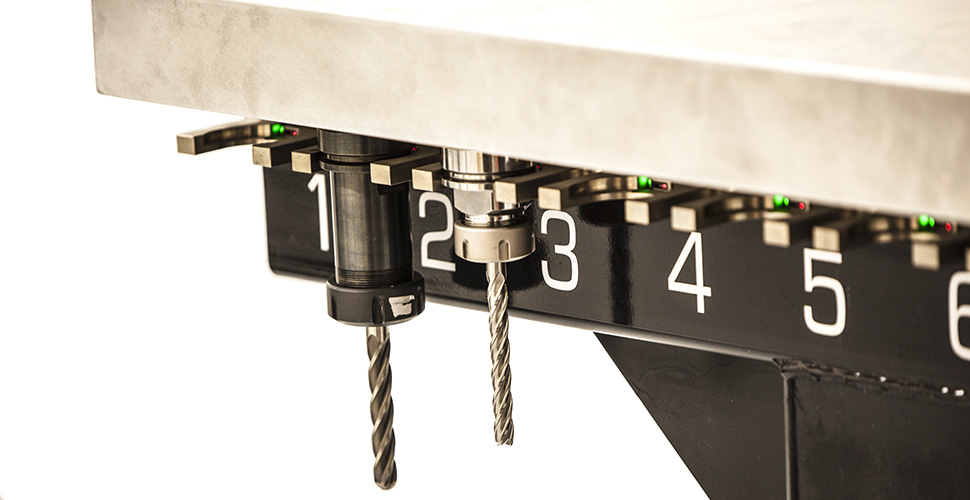 What Can You Do With a Giant Robotic Arm?
The main arm configuration will be with a milling head. NextFab members who work 3 dimensionally in wood, foam, wax, etc. will appreciate the robot's capabilities. Carving prototypes, artistic shapes, or creating replicas are all great robotic arm applications. Matt tells me, "The Kuka offers the unique ability to make things like statues or 3D models with features that other equipment wouldn't be able to accommodate. Often, parts that are of a larger scale or that have complex features require creating multiple 'slices' of the model. The slices are milled separately, glued together, and seams are blended in finishing. We are aspiring to offer a giant 3D printer, hot wire cutting and 3D scanning with a robot arm."
What does the future of this technology hold? Matt explains, "Additive manufacturing (3D printing) is very rapidly evolving, followed with CoBots or collaborative robots. CoBots are "smarter" robots that are human-moveable to "teach" points and work in unison with humans safely. Working in close proximity with large robots wasn't something that was possible before today's technology."
Want to Learn More?
An exciting aspect of the industrial robotics program at NextFab is the educational component. More than just tool instruction, it is real, experience-based, hands on training. The industrial robotics class is one of many in NextFab's Advanced Manufacturing Readiness Program.
With the support of the Pennsylvania Department of Education, NextFab is offering a unique hands-on learning experience with the tools and technologies that are powering the return of manufacturing to the USA.
Technical experience is not required. There are classes to suit any schedule – weekdays, weeknights, or weekends. Most classes are just 2 hours, and participants will have additional time in the shops to interact with instructors, practice new skills, and get creative.
To learn more and apply, follow the link below.
Sign-Up for Our Newsletter