If leatherworking is simply working with leather, couldn't we say that upholstery is "fabric-working?" No matter what it's called, upholstery is using fabric to cover, pad, or upgrade the furniture. Although traditionally for older generations, these skills can be applied to create a huge range of innovative, modern, and sleek products. With the diversity of goods made from leatherworking and upholstery, this year has given designers and entrepreneurs the adaptability they need. With skills in upholstery and leatherworking, you could reach new markets as they emerge. Let's explore how upholstery and leatherworking can be used to create exciting new products for the work from home (WFH) community.  
Why upholstery and leatherworking skills could improve your business
Leather is a fantastic material for artisans to get comfortable with. There's something about it that radiates a certain level of quality and class. It's like if Kate Winslet and Hugh Grant were material, they'd be leather. Leather's association with class and quality derives not from its British accent, but more from its durability and long lifespan. With fabric, there is an endless array of designs and patterns, meaning your creativity and vision is really the limit. 
The versatility in leather and fabric is visible even just within our NextFab community, as our members create entirely different products with the same materials and techniques. OrganizeYourTech uses leather to create neat storage solutions for all those modern-living gadgets while Destined Goods uses the same material to make leather-covered coffee cups. 
View this post on Instagram
Upholstery and leatherworking also complement other design skills. By incorporating fabric or leather into pre-existing woodworking projects, designers are finding new avenues for their work. Artisans with skills in woodworking can take their products to the next level by incorporating exciting colors and vibrant patterns. By learning the art of upholstery and of leatherworking, entrepreneurs can create entirely new and elegant products or can give existing items a new lease of life. Either way, they offer great opportunities for craftsmanship and innovation in emerging markets. 
What products for the WFH community can you make through upholstery and leatherworking?
Despite the extra minutes of sleep and the comfy work attire, many aspects of working from home have brought challenges into our lives. As a NextFab maker, you can sell solutions to the WFH community with creations that organize and brighten those workspaces. With upholstery and leatherworking skills, artisans and entrepreneurs can create products for a tidy and aesthetically pleasing home office (especially marketable to those people without the skills or time to DIY). 
Here are some of our top ideas for artisans and entrepreneurs who want to help the WFH audience using upholstery or leatherworking: 
Leather or fabric desk organizers to keep the workspace clear but sleek. 

Plant hangers that use leather straps to bring the greenery from the garden into that Zoom background. Leather straps can also be used for suspended wall shelving (at least our books can be one thing that's in order during 2020.)

Upholstered room dividers to split your office from your partner's (and make you forget that you are literally in the living room.)

Clocks made from leather or fabric to keep an easy eye on when that working day is done. 

Coffee cup jackets and leather coasters to cater to that lock-down coffee addiction and stop the Wawa cups from staining.

Wooden furniture with leather or fabric drawer pulls to offer sleek storage solutions with some color and class. 

Leather cases for all the tech products in our at-home offices. 

Upholstered box pillows for dog beds (we all know they need to sleep more now that dog walks are the highlights of the human day) or floor pillows.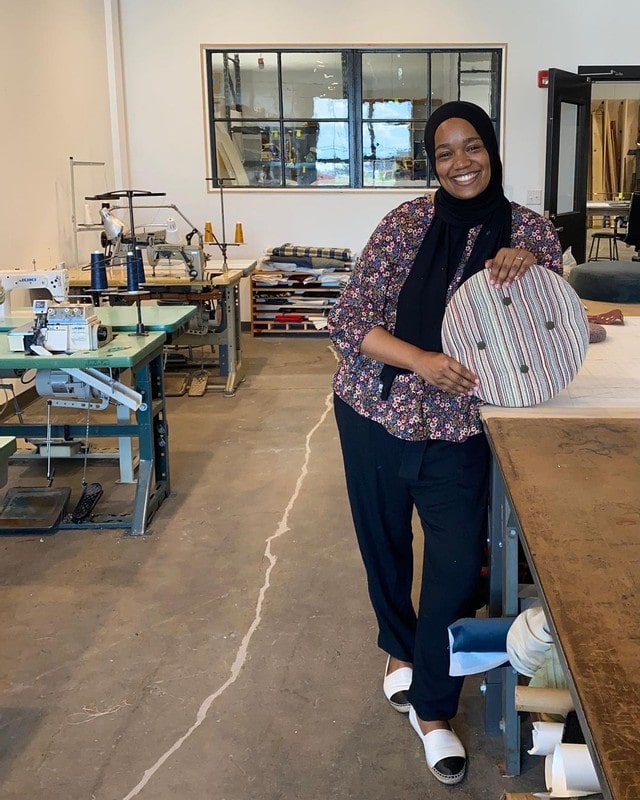 Not sure where to start?
If your creative juices are running about upholstery and leatherworking, sign up for NextFab's classes to learn the skills and turn those ideas into reality. You can discover the basics of leatherworking by making a custom leather belt. Or even dive into upholstery by creating your own tufted cushion. Check out all our amazing textile classes and tools here. NextFab has the space and expertise to help anyone get started on a new project, so please reach out to learn more about what our membership can offer you and your innovative mind! 
Sign-Up for Our Newsletter