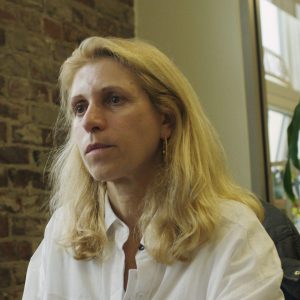 Break Through is a podcast series about making. Making discoveries, making a difference in the community and making the world a better place. It's the stories of startups and inventors who are developing products that have social value by solving real world problems. It's about artisans and entrepreneurs who have broken through the mold to live their best lives.
Welcome to episode number three of breakthrough, a NextFab made podcast series. I'm your host, Ron Bauman, founder of Milk Street Marketing, and a member of NextFab. Our guest on this episode is Maria Schneider, a visual artist who originally hails from Madrid, Spain, and holds degrees in law and finance. Maria is a beautiful example of someone who took their passion and turned it into a profession. Her work is on display at an impressive list of corporate locations and art galleries throughout the region. We started by talking about how, through a love of digital media and beautiful things, she found lasers and inspiration in urban architectural landscapes.
Ron Bauman:
Maria, thanks for taking the time to join us here at NextFab South Philly and speak with us.
Maria Schneider:
Thank you. I actually love to come here and I come here very often. Sometimes weekends, sometimes during the week, but I at least three, four days a week.
Ron Bauman:
Are you a full time member?
Maria Schneider:
I am a full time member, yes. And I spend… Some weeks I am here every day. Sometimes from 10 to 10 or sometimes a little less.
Ron Bauman:
Wow.
Maria Schneider:
But, yeah.
Ron Bauman:
That's awesome. So why don't you tell us a little bit about yourself?
Maria Schneider:
Well, I am an artist and I'm really from Spain. So I moved here and then I found out that art was my passion even though my background is in law and finance, which is what I came to the U.S. But, after that I started working with traditional media and little by little I found, well I found lasers. I was working with Philadelphia, and I took out to a NextFab and I found out that lasers existed. Yeah, I found lasers. Because I don't come from the technology field, for me was kind of like a new thing and I really wanted to work with that. So I started using lasers into my art and that's how I came out to be a member of NextFab and I started doing that.
Ron Bauman:
Awesome. Where are you from originally?
Maria Schneider:
I'm from Madrid, Spain.
Ron Bauman:
Oh nice.
Maria Schneider:
But I have been here forever, so.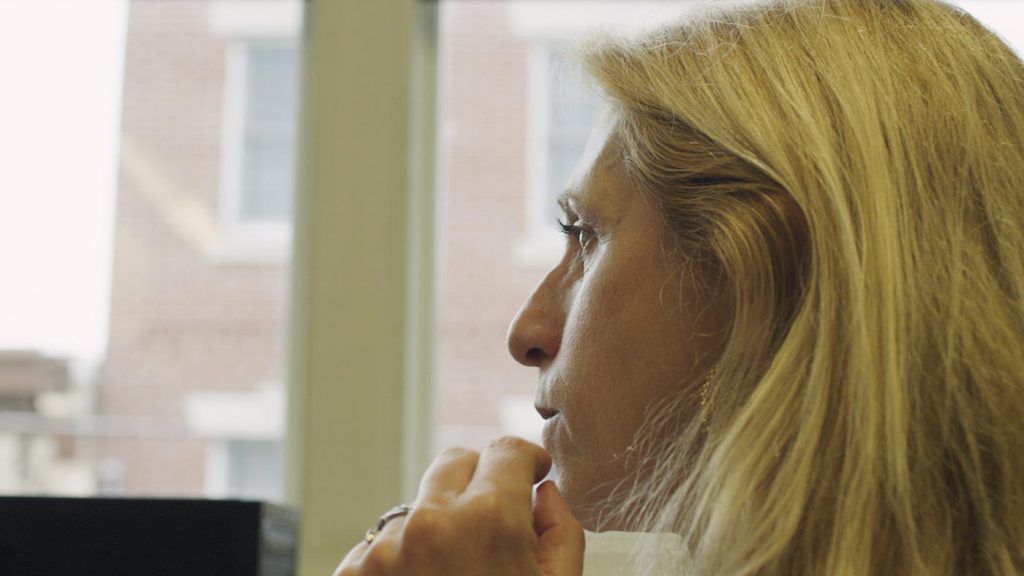 Ron Bauman:
And you came here for work professionally, for law and finance?
Maria Schneider:
No, no, I came here as a student. I started to study a masters. I came to study a master in finance. I studied law and then finance and that naturally informs a lot of my work is very conceptual in some ways. But then I was in corporate for a while and decided to become an artist because for me it was a way to master the expression, like some people write books, and I thought I could really do more, much more like with my… visually, and that's how I came out in the artist. And I didn't like the corporate world and I end up just doing this full time.
Ron Bauman:
Have you always been passionate about art?
Maria Schneider:
Yes, I always like art but is for me… Yeah, always love art. I like beautiful things. So anything that is beautiful, which is a very broad concept, but it's not that I went to a museum when I was little, I never did that. But I always like beautiful things and I always wanted to express myself, so for me art is a way of self expression more than anything else.
Ron Bauman:
And now you're selling your art through your website, mariarschneider.com?
Maria Schneider:
No, actually… Well, I do sell it through my website, but it's not directly. It's more my presentation card. I work mostly with art advisors and I… When they call me and then they see my work, they ask me to present proposals to specific spaces. So most of my work is done on commission for the people that, they liked the work and they have a specific space.
Maria Schneider:
And all my work is very specific to where I do it, because I work a lot with cities. And last few years I have been working specifically with invisible cities, is what I call. In every part of a city that is certain areas that nobody wants to see or they have been demolished, so destroy or decay. And I… My idea is to be in all that that is invisible, or people don't want to see, to the forefront. And that's how I try to work that into my art.
Next, Maria explains how she aims to tell the hidden stories and history of neighborhoods, where she finds inspiration, and how she fuses technology and art to create a unique narrative form.
Maria Schneider:
What I do is, that for me to bring to visibility, to this parts of the city, I found out that LEDs… I love technology even though I didn't really… Technology is very new to me in so many ways, but anything that is really new, for me it's very attractive. When I started working with the lasers, then I discovered, well you take sun light and then you applied to the image, then you change the perception.
Maria Schneider:
So I you started working on layers. Like every perception, you look at something and you have three layers, like basically it's your knowledge, and I try to highlight what you don't want to see with LEDs. So I started incorporating that into my work, try to highlight what you don't want to see, but at the same time makes you think about it. So it's like your first round. And then I create kind of the different areas of the city built into that.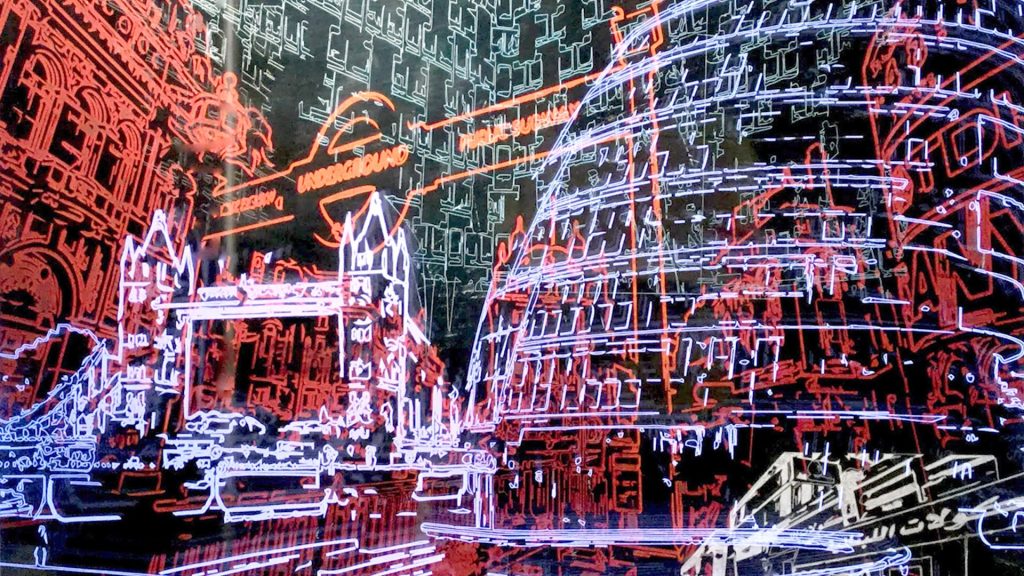 Ron Bauman:
So it's a lot of cityscapes.
Maria Schneider:
Yes, I do now, mostly, I do cityscapes, and the cityscapes are because of that, for example, did you go to Kensington in Philadelphia?
Ron Bauman:
Sure.
Maria Schneider:
Kensington's an area that has been… It was really decay and it was really a blight. And in the last few years, a couple of years, maybe three, it has been changing, gentrifying, but there are many bones in that part of the city that they disappear. There used to be a lot of industry and that was demolished. And with the industry, you change the makeup of that neighborhood. Kensington, when you go to Kensington, there are many areas that have disappeared or the industry has moved away, but there are still many buildings that, they kind of like have a history. So the idea is to bring that, to kind of like tell people about it.
Maria Schneider:
Like, there was something here that you don't know, but it was here. So I will have a landscape and a cityscape of Philadelphia, the very nice areas that everybody wants to see, and then incorporate that with areas that they are invisible to most people because, well, they don't go there or they have disappeared.
Maria Schneider:
The same thing, for example, with the Parkway. I did the series with the Parkway with InLiquid and then what I did with that is… The Parkway came about to be because they, they demolished about… I mean all the industry, like Baldwin Locomotive was on the Parkway in the, like, hundred years ago. So when they demolished that, all the people that work, some those going bankrupt, but other people have to move away. And then they beautiful Parkway. So there was a changing neighborhood by the change on the history of the buildings of the neighborhood.
Maria Schneider:
So it's kind of like bringing the history back to the present with the LED,  lasers and the landscapes, so.
Ron Bauman:
Awesome. Where else do you find inspiration for your art?
Maria Schneider:
Actually, I am very… I have something, it's called, like, the euphoria. Which, ideas is like… and always like looking at things and thinking how you can do something with that, and change it. So, many of the ideas, just looking around. I am always driving around. I go to the most remote areas of the city, and not only of Philadelphia but in other cities. And I tried to find the places that people don't go to, or people that they find the other, kind of the edge of the neighborhood. And I explore it constantly, everywhere. When I go up to a new city or city I have been to, I go to all the places from the nicest places to the places that people really don't want to be. So for me, I just love that. It's very lively. I love cities.
Maria goes on to tell us about her experiences as a member at NextFab, what entrepreneurship means to her, and the benefits of being part of the making community.
Maria Schneider:
Actually I find it a very creative, very enlightening community, and I even, when I could do some of the work in my computer at home, I love to come here because I think that is a lot of things that just…with seeing what other people are doing. Even you don't talk to neighbor, everybody's very, very friendly but it's very focused, so everybody will be working on whatever they are doing. I always ask people, "What do you do? What's your company about?" And it's because for me, I'm extremely curious and always, like, intellectually very… My curiosity is like, "I want to know about everything I can know." And I just see here there's so much energy of people that just is very inspiring to me. So I love to be here for that. Like, everybody is very young and very kind of, like, go and get it and do it that I just love that, so.
Ron Bauman:
Do you consider yourself an artist or an entrepreneur?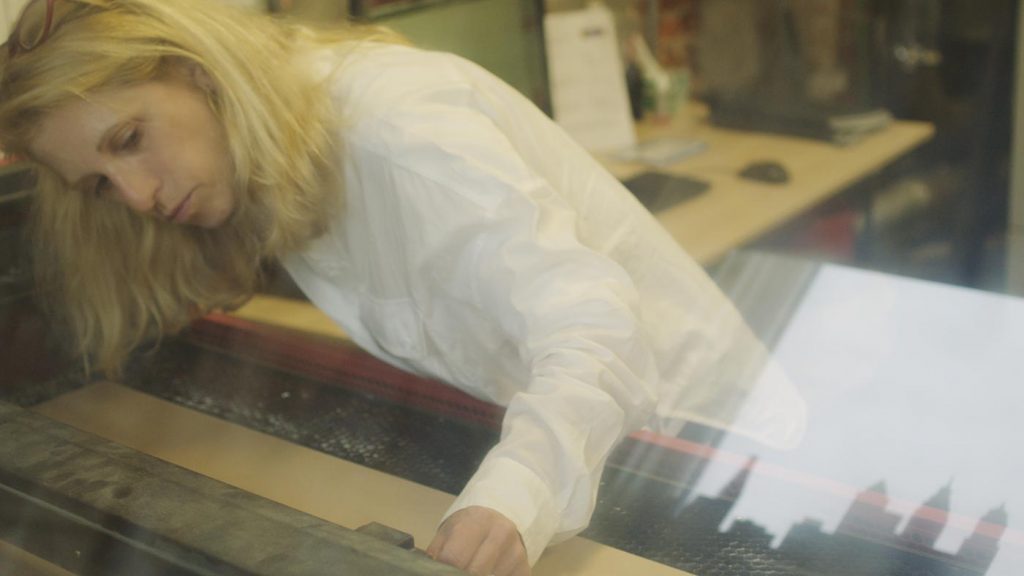 Maria Schneider:
Both. Because, I mean, artists is very nice and you can do all these nice things, but you have to sell it. Otherwise you have to survive because, you know. For me, so it's both. You have to sell your art. And that's how I consider myself both, so.
Ron Bauman:
That's awesome. So how are some of the other ways that NextFab's helped you as an entrepreneur?
Maria Schneider:
Because, many times when I have specific issues of, like, the building of the process. For example, if I have to build a frame, well, I am not a carpenter, but they will help me. They help me actually to build my own frames, which now I don't do myself, but I had to learn how to build them to really have somebody else do it. So they helped me in every question. Like today I had two questions about, I was trying to do something with Illustrator. I asked them. So it's always very supportive community that will tell you, "Oh, this is the way you do it." There is a lot of expertise here, a wealth of expertise, and I love that. So it's kind of, like, really nice.
Ron Bauman:
Awesome. So what advice would you give to other entrepreneurs looking to venture into this type of art form?
Maria Schneider:
I will say, just come on and start trying and start, like… Come here and start being curious. And you can always, just by looking around, you'd have an idea. Come and see how you can execute the idea. So I feel that's very important because you will have the support and you come up with an idea. They will kind of, like, help you to go along and then you can do, you have the equipment, and you have the technology and the expertise, too. I mean you have to do it, but they can give you kind of a push. So that's why.
Ron Bauman:
So I guess, you know, one of the things we really like to do really kind of draw into the heart of the passion and the inspiration. Is there anything that you think, no pun intended, but sparked some of the creative juices in you to sort of go in this direction with your art? I mean, what made you choose LED lighting? I mean, you could have produced this art in numerous different ways.
Maria Schneider:
Because I thought LEDs… Because I think LEDs have very… Because I love light.
Ron Bauman:
Okay.
Maria Schneider:
And I love, like, I will love… I'm not an engineer, but I will love to learn everything about light and how light change things. Like, when do you project like different ways, do you change the perception of things? And even is like having, from a conceptual point of view for me, when you look at something, there are many perceptions, many layers you can look at. You can be, I don't know, an intellectual in so many ways. There are so many things you can do, but light changes everything, so something that is very dark. So for me LEDs were kind of like the easiest way to use within, now. But I am always exploring, like new things come up and looking at how to do for example, like, do sound with my work.
Ron Bauman:
Okay.
Maria Schneider:
And anyway. So I am going, always pushing and making much larger pieces, which are much more complicated.
Ron Bauman:
So you primarily work in the electronics department for the LED lighting?
Maria Schneider:
No, actually, because is… Well, ideally is not that. What I do is pretty simple considering what some of the people here do. But I use electronics, yes, just to hookup the LEDs. But most of time I used the lasers. Lasers is my theme. Try to use the lasers in so many ways. Like, there is a lot of things to learn with it, like how you can really make it really much more interesting. So I work with that.
Maria then describes her artistic process, trying new things and how she never does the same thing twice.
Maria Schneider:
The way I work is like, I take my… First, I will take an image, I maybe just take a photograph myself, or they can just sometimes open open a stock. You have many pictures of like cities and places.
Ron Bauman:
Sure.
Maria Schneider:
So use many of historical pictures, I use a lot of that, too. Like, I don't know, Philadelphia has a great archive of historical photographs, so I take those. Then I digitize them, I start working with them because I-
Ron Bauman:
So you pulled them into Photoshop or Illustrator?
Maria Schneider:
Yes, I put it into Photoshop, and then because I'm very intuitive, sometimes is that is not my process, I never repeat same thing twice. So I start with Photoshop and a picture. I start looking, like, look this way. It's kind of, like, very intuitive. So I start changing the picture so is like what I think should be the final image.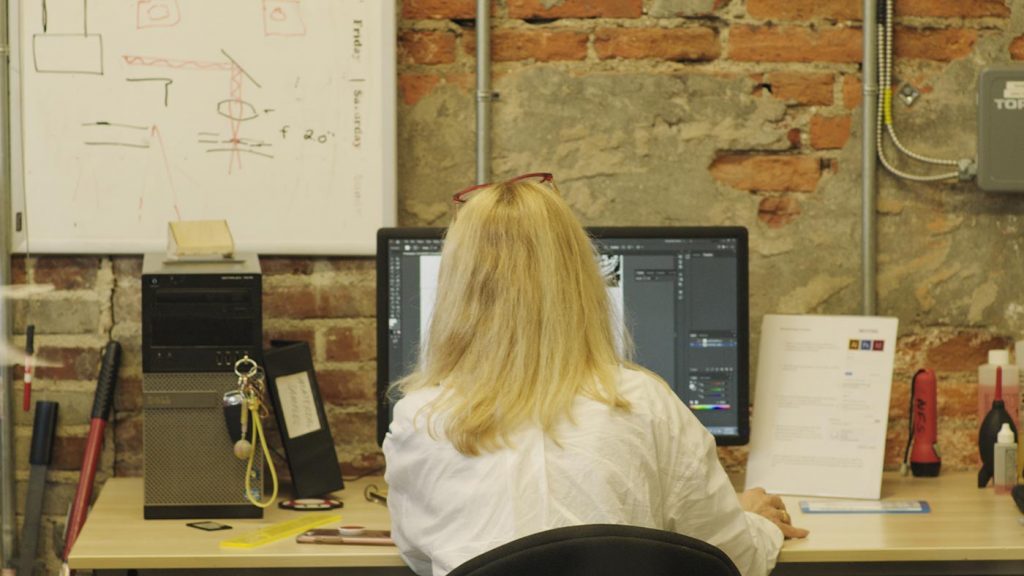 Maria Schneider:
So it takes me a while, but I know how I want it to look like, but I'm not sure. So I kind of sometimes unexpected, like the perfect mistakes, which I love. So I started doing that.
Ron Bauman:
Happy accidents, we call them. Yeah.
Maria Schneider:
Exactly, happy accidents. So I start doing like a back layer of that. Then I color them with specific paint and I do a layer of color that the I peel. And then I do another layer in which I will also use Illustrator and Photoshop, and then transfer to InFluid to do. I start with a very thick line to a very thin line. And it's… That's how, like if I want to emphasize, for example, a building that has been demolished, so I will try to put that in the front, and then try to do the lights and that's how to put the LEDs around. But I'm always exploring new things to do, like I'm using certain kind of paints and then I start using three or four paints within the same work. And that's how I usually work.
Ron Bauman:
So you have the vision in mind when you start the process of creating and then you figure out how you're going to get there through trial and error, and just sort of tinkering?
Maria Schneider:
Yes, is because usually when I do certain… Most of the work, as I told you, is like for specific spaces.
Ron Bauman:
Sure.
Maria Schneider:
So if I want a project, for example, I'm working now in a project in West Philadelphia. It's a specific building and they have required, the requirement is to use west of the, the city in general, but then also west of the city and buildings of the city that they, kind of, like, is the old Philadelphia. And then I have to start finding out how to layer all those images to make a vision of, "This is the future, this is the past and this is what we are here, and that's how this place is so beautiful." And that's how it works, so it depends.
Maria Schneider:
I also finish another series, it was the connection in which I… Because the person that the client needed, wanted, loved water and loved the rivers. So I end up using different buildings within the city that they were meaningful to this company, but also using the rivers. So I took, use all the rivers of Philadelphia or the, excuse me, the bridges of Philadelphia. So I use the Benjamin Franklin Bridge because it's the east-west connection. Then the north-south connection, the South Street Bridge, connecting the city, plus the buildings that they were there. So it was very specific ideas and I have to put in all together to make it work.
Ron Bauman:
That's awesome.
Maria Schneider:
I mean that's, that's how I'm working with cities, but now I also started working with gardens. Somebody wanted to be doing something with layers of, like, Longwood Gardens. So I'm trying to incorporate much more color and use that, using which is landscape, but within the buildings. So it's always exploring, but also using the city of Wilmington, which is a very different area, and… It's kind of like, always the people say like, I would like to have these ideas, like, okay, let me see what I can do with that.
We wrapped up our conversation by discussing what the future holds for Maria and where she wants to go with her business and her art.
Maria Schneider:
Well, I would like to do really large works, and I would like to create really very large works, and I would like something-
Ron Bauman:
How big?
Maria Schneider:
I don't know, like, five by eight feet.
Ron Bauman:
Five by eight feet, okay.
Maria Schneider:
Five feet, like, really large pieces, like with a lot of layers, a lot of light, and maybe light that goes, like, flashes and comes on and off, and then becomes kind of like, disappearing and appearing without being like a disco kind of effect. And I don't know, that's how I would like to do. Maybe to be in a big museum someday.
Ron Bauman:
Yeah, that'd be great.
Maria Schneider:
To be at the MOMA, actually. I don't know. That's why. I artist, I want to create beauty, but at the same time I wanted to create something that you like to see that, just go and see it.
Ron Bauman:
So it adds to the value of the static of the landscape of the city and in our environments, and our communities.
Maria Schneider:
Yeah. And then to make people aware of, like, sometimes I incorporate saying words into my art and then is kind of create message too. So I don't know.
Ron Bauman:
All right. So you'd help tell a story in a really different, sort of impactful way.
Maria Schneider:
Yeah, yes, exactly. Is telling that story, but you can look at it without knowing the story and still like it. You don't have to explain it. So I love my art to be, you look at it, you like it, but there is a story behind that makes me more interested once you know it. So that's how I try to work. And I was thinking constantly.
Ron Bauman:
Of course. You're an artist.
Maria Schneider:
I was driving, driving and thinking, I'm driving and thinking, just how I can do and get things. So.
Ron Bauman:
Well, Maria, thank you so much for taking the time to speak with us today.
Maria Schneider:
My pleasure. Sure thing.
Ron Bauman:
We wish you the best of luck.
Maria Schneider:
Thank you.
Ron Bauman:
We can't wait to see more of your art.
Maria Schneider:
Thank you.
Thank you for listening to this episode of Break Through. I'm your host Ron Bauman, serial entrepreneur, founder of Milk Street Marketing, and NextFab member. To learn more about how NextFab can make your ideas come to life, visit nextfab.com, and be sure to follow #NextFabMade on social to see what our members are making.
Sign-Up for Our Newsletter