If you're like many busy artisan entrepreneurs, selling on social media is usually an afterthought. You might share new products periodically or post about upcoming craft fairs, but otherwise… cue the crickets. 
Although it's hard to get motivated if you haven't been seeing results, social media can be a powerhouse for artists. Once you have a consistent strategy – and give your followers an easy way to purchase your items – it's an excellent way to drum up business and expand your customer base.
How to Get Started with Social Selling
If you haven't set up a social media account yet (or actively used it), here are a few tips as you begin.
Pick a Single Social Media Platform
Don't worry – you don't have to be on every social media platform. It's more effective to have a well-conceived strategy for one than spread yourself thin across multiple accounts. 
So, which one should you choose? As an artisan or craftsperson, focus on networks where you can share high-quality photos and videos. Instagram, Facebook, Pinterest, YouTube, and TikTok are great options. If you have a lot of corporate clients, LinkedIn is a good choice. Most importantly, ask your customers where they spend the most time.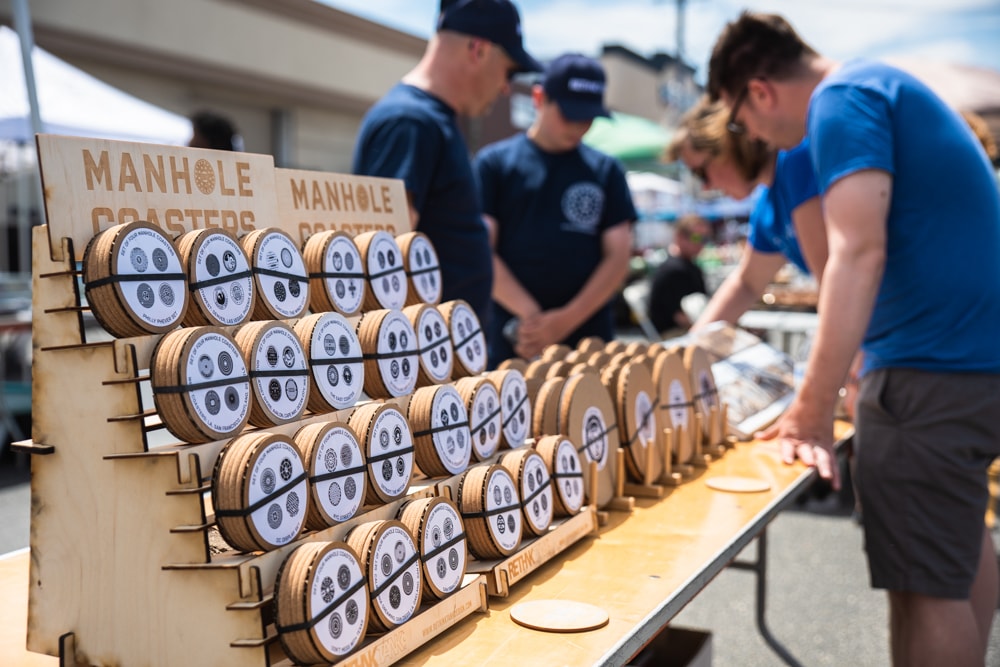 Create a Business Account
Every social media platform offers both personal and business accounts. If you set up a business account, you can view statistics about who your audience is and the kind of posts they love. It also allows you to run ads (if you choose to do that in the future) and incorporate online shopping features, which we'll talk about shortly. Plus, most sites make it easy to toggle between your personal and business account.
Post Regularly
If you don't have time to create and post content every day, designate two or three days a month for planning your social media strategy. Take photos or videos, write captions, and schedule them. Doing this all at once is not only efficient, it also makes you more strategic about what you're posting. 
Check out the Instagram page of NextFab member Marsau Botanicals to see what a consistent posting schedule can achieve for your business. This approach keeps their followers interested — and eager to see what they'll post next!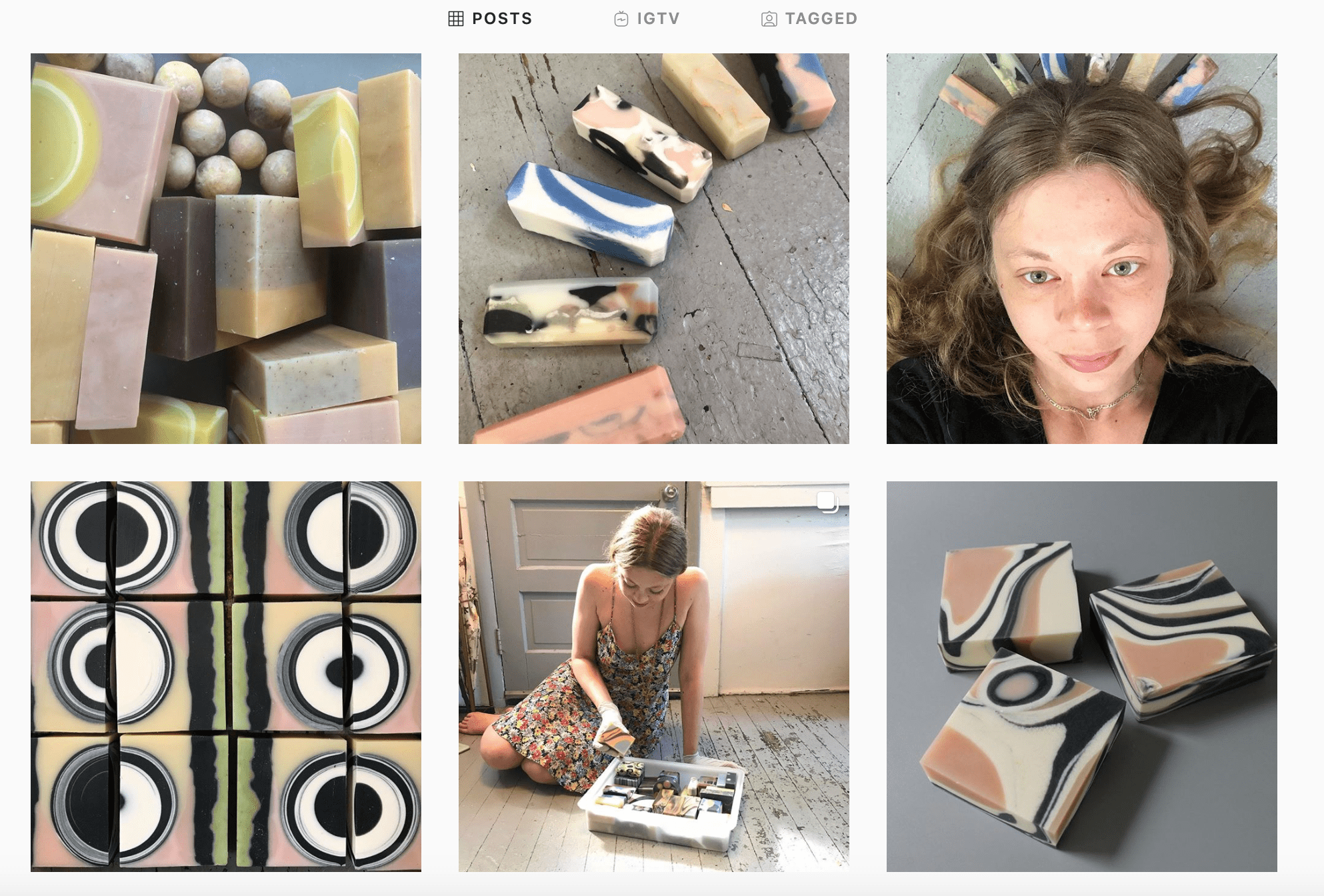 You can use services like Hootsuite or Later to automatically publish your posts throughout the month. Many of these have free plans. If you're using Facebook, it offers a scheduling feature right inside the platform.
Promote Your Social Media Page
When you're meeting new or potential customers at craft fairs, gallery shows, or community events, make sure your social media page is prominent. Include it on business cards, banners, and your website. Add it to your email signature. Drop a card in your customer's bag with every purchase. It all adds up to more followers.
How to Get Attention on Social Media
Now that you have a solid foundation, let's talk about how you can increase engagement and boost followers.
Share What's Uniquely You
People who buy art and handmade products aren't just seeking the item itself; they want a relationship with the maker. They're in love with the item and the process you went through to create it. Fortunately, social media is the perfect medium for sharing your story. 
Think about how you can create a connection with your audience. It might be a personal experience that influenced your artwork or a demonstration of the physical steps to create something by hand. Behind-the-scenes posts are popular for that reason. Customers love seeing the blood, sweat, and tears that went into a beautiful piece. You don't have to wait until the finished product is ready.
Here's a great example from one of our NextFab members. Gwanyan of Kpelle.Designs is a Liberian-American artist who creates culturally-inspired jewelry. She recently posted an Instagram video of her sister doing a traditional African dance with a quote about Juneteenth. This offers her Instagram followers more insights into what inspires her personally and drives her creative work.

Have a Purpose for Every Post
Before you hit publish, ask yourself why you're posting it. When you're conscious of the goal, you can be clearer about what you want your audience to feel, do, or say. Plus, mixing up these post types will make your page more engaging.
Building a relationship

– Share personal details about yourself to create a connection with your audience. For example, a photo with the caption: "Today would have been my grandmother's 99th birthday. She's the one who taught me to sew, and I still use many of her patterns."

Demonstrating your skill

– Post a photo or video each day as a project is coming together. This will reveal the quality of your work and justify the price for the time invested.

Selling your product

– Publish photos of your products with proper lighting and appealing props. Help the customer envision themselves using the item or displaying it in their home. 

Inviting to events

– Notify your customers if you'll be present at a craft fair, gallery showing, or any other opportunity for them to see your work in person. 
NextFab member TWEE (maker of fun handmade chalk) does a great job of keeping a goal in mind every time they post. They have photos of children happily using the product, invitations to an Open Studio Tour, and bright, appealing product shots.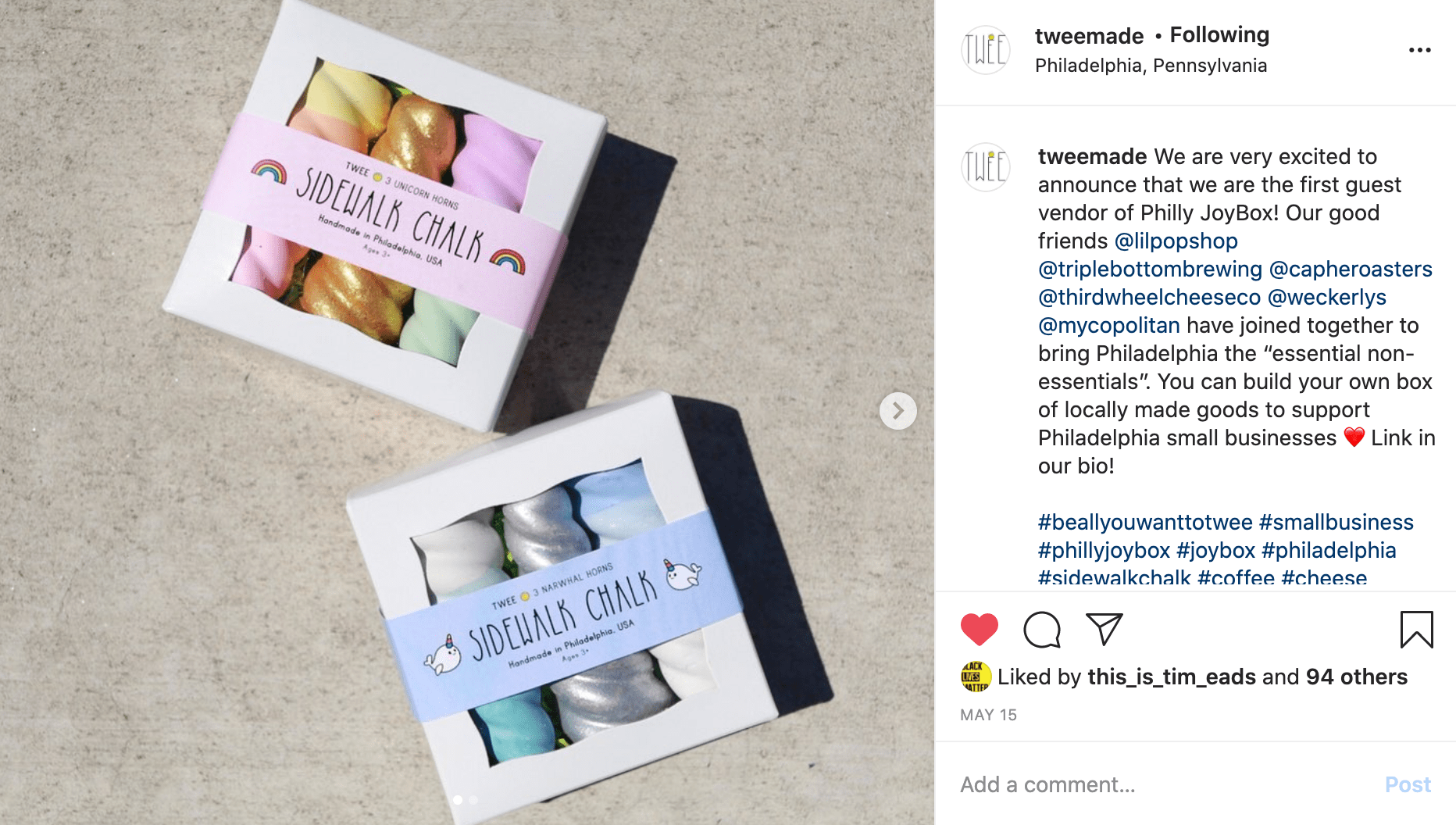 Leverage Social Media Analytics
Social media platforms provide detailed analytics about your account. You can use this information to improve your social media likes, comments, shares, and purchases. 
For example, on Facebook, this is called Page Insights. You can view things like page likes, post reach, and post engagement. It also tells you when your fans are typically online, which post types are performing best (video, text, image, etc.), and what kind of fans are engaging the most (by age, gender, and location). 
It's important to review these reports regularly so you can look for trends and adjust your approach. Experiment with different types of posts and see what happens.
How to Sell Directly on Social Media
Social media gives artisan entrepreneurs the ability to showcase their unique brand and present their artwork online. That's powerful. But it's just the tip of the iceberg. Platforms like Facebook and Instagram also have integrated shopping features that allow customers to buy your products without even leaving the app. Let's take a closer look.
Selling on Facebook
When you have a Facebook business account, you can add a Facebook Shop tab to your page. The process for setting up a Facebook Shop will depend on whether or not you already have an e-commerce website, such as BigCommerce or Shopify. If you do, you can sync your product catalog and manage sales, inventory, customers, and orders in one place. If not, you can add your products manually to your Facebook Shop and connect payment providers like PayPal or Stripe.
Check out NextFab member PLAID's Facebook Shop to get an idea of what your shop could look like. Their entire inventory of laser-cut, industrial design products are easy to browse. Best of all, customers can buy in just a few clicks.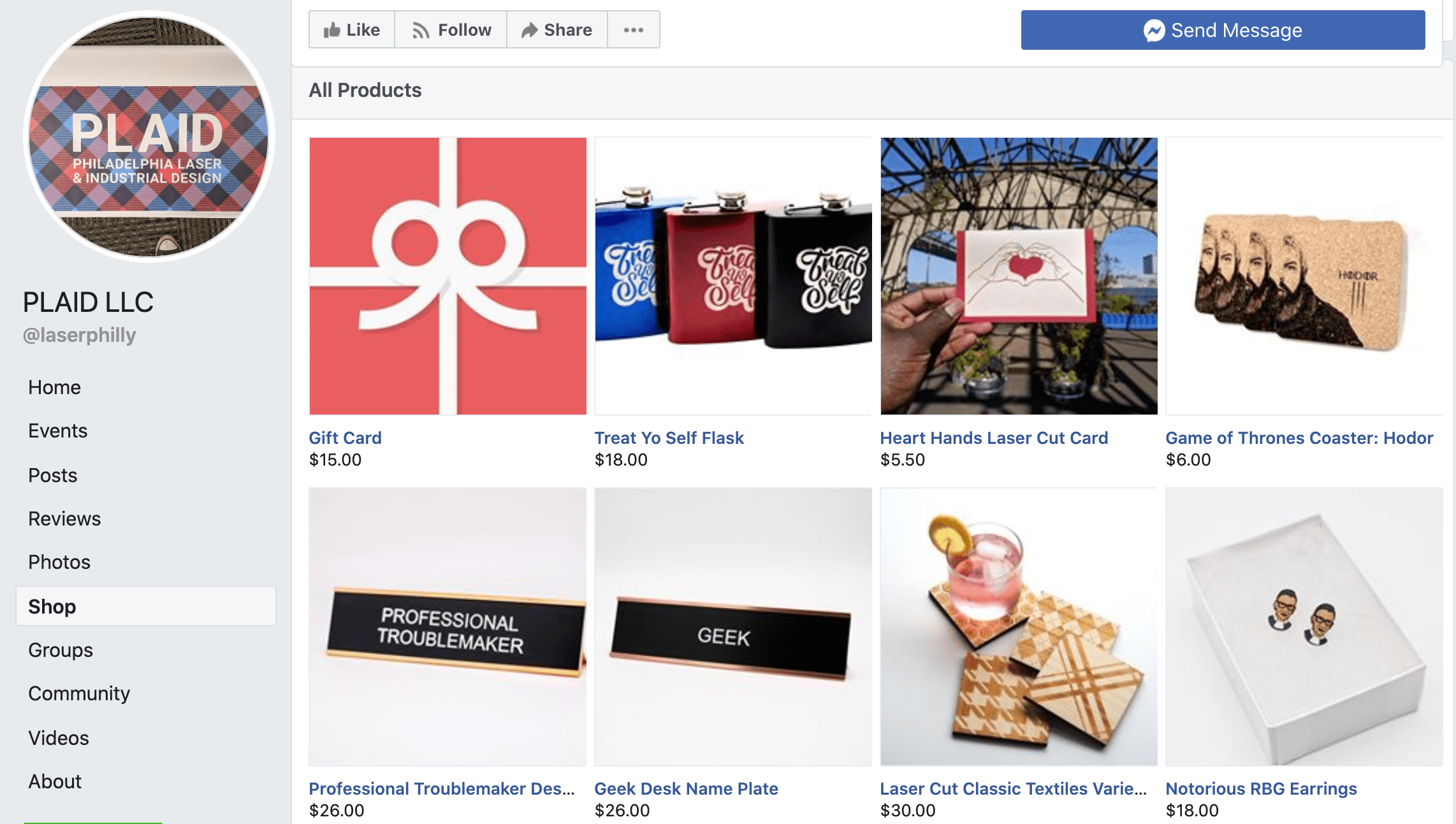 Selling on Instagram
Once you have your business catalog on Facebook, you can take advantage of the shoppable posts feature on Instagram. You'll need to connect your online shop to your Instagram business page. Once it's set up, you can tag certain items in your photos. Your followers can click on the tags to view more information and then they're guided through a seamless checkout process.
What's Next for Your Social Media?
Check out NexFab's four-part webinar series, From Making to Selling, for more insights about online marketing, branding, and social media.
If you'd like more one-on-one support, NextFab recently partnered with Bad Town LLC, an independent art label that serves the Greater Philadelphia area. Bad Town rolled out a comprehensive digital marketing brand audit and analysis service package (at a special rate of $199) that assesses the artist's style, examines their current channels, and recommends a customized pathway for accelerating their business.
Sign-Up for Our Newsletter