This year NextFab accepted 4 startups into the Fall cohort of our 12-week RAPID Hardware Accelerator. The program provides funding and product development for early-stage companies, as well as free access to NextFab's makerspace facilities. This year's hardware startups are tackling a variety of issues related to health care, food waste, hair salon waste and accessible technology. As they are introduced into NextFab's spaces, they will be immersed in perfecting their prototype, with expert help in finances,  marketing, manufacturing design, and constructing their business model.
"We have an impressive group of entrepreneurs in the RAPID Hardware Accelerator's 2019 Fall cohort," says Todor Raykov, NextFab's Venture Services Manager, who is the program's manager. "Almost 70 startups from the US, Europe, and Asia, participated in the application process and out of these, only 4 were selected through rigorous interviews with NextFab's product development and investment teams. In addition to innovative hardware devices, the entrepreneurs behind the 4 ventures demonstrated strong leadership skills that will serve them well in the process of building their companies. We are excited to see how the teams are going to commercialize their technologies and use the resources available at NextFab and our local partners to do so."
Meet our four new startups.
Strella Biotechnology
In today's food industry, nearly 40% of food goes bad before it even reaches store, resulting in pounds of wasted food and nearly $1 trillion in lost profits. Even with the apples and other fruits that make it to stores, the majority doesn't meet the standards of freshness or taste that is expected. Since this produce is often stored in large, understaffed facilities, tracking its freshness becomes impossible to manage, often leading to spoilage.
Strella Biotechnology is trying to reduce that number with their new bio sensor technology that predicts peak ripeness in apples and other fruits, reducing massive loss and costs due to spoilage. Strella's sensor measures the ripeness of apples through the detection of their ethylene gas production. The technology optimizes the apple–choosing process to maximize freshness and reduce spoilage of fruit. With this new technology, Strella founder Katherine Sizov and team hope to reduce food waste by $10 billion every year.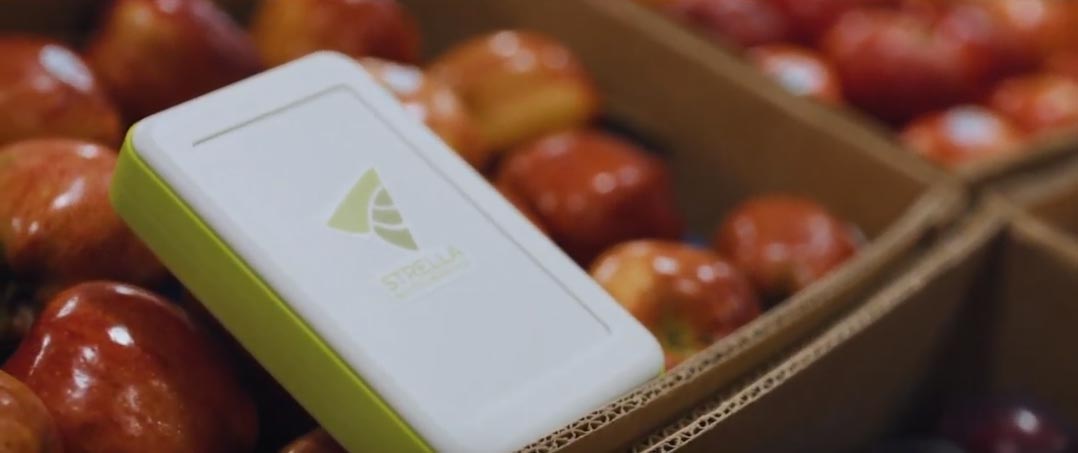 Thrivo Technologies
One of the biggest hurdles hair salons face today is inventory loss, due to excessive product waste in mixing hair color by hand. As there is no consistent color mixing formula for salons, mixing becomes a guessing game, resulting in inaccurate formulas for hair colors, over 25% of wasted product and a time consuming act that takes stylists away from their clients.
Thrivo Technologies is redefining the way that salons mix and manage hair color by empowering salons with automated technology that eliminates waste, increases workplace efficiency, and boosts the client experience. Utilizing robotics and AI, Thrivo lets stylists create fast and intuitive mixing from their smart phone or tablet, which then transfers to a precise, zero-waste dispensing from a robotic unit. Salons can then utilize the data and analytics from this hardware for better ordering and optimization for their business. With their accurate and and data-driven solutions, Thrivo hopes to finally render the current manual, wasteful hair color processes obsolete.

Alternate Devices
Alternate Devices' products simplify access to technology for users with disabilities. With alternate input devices that redefine ease of use, it is their goal to make accessible technology something that enables everyone to interact with modern day devices, without the hinderances associated with computers and computer software. Many of their solutions being developed stem from the founder's own experience as a bilateral upper extremity amputee. Having gained an improvement in function through developing adaptations, he has founded Alternate Devices LLC in an effort to make these solutions available to others.

Kovarvic
According to the Anxiety and Depression Association of America, anxiety disorders are the most common mental illness in the U.S., affecting 40 million adults ages 18 and older. Kovaric founder, Daniel Couser, is currently developing CALM, a device that has the potential to provide relief for 18.1% of the population every year.
Kovarvic is a consumer health startup that designs medical devices to manage cognitive disorders, such as anxiety. Their newest invention, CALM, is a small device that uses pulses of vibrations to influence the brain and de-escalate rising stress. CALM (Compact Anxiolytic Lull Mechanism)  can be used as a tool to regain control during intense stress, equipping you with a drug free, non-invasive and portable device. Although it is still in beta testing, Couser's ultimate goal is that one day this device will be available for the general public for everyday use.
---
At NextFab, we're devoted to making things better by making better things. Whether our startups are using artificial intelligence or their own personal experiences, these entrepreneurs are making tangible improvements to the world and lives of the people who inhabit it.
Interested in joining a future cohort? Apply online to get funding and support for your hardware startup.
Sign-Up for Our Newsletter