Building assistive technology for people with disabilities
On Sunday, June 18th, a group of volunteers came together at NextFab's South Philly location in pursuit of a noble goal – to spend the day building assistive technology devices for people with little or no use of their hands.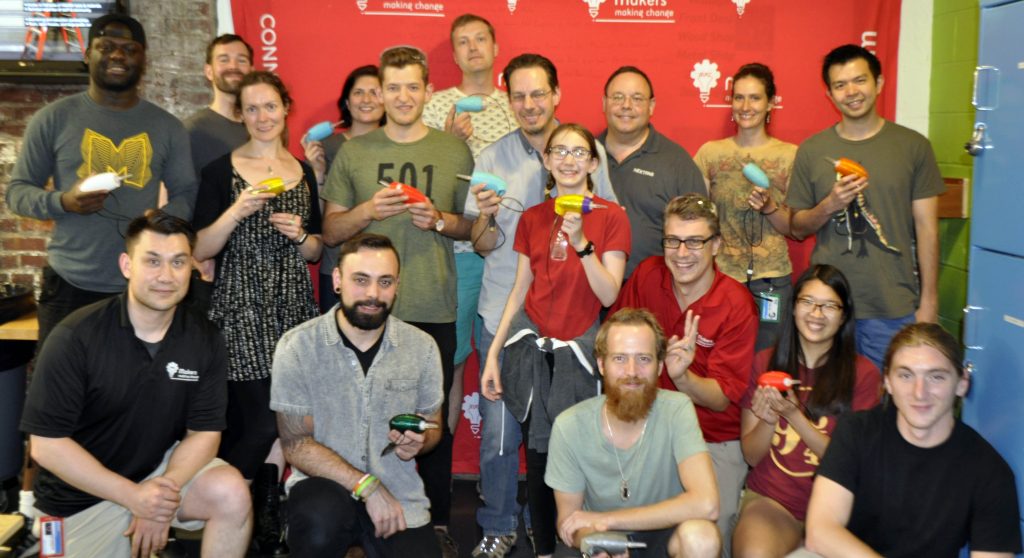 During the all-day event, volunteers were given an introductory soldering lesson, and together with the help of our staff and partners at Makers Making Change, assembled devices called LipSyncs. The LipSync is a mouth-operated joystick developed and released by the Neil Squire Society and funded by the Google Foundation that allows a person to control a computer cursor with minimum head and neck movement. For a person who has little or no use of their hands and couldn't otherwise operate a touchscreen, a device like the LipSync can open up incredible new possibilities for communication, productivity, and connection. All the electronics are small, commonly available, and fit within a single 3D-printed housing. While there are other commercially-available solutions, they typically cost $1,500 per unit (a price that's too high for many who would benefit from the devices) despite being incompatible with smartphones.
"The profound contribution of NextFab to the Makers Making Change initiative is allowing people in the community to develop devices to help others in their community." -Ivan Gourlay
"I recently graduated from UBC Engineering Physics," Ivan Gourlay from the Neil Squire Society and Makers Making Change told us, "but have been working on the LipSync for about 1 year, designing the PCBs and developing the firmware. We began developing the LipSync within the confines of the Neil Squire Society office but now we are getting it out into communities through the Makers Making Change initiative and steadily gathering feedback on how to improve it, both for the makers building it and the people that will be using it."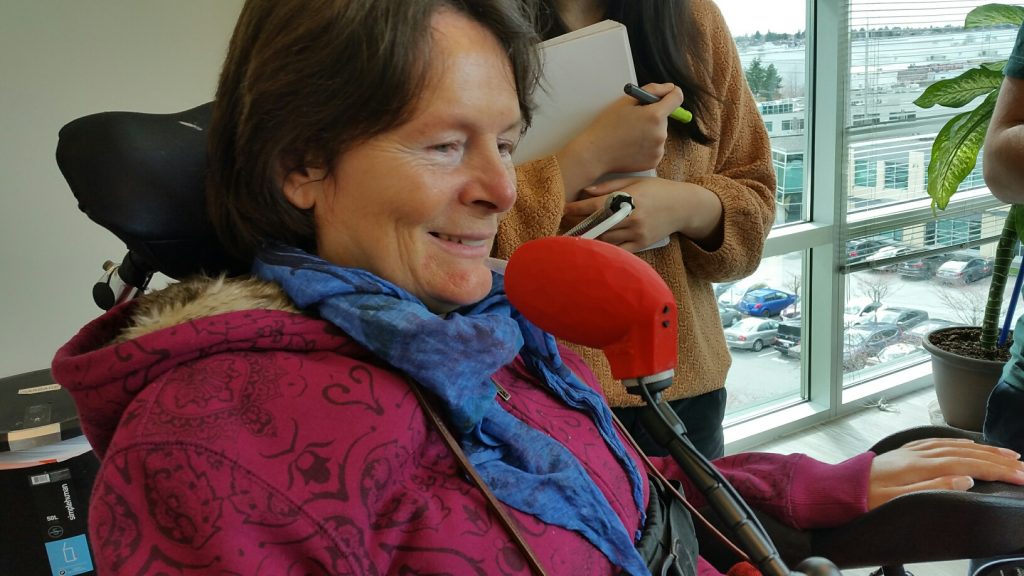 Coming together for good
Our volunteers ranged from professional electrical engineers to those who have never touched a soldering iron. Some were NextFab members, some were altruistic neighbors from the larger community, and some worked in the accessibility and assistive technology fields. No matter their prior experience, each attendee successfully built a functional device, resulting in seventeen devices being built over the course of a single day.
"I loved learning new skills to build this device, while making a tool that will have a powerful impact in the life of one of my students." – Lia Huntington
"As an occupational therapist," explained NextFab member Lia Huntington, "I was interested in this event because of the program's aim to provide low-cost assistive technology solutions for people with mobility differences. One of my students has a high level spinal cord injury, and I am excited to bring her the LipSync that I made. She is unable to speak and has an eye-gaze device for communication, but often does not use it, preferring to communicate using facial expressions and sounds. She is 15, and as she gets older she will need effective ways to communicate with people who are not familiar with her. I am hopeful that she will find the LipSync to be a useful alternative mode of access for communication. We will be trying it this summer!"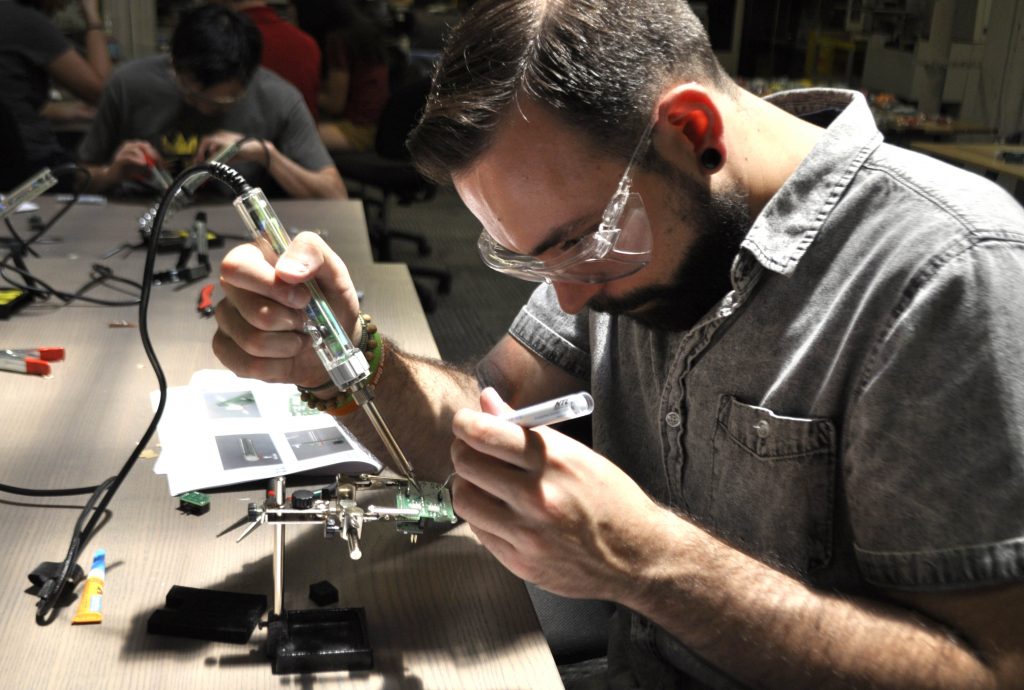 Sharing is caring
The LipSync devices built by our volunteers have been distributed to a number of individuals and organizations who will greatly benefit from access to this technology. One device was given to a local student who suffered a spinal injury, two devices were sent to Army veterans, and the remaining devices were divided between Inglis House and the Pennsylvania Assistive Technology Lending Library.
"It was very exciting for us to hold our first LipSync Buildathon in the United States in partnership with NextFab." – Chad Leaman
Chad from the Neil Squire Society and Makers Making Change continued, "It was a tremendous success, due in large part to the support of the entire NextFab team, from the 3d printing, supporting makers, and creating the space for the community to come together. It was also very special that staff from a couple of disability organizations came together to also make a LipSync, helping them grow their capacity to support the community."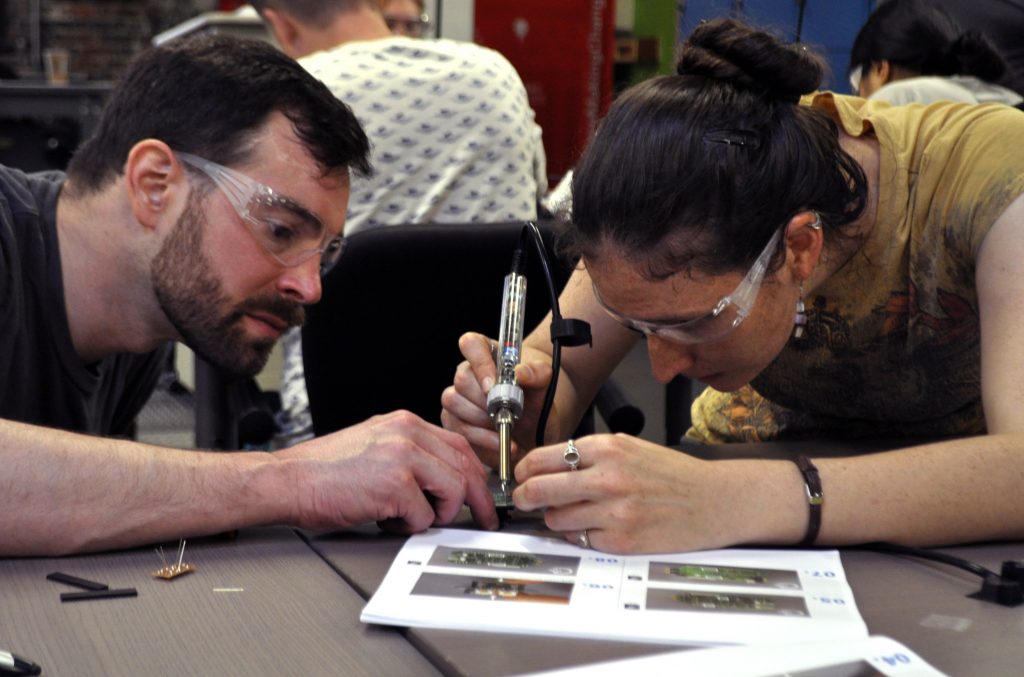 "The facilities at NextFab are giving makers, like ourselves and start-ups especially, the ability to prototype and develop new devices so they can efficiently and effectively get their products in the hands of users without the major hurdles associated with large scale engineering and manufacturing." – Ivan Gourlay
Learn more, do more
For more information about Makers Making Change, visit their website. The full instructions and all files for the open-source LipSync project can be found on Hackaday.
To hear about more happenings and meaningful projects like this at NextFab, subscribe to our newsletter or follow us social media.
For inquiries about social impact projects and events, contact us.
Sign-Up for Our Newsletter