Meet Our Monthly Maker:
Kristi Habendanck
TELL US ABOUT YOURSELF
Hi my name is Kristi Habedanck and I am the founder of a jewelry business called m. et al. It's safe to say I've not taken the usual career path of a UC Berkeley graduate with a BA in Economics, but I love my work! I swapped numbers for artwork, completing two semesters at California College of Arts and an array of classes at the Main Line Art Center in Haverford, PA. Over time, I've picked up lots of tools and tricks of the craftsmanship trade and I am now 5 years into a career designing and handcrafting sterling silver jewelry!
TELL US ABOUT YOUR WORK AND WHY IT'S UNIQUE
The inspiration for my business came during my first ever class at Main Line Art Center. The instructor, Layne Freedline, asked, "Kristi, have you ever heard of cuttlebone casting? If not, you should Google it." I did indeed Google it and, 5 years later, I am designing and creating sterling silver rings and pendants using this cuttlebone casting method. 
Different forms of beauty and craft always inspire me and I get so much joy from the originality of hand-crafted jewelry. The interesting thing about this cuttlebone casting method is that it makes every single piece original. Each cuttlebone is destroyed once the hot silver is poured over. This means all my rings are entirely unique, much like a person's fingerprints, and fit everyone differently.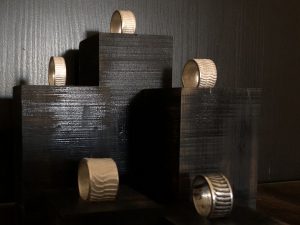 WHAT'S THE NEXT CHALLENGE FOR YOU? 
It's fair to say I am an old-school seller and have completely avoided social media and online sales—I don't even have a website yet! It's not about an aversion to the world of Snapchat stories and Instagram selfies. Instead, it's been a practical decision because most of my products are rings and you really need to try these on in-person to see how it looks and fits on your hand. I have also been hesitant to get involved because of a worry about returns and resizing requests. However, I do realize that developing a social media presence is the next step for my business and I am definitely willing to jump on the bandwagon if it means I can make beautiful jewelry for some new customers!
WHAT ADVICE WOULD YOU GIVE TO ASPIRING JEWELRY MAKERS? 
Wear your jewelry every day and everywhere! You are a walking, talking advertisement for your products.
When you get compliments from random people, like the barista at Starbucks or the checkout person at your local supermarket, spread the word about what you do. It's the easiest way to raise awareness about your brand and your creations!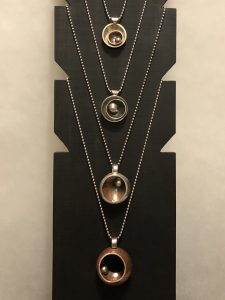 HOW HAS NEXTFAB MADE AN IMPACT ON YOUR BUSINESS? 
NextFab has been amazing for me because I can use all the facilities for a super low price. I love how much is included in my membership. I mostly use the torch because I work with metal and I don't have access to these tools anywhere else. I can design and finish in the comfort of my own home, but I really could not do what I do without NextFab.
With a jewelry studio, a woodshop, a photo lab, and so much more, I am always telling people that NextFab is the best-kept secret in town!  
Do you want to get involved with "the best-kept secret in town?" Take a look at our membership options to see what all the hype is about!
Sign-Up for Our Newsletter