Classical Sculptor
Sculptor Miguel Antonio Horn's work is beautiful, organic and expressive. Starting with sketches and clay maquettes, he works out the details of his pieces before carving or casting. Digital tools have evolved his process, integrated into his work as an enhancement rather than a replacement. Uniquely, his sculpture maintains it's soul while embracing cutting edge technological tools. This process is well represented in his current piece ContraFuerte, an architectural term which translates as "counter force."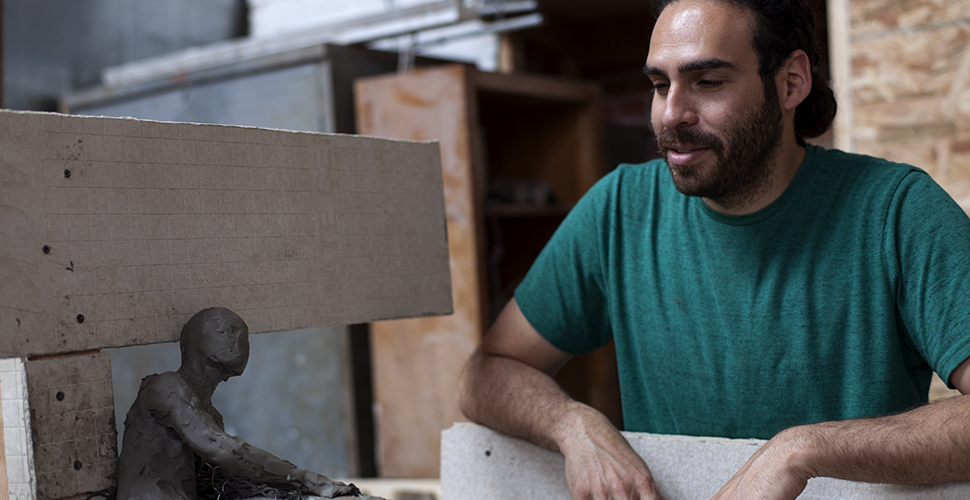 "I was working very traditionally, making figurative assemblages in wood, steel and bronze. My process was very intuitive, often starting with personal experiences. All of my compositions began with sketches, some would evolve into larger drawings, others Into a three dimensional constructions. The development process was very much a part of the finished pieces."

Enter NextFab
Miguel was working on translating some drawings to steel cut compositions when a studio-mate suggested NextFab. "I went in to take a tour at the original Science Center location and signed up right away. It was exciting to have access to some of the more advanced machinery. I wanted to learn the digital equivalent to my analog education, but was hesitant to invest in programs to learn those skills." Initially Miguel experimented, pushing machines and materials to their limits.  By doing so he found ways to organically integrate the digital tools into his method of working.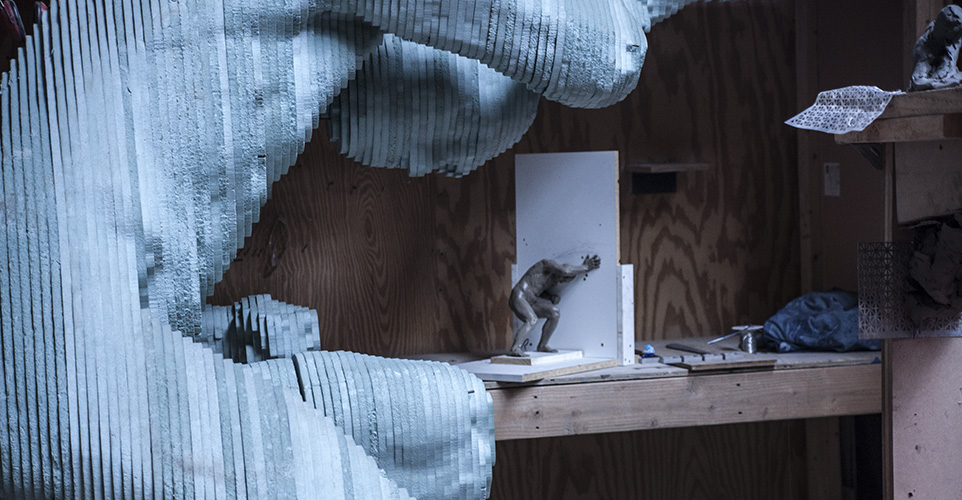 The Bridge Between Analog and Digital
Using CAD software to plan, layout and develop compositions allowed him to work with greater precision and accuracy. However, in developing forms, his manual, analog methods won out.  Detailed sketches and iterations of his clay maquettes carry the soul of his work, but the details are exacted digitally. Miguel explains, "The digital component is very much integral to the execution of all of my current work. Taking 3D scans of sculpted forms and breaking down the surfaces into topographical layers. The layers are then laser cut, water jet cut, plasma cut or CNC milled."

ContraFuerte
Miguel's current commission, ContraFuerte, is a sculptural appendage to a structure in Center City, Philadelphia. On Cuthbert Street, between 12th and 13th streets, there is a motor bridge one story up from street level. Human figures make up the sculptural element, supporting each other and supporting the bridge– a human buttress.
The title translates from Spanish to an architectural element, a buttress, referring to the nature of the intervention of the composition on the existing  environment. There is a slight word play, where the title also translates to counter force, or against force. The work explores collective action, and the capacity of the individual.
To create the forms of the sculpture, Miguel has worked through a series of models. The models are small scale versions of the bridge with wire and clay figures hand sculpted on to them. There is a wonderful dynamism and beauty in the models which show progressive refinement.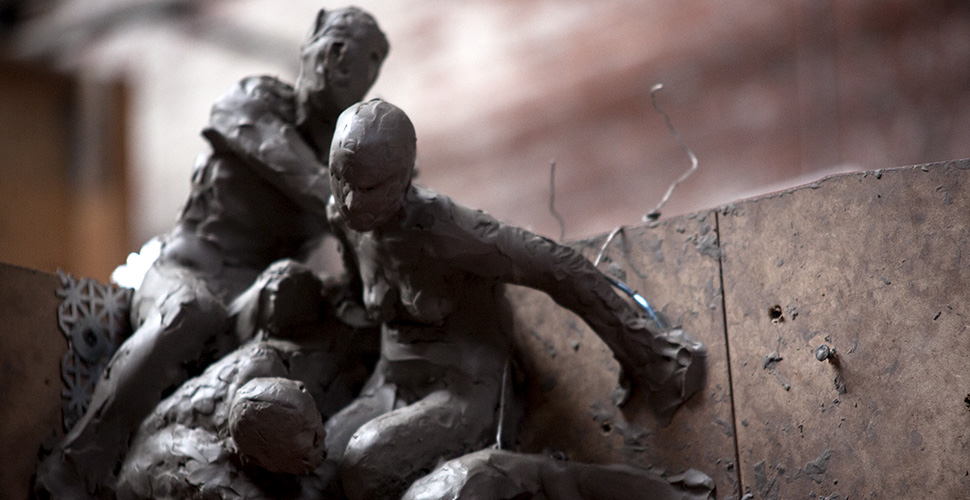 Integration
In developing the design, the challenge of fitting the sculpture to its surroundings (structurally and artistically) was apparent. Miguel's research lead to his discovery of geospatial scanning and Lidar. Lidar (LIDAR – Light Imaging, Detection and Ranging) is a method of data gathering by projecting laser pulses at an object and then measuring those pulses as they reflect. Using this technology he has been able to scan the bridge and its surroundings with incredible accuracy. The environmental data is then processed and integrated into the model structure. The data is then used to recreate the space digitally, where it marries a scan of the final 9′ wide, 1:3 model. The digital rendering is then translated to machine code and the full scale pieces are cut, assembled and installed.
"Once I have the digital scan I can superimpose it onto the bridge scan to engineer all structural attachments. But the fun comes in when I start to produce the profiles for milling. At that point I can play around with the orientation of the topography and the way the form is digitally broken down. I'm looking forward to that process, although it is a lot of time in front of the computer, it really starts to come alive then."
Sign-Up for Our Newsletter