Monthly Maker: Kathleen Capuras of kcapurasdesign
Website: https://www.etsy.com/shop/kcapurasdesign/
Instagram: kcapuras_design
TELL US ABOUT YOURSELF
I am a Philly based pyrography artist, and have been woodburning for 17 years, and have been operating a small business called kcapurasdesign for the last 5 years. In addition to doing custom work and selling my products in person and online, I also teach a monthly Intro to Woodburning class at Next Fab Philadelphia locations.

WHAT ARE YOU CURRENTLY WORKING ON?
Utilizing a mix of exotic, rescued and domestic wood, I offer handmade, unique pieces including: kitchenware / barware, jewelry, home decor and statement art pieces. I also create custom, one-0f-a-kind pyrography designs, personalization of wood pieces, and custom signwork for home decor and everyday objects. Currently, I'm working on developing a new line of decorative wall art pieces that incorporate hand-cut, recycled mirrors.

WHAT'S THE HARDEST PART?
The hardest part is playing all the roles needed in my business and being just one person. It's a whirlwind, but it's definitely worth it.

WHAT ARE YOU GOALS?
My goals are to keep learning and trying new things to incorporate with my pyrography, to do some collaborations with other amazing artists, and to continue to find exciting ways of integrating into the local maker scene.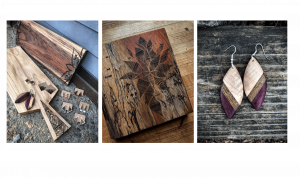 Sign-Up for Our Newsletter