NextFab's new location in Wilmington, Delaware, represents not just a physical growth but an evolution of thinking and process within the company. I took a look behind the curtain during the design and construction phase to see how the new space is taking shape.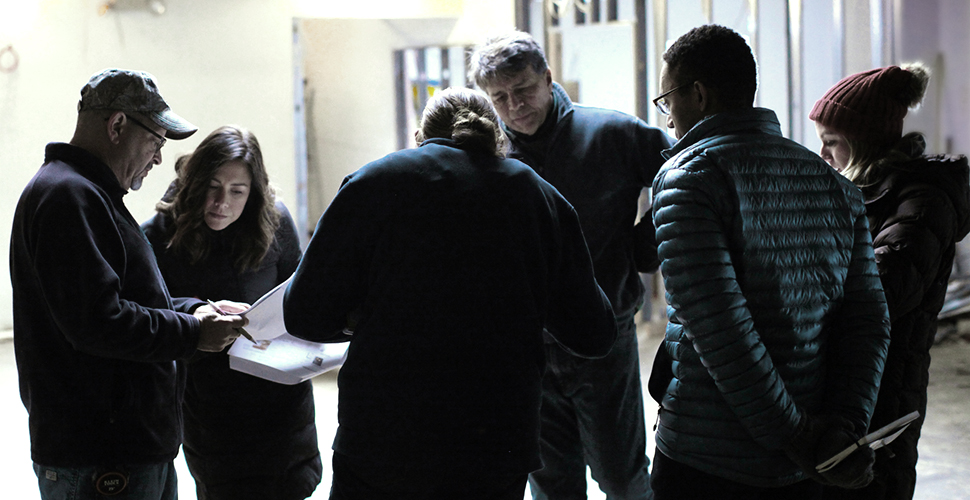 As a company, we seem to be evolving our understanding of space and design.- Laate Olukotun
Following the launch of the Washington Avenue and N. 4th Street locations in Philadelphia, the expansion southward to Wilmington was a logical step. Wilmington is in easy reach of NextFab's Philadelphia headquarters, and the greater Wilmington area has always been home to an incredible number of successful companies and highly-skilled individuals across many industries.
Kate Brown, NextFab Wilmington's Location Manager explains the benefit of a location in Wilmington, "NextFab's decision to open a new location in this area was not by chance!  In addition to being on Tatnall Street in Wilmington – we are proud to a part of Wilmington's Creative District. Wilmington's Creative District is the city's creative center focused on both creative production and consumption, where local creative entrepreneurs (artists, musicians, designers, makers, tech innovators, manufacturers), and residents thrive and locally designed goods and original works are made and sold."
The goal of the Wilmington project team was to create a "place" and not just move into a building. More than a location, the team wanted to engender the building itself with the NextFab ethos of building community, collaboration and innovation.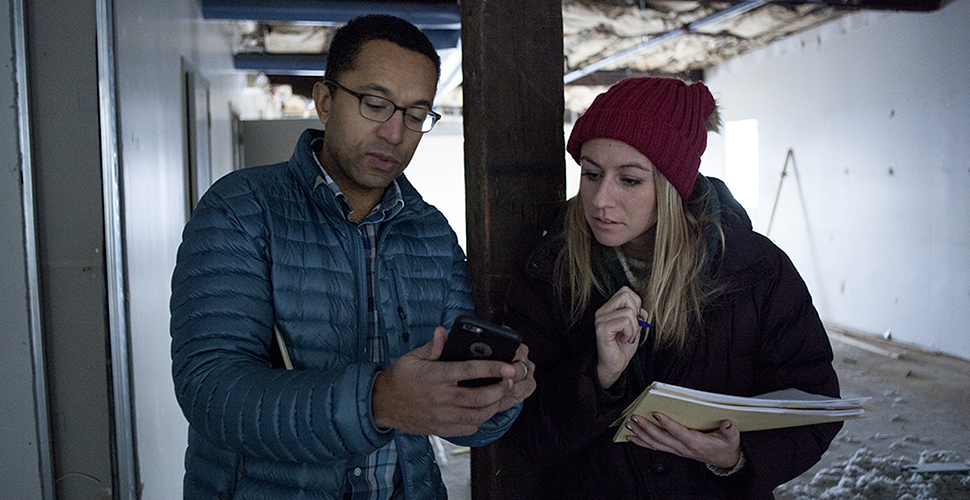 Laate Olukotun, NextFab's Marketing Manager, has a background in "placemaking" which he describes enthusiastically as "creating environments that empower people, that inspire people, that change people's lives." Olukotun formerly worked for office design giant, Steelcase, and did groundbreaking work with the establishment of Workspring (high-end offsite working spaces) and 654 Croswell (an early coworking space) before coming to NextFab.
Olukotun explains the evolution that lead to the Wilmington location design:
"Wilmington is technically our fourth take on a makerspace. Our first location, 3711 Market Street, was our first and smallest version. It was such a unique place – right in the heart of University City, on the first floor, filled with glass and possibilities. It was by far the easiest location to advertise our offering. People who walked by 'OldFab' (our first NextFab) were able to see woodworkers chipping away at their projects, people using the laser cutter, and still others co-working around a large community table.
Then we built our largest space (21,000 sq. ft.), our South Philadelphia location at 2025 Washington Street. It's filled with simple and advanced tools and houses the majority of our administrative staff. And, of course, we took over an existing space at 1227 N. 4th Street (our North Philadelphia location) about two years ago."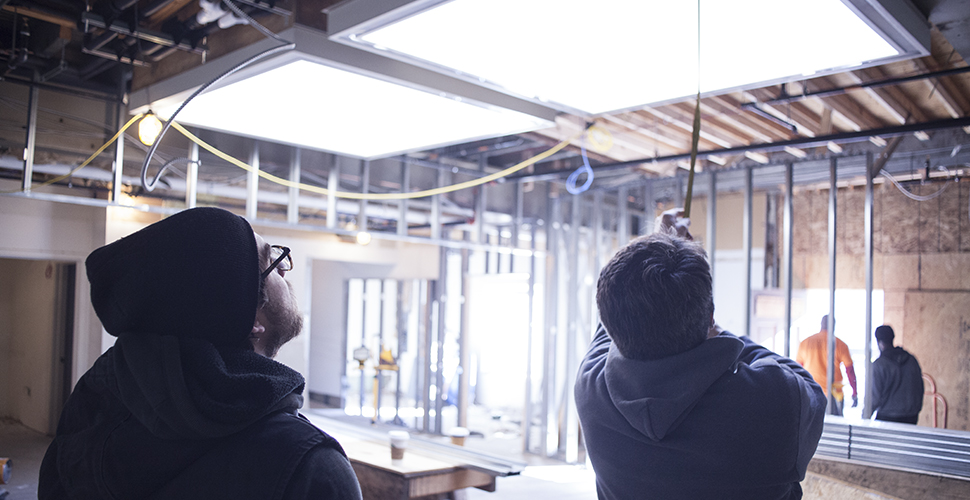 Matt Malesky, NextFab's Implementation Manager, was a key player in the success of the N. 4th Street location and was asked to apply his experience and expertise to the new space. His involvement prompted Olukotun's involvement, "I knew how important it was to get it right. Wilmington is our first out-of-state makerspace, and it is important to make a great first impression. So when I saw Wilmington's project manager, Matt Malesky, working on plans for the space, I wanted to help.
Each of these locations has benefited from the knowledge of the work that was done before. Much like NASA and the development of each rocket, we've learned from each launch and imagined ways in which we might improve on our concepts in the future. With Wilmington, we've done something a little different. This location is our first location that emphasizes our Venture Services offering [business incubation] over our now-traditional makerspace offering. In this 10,000 square feet space, approximately half of the space is dedicated to business incubation."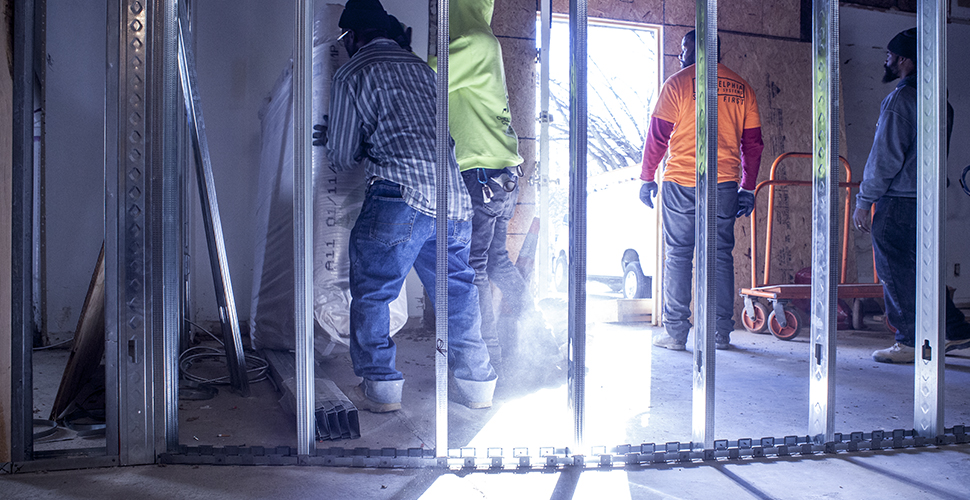 What I've learned over the years is that it's essential to place users at the very center of the design. – Laate Olukotun
Olukotun had been deep in the development of NextFab's new website and working with Philadelphia design firm At Media. Understanding the value of a cohesive design effort and brand continuity, he began conversations with At Media about signage design, which lead to the revelation that At Media also provided interior design services. Olukotun says, "As we considered what this place could be, I knew that we needed a great design team to help us create a beautiful space. That's how we brought in our brand partner, At Media, to help us. We were just wrapping up the development of our refined NextFab brand and shared vision for the company, made most evident through the design of our new website. To us, it was critically important to marry the virtual face of our business with the physical space. So when At Media and I met to discuss this idea, I was thrilled to see that they were excited to help. Starting at the end of November and continuing to this day, we've worked through everything from the signage to the interior design. It was a massive undertaking, and I am incredibly proud of our team."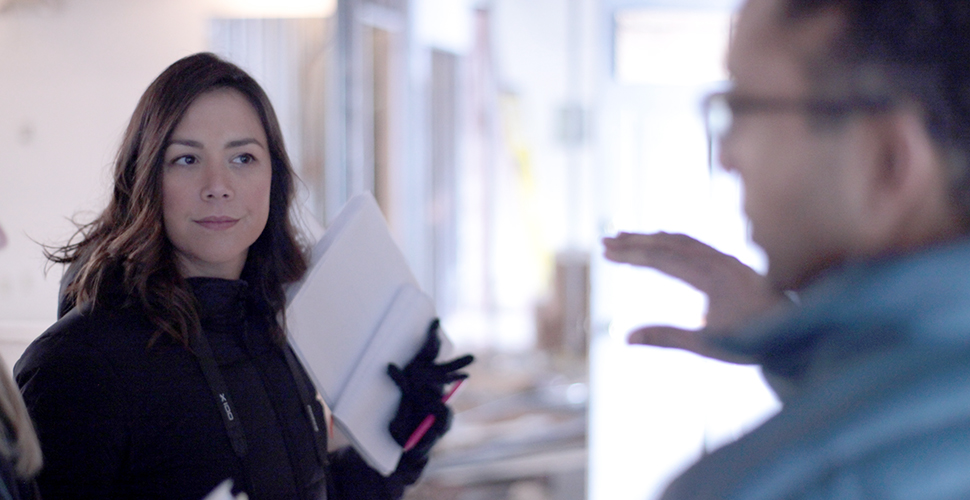 The first part of our process for interiors is to define what road we are on together. If you imagine the full potential of your brand as the top of a mountain, the road should help everyone make decisions towards that mountain climb, not away from it. – Antoinette Marie Johnson
At Media's founder, Antoinette Marie Johnson explains their role in the process, "For Nextfab's Wilmington location it was important for us to elevate the brand experience for members, much like the evolution of the Nextfab brand. We wanted the interior experience to match the 'the future of making' mission more and the new sleeker look online (we recently launched the website nextfab.com!). So the approach to this new space needed to feel 'on brand' with the organization's value and narrative."
Johnson explains that the usual limitations, primarily budget, were offset by the unique qualities of the client, "One of the best parts of working with Nextfab is that they have in-house abilities like rendering and making the actual items we have ideas for. So rather than paying a millworker, we went to members. Rather than hiring rendering artists, we worked with their staff. It was one of the most collaborative interiors projects we have ever worked on! Besides being the most awesome humans, Nextfab feels more like a partnership than a client. They are a part of the process and available for any ideas or decisions, and often volunteering their in-house abilities to make things happen. We have saved a lot of time by having so many resourceful minds on the project, versus other projects where the client is just expecting it to get done with little input. I hope we do more together for sure!"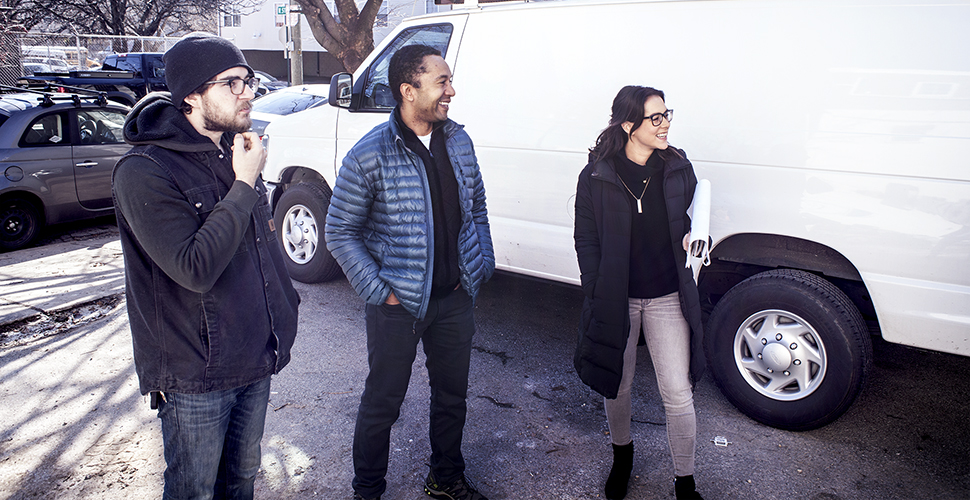 Malesky echoes the enjoyment of collaboration, "The whole team has been really fun to work with. I'm really interested in seeing how At Media's suggestions and visions create some continuity between the physical space and the slick new website they've built for us. The build out crew is NOT holding back. Michael Marinelli of Marinelli construction and his team have really been pulling through for us. We are lucky to have them on-board for this project. We've got friends that have helped us in the past on this project as well. The whole crew has been key."
In regard to the evolution that he has helped prompt, Malesky explains how the Wilmington location relates to the N. 4th Street location. "So far the experience has been quite different, but we have the same goals: first, build an amazing place that our members can use effectively and enjoy at the same time and, second, create a place where a community can thrive. At North 4th we receive a lot of feedback expressing how comfortable the space feels. This is really important and is something we have been trying to stay focused on while working through the layout and reconstruction of the building in Wilmington. To achieve this, the build-out process has been much more involved for us. The level of modification to this space is part of what has made this experience so different."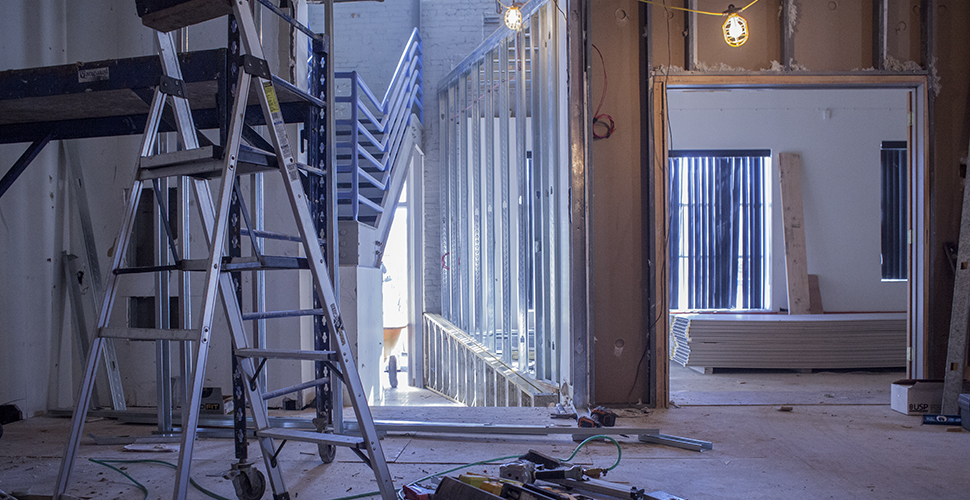 Malesky continues, "At North 4th we learned that our relationships with the surrounding community can play a huge part in the success of our space. You really need to become part of the community. Though it's not far from Philadelphia, NextFab's new home in Wilmington is relying heavily on new relationships we are building with everyone involved in opening this facility. Another important part of this is the team joining NextFab to run it. Their input so far has been incredibly helpful. It is also nice to know that they've all got some roots in the city of Wilmington. So, even though NextFab is new in town, there will be some familiar faces there to greet anyone coming through. They're excited to help make NextFab become a valuable part of Wilmington's community as well."
The team is excited to open the doors. While the opening date is still to be determined, NextFab Wilmington is going to be an exciting addition to the Wilmington landscape.
If you cannot wait for NextFab Wilmington to open, visitors are welcome to stop in for a tour at NextFab South Philadelphia or NextFab North Philadelphia.
Want to find out when NextFab Wilmington will open? Sign up for email updates.
Sign-Up for Our Newsletter