The RAPID Hardware Accelerator program that provides early-stage startups with funding and product development support switched from in-person to completely virtual until NextFab's facilities reopen to the public.
After the City of Philadelphia announced restrictions on commercial activity in March, NextFab closed its facilities to the public, but decided to move forward with its 12-week RAPID Hardware Accelerator program known for its funding and product development support available to early-stage companies. 

"We received 140 applications from startup teams from around the world. And after a rigorous selection process only 5 companies were accepted in NextFab's 2020 Spring Cohort. This happened just before the City of Philadelphia made the announcement and we decided that using web conferencing instead of postponing the program would help us keep the momentum going for these startups." says Todor Raykov, NextFab's Venture Services Manager.
"Switching to virtual meetings actually proves very helpful right now, because some of the teams are based in different cities. Now, they can still get support from the program's business and technical advisors without having to relocate here." Todor Raykov, NextFab's Venture Services Manager.
Meet the five teams:
THE MOST designs and manufactures new tech-enabled products for textured hair maintenance and styling. As is the case for many businesses, COVID has presented unanticipated challenges and obstacles for them. Luckily, their team has taken these challenges in stride. It has offered them an opportunity to think critically and entrepreneurially about this new world and the opportunities it offers.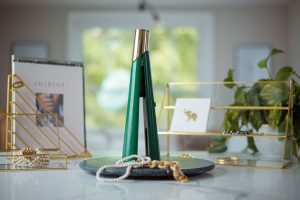 With NextFab, THE MOST had the opportunity to sit in on virtual programming and learn from region experts. They're also shoring up on the fundamentals and putting the right accounting, legal, and other infrastructure in place. With NextFab, they have had some breakthroughs about their business and the true value they can offer their consumers. These type of business epiphanies have allowed them to build out their brand and connect with consumers more deeply so that they are better positioned for the sale post-product development. When asked, they said in many ways, their team is stronger because of COVID-19. It forced them to come off of auto-pilot and engage more thoughtfully in the creative and entrepreneurial process. Grounded in NextFab's expert guidance, they're eager to see the yields over the coming months. 
According to the World Health Organization (WHO), 1 in 10 people are affected by foodborne disease, leading to the loss of 33,000,000 healthy life years annually. Globally,  food poisoning accounts for 420,000 deaths every year, with children accounting for almost 1/3 of those deaths. This is in addition to almost 40% of fresh fruits and vegetables that go to waste due to spoilage.
GoGGa LLC, in collaboration with AAPlasma LLC, is developing an inexpensive and scalable solution for disinfection of fresh fruits and vegetables from harvest, processing, transportation, and storage. Within 30 minutes of treatment, they observed an 8-log (99.999999%) reduction in E.coli, Listeria, Salmonella, and B.cereus on the surfaces of spinach, kale, lettuce, and strawberries. With the help of the NextFab Accelerator team, GoGGa is scaling up their lab system for mass production.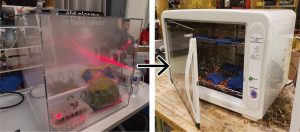 Running a business during the COVID-19 pandemic can be challenging. But, the team at GoGGa had an opportunity to pivot their technology for disinfection of personal protective equipment (PPE). Together with NextFab and other manufacturing partners, they have designed, prototyped, and are now producing the personal PPE disinfection system (model CP-PPE-2020-1) that can disinfect PPEs for up to three users in about 20 minutes.
For hundreds of couples struggling with infertility, they ultimately seek out assistance from the medical practice of in-vitro fertilization. Unfortunately, this experience can be a frustratingly emotional and fiscally challenging. Infertility can be caused by both physiological and social factors, and with limited insurance coverage for procedures, combined with a 70% failure rate, makes these procedures impossible for those with limited time and resources. 
Ravata Solutions is a medical device company in the Assisted Reproductive Technologies (ART) industry developing a suite of automated systems for the $1.1B animal and $4.76B human In-Vitro Fertilization (IVF) markets. They have developed a microfluidic diagnostic sensor to assess the quality of oocytes, sperm, and embryos during the IVF process. This will help address challenges in reproducible and expected outcomes for patient treatments. 

With their process standardization and by collecting information on patients, human single embryo transfer success rates have the potential to improve up to 40%. Preceding fulfillment of human IVF regulatory requirements, Ravata now provides IVF laboratory automation by offering application specific bio-chips for gene editing, viability based sorting of in vitro fertilized embryos, and sorting of cryo-recovered sperm. 
Buildings are the leading consumer of energy in the United States. Most were constructed over three decades ago with windows that are responsible for up to 30% of building energy consumption. Window replacement is disruptive and often expensive, yet over half of existing buildings will still be in use in 2050.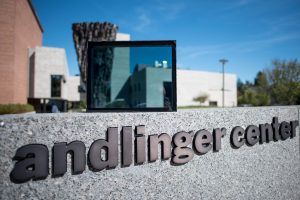 Andluca, a Princeton University spin-out, has developed UV-solar-powered smart glass for improving the energy efficiency of buildings. Andluca's patented solar-powered electrochromic glass can reduce building energy use by up to 30% and improve occupant productivity by 2+%.  Their smart windows are easily installed in existing buildings, unlike the current wired smart window products.
NextFab's support and the RAPID hardware accelerator curriculum have allowed Andluca to accelerate product development and maintain their go-to-market roadmap, despite COVID-19 disruptions. Resources like industry mentors and connections have positioned them for success through and beyond the pandemic.
Volta Therapeutics is dedicated to creating automation technology platforms that enable end-to-end cell therapy process development and accelerate the delivery of life saving solutions to the patient's bedside. The Volta platform focuses on automating various biological processes such as cell isolation, gene editing, final formulation. It's also testing the processing cartridges linked in a closed system environment.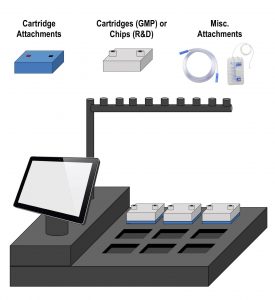 They are developing this platform for therapy organizations in need of customizable and scalable solutions. The benefits of their technology could disrupt the cell therapy industry by reducing the supply chain complexity, overhead costs and clean room infrastructure requirements. This is in addition to improving the scalability and quality needed to develop cellular therapies.
Come see the 5 startups pitch their ideas during Venture Café Philadelphia's virtual Thursday Gathering on June 18.
Register for the event HERE.
---
Interested in joining a future hardware accelerator cohort and receiving funding and product development support for your hardware startup? The application window for the RAPID Hardware Accelerator's 2020 Fall cohort opens on June 19th. 
Sign-Up for Our Newsletter