The Fall 2018 Cohort
As a cornerstone to the growing startup community in Philadelphia, NextFab's RAPID Hardware Accelerator continues to evolve. The program's success has begun to speak for itself and appropriately, RAPID applicants are becoming more sophisticated and competitive.
Venture Services Manager, Todor Raykov is excited about the newest cohort that has just begun the Fall 2018 session. "In each application cycle we get stronger and stronger applications. The startups that succeed in securing one of the four coveted cohort slots have done a lot of their homework before coming to NextFab. All of them had strong pitches and were able to articulate their ideas quickly. They also have strong teams with diverse skill sets and understand their industries well." Having such a strong foundation entering the program allows these companies to accelerate forward that much more quickly.
The four teams in the Fall 2018 cohort are very diverse in the products that they are developing.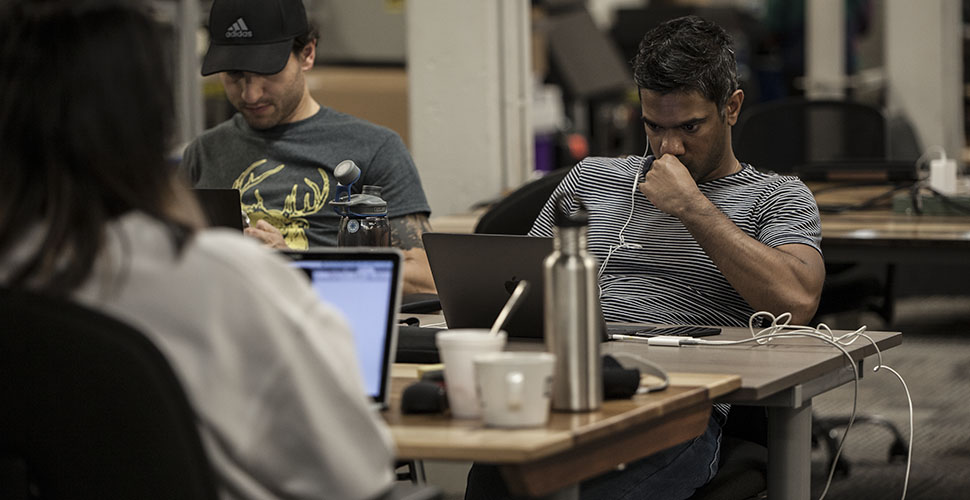 Hava Health is developing a vape pen that treats tobacco addiction. The pen uses two cartridges, one with standard nicotine oil, and one with a "clean" oil. By seamlessly transitioning between the two, the smoker kicks the "habit" without changing their physical habit.
"My co-founder and I have a significant entrepreneurship/software background. After selling our previous company and developing this idea we realized that we would need serious assistance with hardware development. We've applied to other incubators with previous companies and it can be a long, drawn out and complicated process. The [RAPID] application process was smooth and they kept us informed every step of the way." – Josh Israel, Co-Founder and CEO
Sage measures soil conditions and controls a smart valve to water plants when they need it. It's compatible with a standard garden hose thread and can control sprinklers, drip lines, soaker hoses, etc.
"Having all of these hardware resources and hearing that NextFab is expert at taking boxes of wires and turning them into prototypes and then real-world products, it was a perfect match. We'll be utilizing their warehouse space for our soil testing bed to do tests with our sensors. Quick access to tools and people around here that can give advice is really, really beneficial." – Trevor Stephens
APO Technologies provides a calibration and monitoring system for prosthetic limbs.
"RAPID will significantly help us with our upcoming manufacturing challenges. We are quite capable of making the Beta units that we'll soon be placing in labs for feedback. However we are not experienced in full production. We have already benefited from some of the seminars that NF has offered." – Jack Crowley, CEO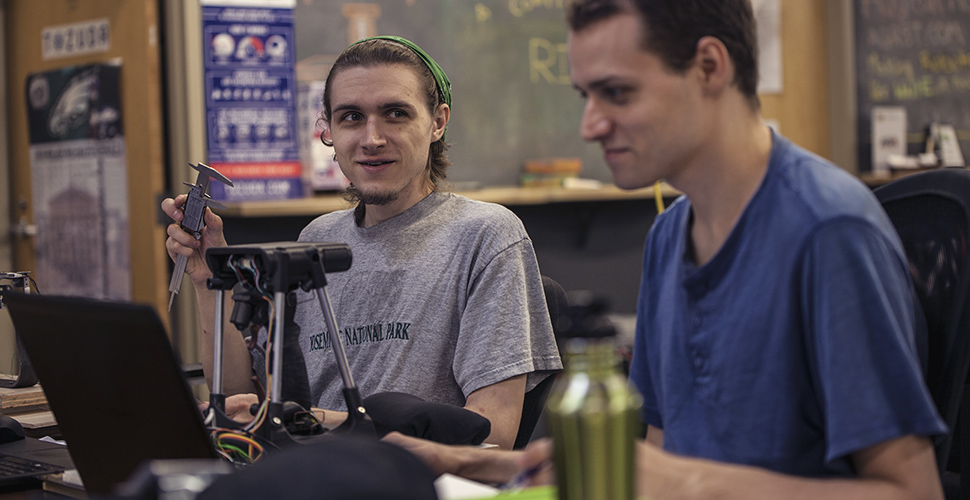 Sublight Dynamics is developing a six degrees of freedom or "6DOF" joystick. 6DOF means that the joystick operates in six axes. It allows the user to move up/down, tilt up/down, move side to side, turn side to side, move forward and back and roll. It has applications in gaming, drone flight, robotics, VR, etc.
"When I went through school at Jefferson University, I heard about NextFab and it sounded great. When the RAPID accelerator came up in conversation as an accelerator at NextFab, we were really excited." – Ben Stack, Mechanical / Industrial Design and CAD
"We were looking at West Coast or over-seas accelerators and we thought 'Oh, wait – there's one right around the corner!'" – Dan Stack, Electronics and Programming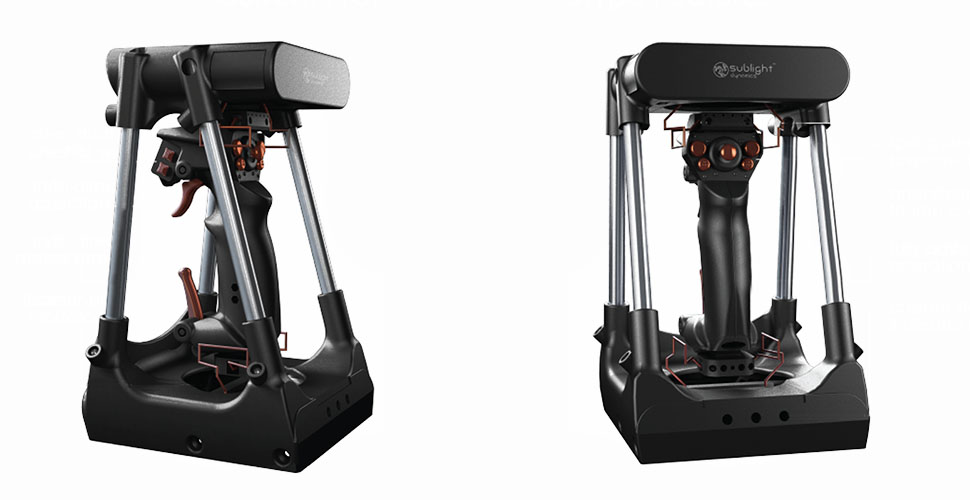 Todor, as always, is enthusiastic about the new cohort. "NextFab is going to spend the next 3 months working closely with these teams and provide as much technical and business guidance as we can. In addition to this, we will connect the entrepreneurs to outside experts and organizations in the Philly startup ecosystem to provide feedback and resources. We are excited to accelerate them to the next stage."
By providing access to a great support network, NextFab hopes to keep RAPID graduates grounded in Philadelphia in the long term. While New York and the Bay Area have been traditional hot spots for startups, Philadelphia has never been in a better position to attract, keep, and grow great hardware startups. As an accessible, affordable and well located city with around 100 schools of higher learning, it's no wonder that Philly is becoming a hot-spot for startups.
Sign-Up for Our Newsletter