Friday, January 27th, saw the graduation of the latest cohort of the RAPID Hardware Accelerator program participants. Each participant presented their product and company profile to an enthusiastic crowd.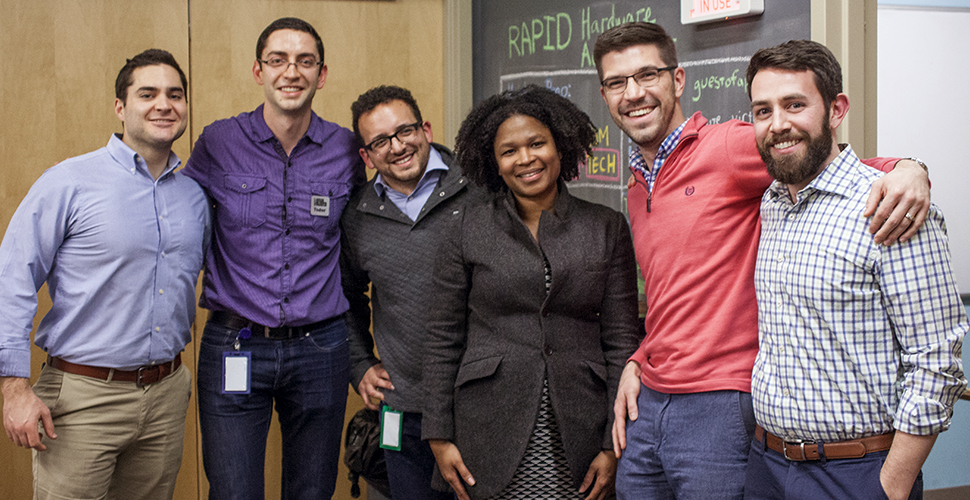 Program director Todor Raykov relates, "We are very happy with the companies we selected for NextFab's Fall 2016 cohort, because of the interesting problems they are tackling and because of the founders' diverse skill sets. For this cohort, we decided to be industry agnostic because we wanted to give a chance to a broader group of people to join the accelerator and take advantage of our prototyping equipment and staff expertise." 
The products developed in the program certainly are diverse and include a QR-code door-control system, an operating room process enhancement, a high tech water-testing system and educational projects that develop motor skills and teach circuit building.
Raykov explains the value of this diversity, "We intentionally selected applicants working on problems in radically different industries in order to foster the cross-pollination of creative ideas. What we didn't expect is that despite these differences, the founders experienced very similar challenges in the early stages of their product development. This and the fact that they are not competing with each other created a form of camaraderie that made the participants more open to sharing ideas and contacts that opened new opportunities for growth for them."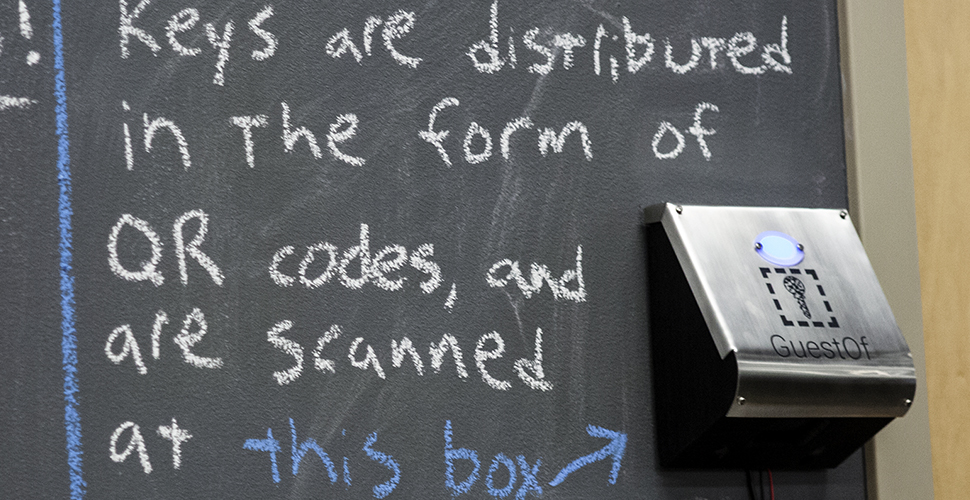 GuestOf
Matt Nicosia's company, GuestOf, has developed an apartment entryway access system through the program.  Nicosia and his partner began by working on the product in their spare time before hiring a 3D printing company to help with prototypes.
Nicosia explains:
"That helped us reach the point of having a working prototype, but NextFab brought us to the point that we had something that I wouldn't be embarrassed to install. Before it was just a box and now it's a modern product. I was able to come up with an idea, do a market analysis, look at competitors, etc. but I didn't have the ability to make it, so that's what's been huge here- there's somebody in the metal shop who knows how to help me make this, there's somebody in the 3D printing lab who's like, 'hey, we can do these parts for super cheap if you glue these parts together with this bond that you've never heard of…' And it's not just the shop managers, but the industrial design consultant, electrical engineering, the fact that I can find someone who can answer any question I might have. We've been able to move ten times faster than we would have if I was still operating out of my apartment."

In addition to the physical product, the RAPID program has also helped Nicosia's company to take shape. "Even though I come from a business background, I wasn't in the finance world, this was all brand new to me, I had no idea where to go," says Nicosia. Explaining the relationships and access that NextFab has provided, he continues,"it's introduced me to a world that otherwise I wouldn't have the opportunity to be a part of."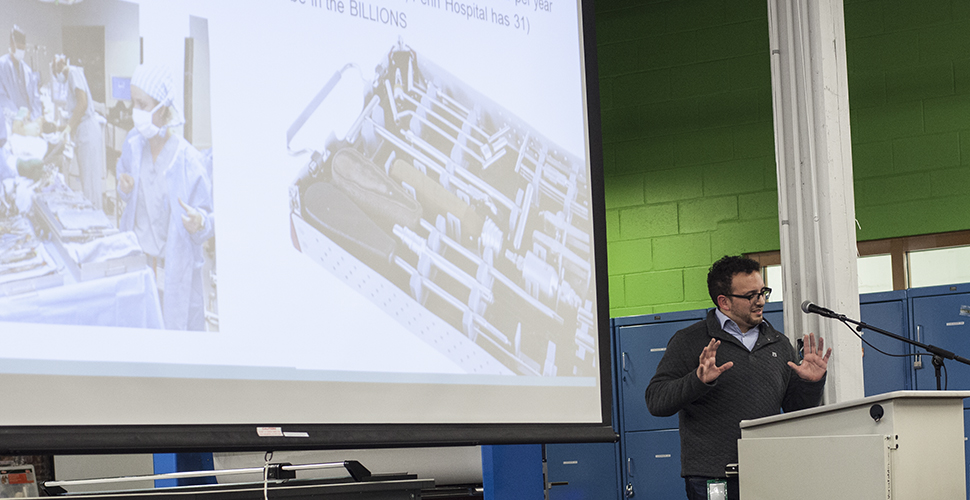 Tory Surgical
"I came to NextFab after an interest in maker spaces.  I wanted the ability to work with my hands again after years of being a contract engineer desk jockey," explains Chris Saylor, of Tory Surgical, "I came across the RAPID program on our blog at NextFab. This was a concept we came up with during graduate school, and I had an idea how to adapt it into a modern hardware startup in the past year.  Hardware is something new to me but I am very excited about the possibilities and novel approach a hardware solution provides."
The details of Tory Surgical's hardware solution are proprietary and still under wraps but will, essentially, save time and money and help to organize and streamline operating room procedure.
"I did not expect that working every day on this full time would become so fulfilling, and how easy and fast troubleshooting is when you're in a creative shared space like NextFab," adds Saylor,"RAPID has allowed me to really bring the company together, build our brand and  legitimacy, and get me on the path to make the connections I'll need to make my product successful.  Simply put, without RAPID and NextFab, Tory Surgical would still just be an idea in the back of my head."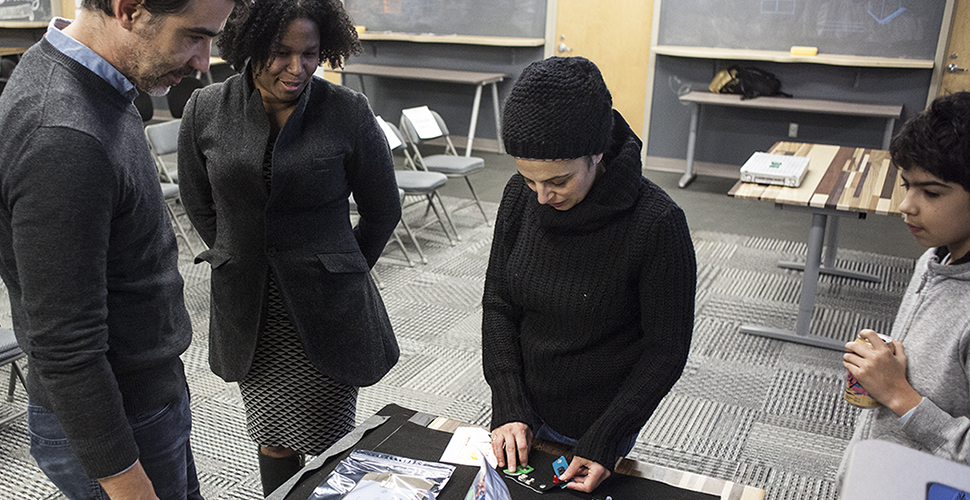 Hacker Prep
Ronah Harris is an education specialist who has designed a line of sewable circuits – soft, stuffed animal-like toys with embedded circuits such as lights or sound chips. Her toys teach children sewing skills and circuitry and are the foundation of her company, Hacker Prep. Hacker Prep will sell fun, educational toys to schools and other educational centers as well as to parents looking for skill building educational projects for their kids. Harris has made her products inexpensive in an effort to make them accessible to children who wouldn't otherwise have access to these kinds of educational toys.
Harris explains:
"I have been a researcher and writer of programs for STEAM education – computer, science and robotics mostly in PreK-12 education. I have always been interested in designing my own set of tools to teach the topics of Technology, Engineering and Mathematics. I find most of the products in STEM are expensive, aspirational but very disconnected to children's imaginative minds. I applied to the Rapid Program to get my ideas out of my head and into tangible products ready for manufacturing. 
I learned a lot in the program, about business, Intellectual Property, project management and about technology manufacturing. Having a variety of amazingly professionals who are content experts is invaluable when you are working on a new idea. Material science is tricky, electrical engineering and physical prototyping is costly. As a company in the Rapid Program I felt very supported and I was enabled to tap into all sorts of resources and minds to make my product viable, and ultimately better designed."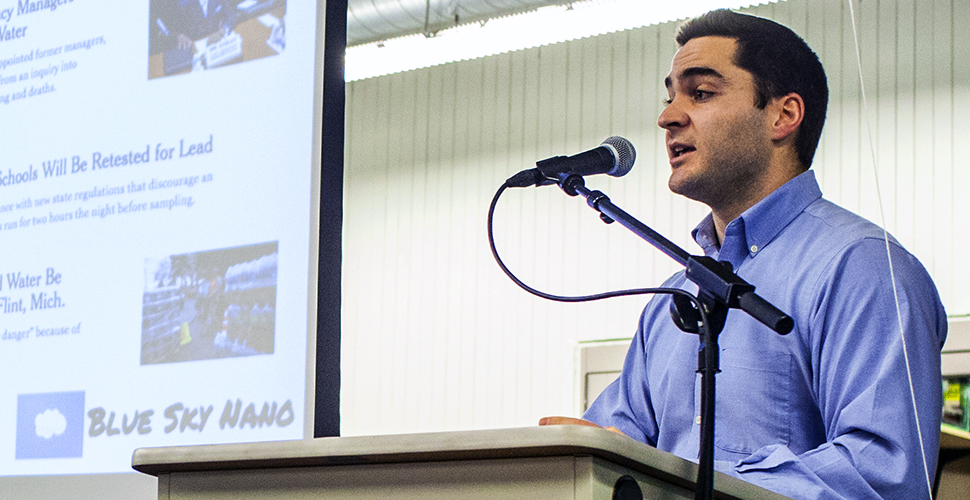 Matt Serota is a co-founder of Blue Sky Nano. Seeing growing challenges in aging infrastructure and the growing health threat that unclean water presents, Matt Serota and Mitch Steinberg co-founded Blue Sky Nano. Their concept is for an internet of things drinking water contamination sensor enabled by nanotechnology and microfluidics.

Serota Explains:

"We're local and the space has been a great meeting place – one that is conducive to helping us build. We've enjoyed the fact that we can show up for a class and use the space to connect with other people or hang out. The RAPID accelerator had instructional speakers, a structured format to help us advance our concept, and valuable mentorship. We also found a lot of the content that Todor had curated about additional opportunities and resources something that will help us throughout our careers. The one-on-one mentorship with Todor and Ken [Tomlinson] was incredibly valuable, their experience with start up and entrepreneurship really helped us challenge our assumptions and think about concepts and customers in new ways."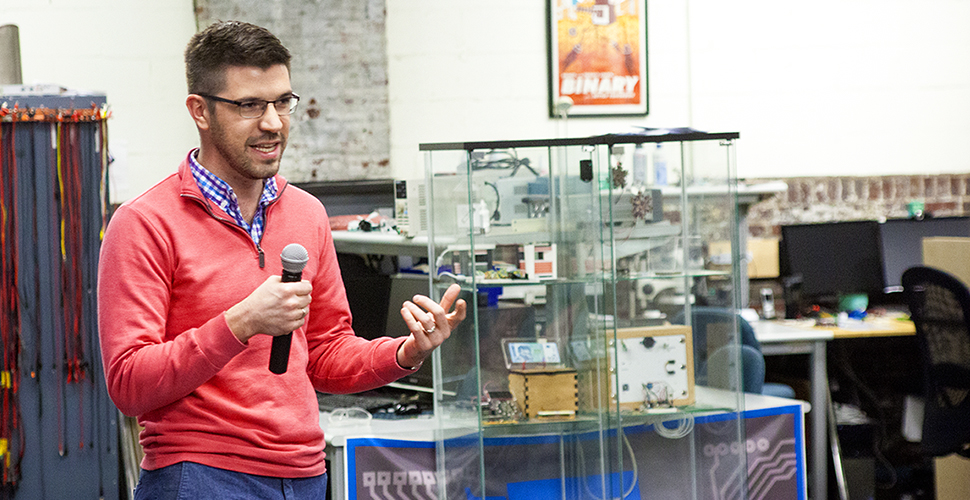 Congrats to all teams
NextFab's Venture Services Director, Ken Tomlinson comments, "I'm very excited and proud to see how far each company has come over the program. They each started with just an idea – I think they've really learned how to articulate, test and move their companies forward. We will be continuing to support these companies past their graduation and love having them in our community. Our hope is by providing RAPID opportunities 2 times a year NextFab will be able to inspire the next wave of hardware entrepreneurs!"
Sign-Up for Our Newsletter