MAKERS MAKE IT BETTER
Years ago, the world was filled with makers in every shop, on every street. These are the people who got named for what they made. Do you make barrels? You're Mr. Barrelmaker. Do you work with silver? Hello, Ms. Silversmith. The list goes on and on. Today, you'd be hard-pressed to find even half as many makers in shops, literally making a name for themselves. But that doesn't change our need for their expertly created, intentionally designed items.
And especially for millennials today, it doesn't change the growing appreciation for small-batch manufacturing craftsmanship or the growing disdain for large corporations who endlessly churn out worthless products we'll ultimately throw away. Small-batch manufacturing is a term used to describe a small production run of goods, typically less than 500 units. While today's market is saturated with products that are mass-produced, small-batch manufacturing is starting to see a resurgence. Consumers are starting to choose quality over quantity, and they're seeking out the products that are on this level of craftsmanship.
So, how do we answer this increasing desire for bespoke creations? Perhaps the answer is just to make them.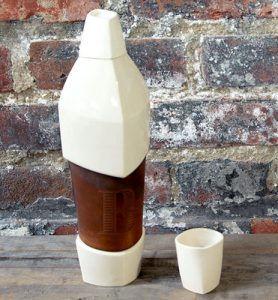 At least that's what Mark Brandon, the mind and hands behind Destined Goods decided to do. As an entrepreneur with a mechanical engineering background, Mark responded to the rising demand for small-batch manufacturing by joining NextFab in Philadelphia and founding a company that specializes in custom-made homegoods from ceramic, leather, metal, and other natural materials. With the help of the machinery, materials, tools, training and space of NextFab, Mark creates smartly-designed, extremely handy vessels and drinkware products that aren't just good-looking. These are tough, hand-made products with custom features that people purchase to keep forever.
The resurgence of small-batch manufacturing has removed the barrier to entry for many startups and entrepreneurs. Without the daunting cost of large-run manufacturing (and not to mention inventory storage), more and more makers can see their product come to fruition. This has allowed for an explosion of independent, e-commerce stores.
Small-batch is a more agile type of manufacturing as well, making it attractive to companies of all sizes. Some larger, national companies will turn to small-batch manufacturers due to the quick turnaround time and low-risk production costs. Minimum quantities of 1,000-10,000 units can get expensive, and become a risk that many entrepreneurs cannot afford. Small-batch manufacturing allows an inventor or entrepreneur to get their product out to the market without spending thousands of dollars on production.
Even without a place like NextFab, a crafty entrepreneur like Mark surely would've found a way to bring his vision to life. Maybe he would've found an investor to build him a shop. Maybe he could've made a name for himself by working his tail off to pay rent. But thanks to NextFab, Mark didn't have to worry about any of that overhead. So not only was he able to start ideating and designing his products, Mark was able to complete his manufacturing, and produce his finished product right here at Nextfab. Mark Brandon was the guest on the inaugural episode of our new NextFab Made podcast: Break Through. In the episode, Mark sat down with host Ron Bauman of Milk Street Marketing to discuss his journey to entrepreneurship and the importance of small-batch manufacturing to his startup company, Destined Goods. Listen here or click the link to read the full transcript.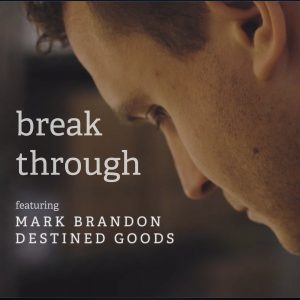 Sign-Up for Our Newsletter