If you're an artisan entrepreneur trying to grow your brand, chances are someone has recommended using Instagram. With its visual focus, this social media platform is ideal for artists. But there's more to Instagram than simply posting your creations (although that's part of it). Let's talk about how you can take full advantage of Instagram to connect with the right customers and boost your sales. 
Complete Your Instagram Profile
Unlike personal accounts, business accounts are automatically public so potential followers can easily find you. Customers want to know your account is legit and you're not a bot, so make sure your profile is complete. A bio and picture are a must. Also, include your website address and branded hashtag if you have one.
Since you have limited space, your bio should be straightforward, telling potential customers what you do. It's certainly okay to show your personality, but in the profile, it's best to stick with your brand. For example, include words like "artist" or "studio." Avoid descriptions that don't serve your business, like "animal lover" (unless your work is based on animals). 
Create Content to Build Relationships
New Instagram users may not know what to post – but creating content is easier than you think! Followers want to see your work, your process, and get to know your story as an artist. Let customers experience a bit of your everyday life to build trust and solidify your brand. They're more apt to purchase when they feel a connection.
What to Post
Some ideas include videos, pictures, and stories showing:
Finished pieces of work (both for sale or recently sold) 

Works in progress

Tools you use to create your artwork 

Pictures or videos of you creating (past and present) 

Your studio or other places where you create your work

Your inspiration for your work 

Where customers can buy your products 

Information on events you're scheduled to attend  
Try to strike a balance between promotional and informational content. Check out the Instagram page of NextFab member Ben Doar whose strategy showcases his work-in-progress and has a personal touch with a picture of his grandmother as a blacksmith.  
View this post on Instagram
Understand Your Audience
You may have 5,000 followers, but who are they? What are they looking for? With an Instagram business account, you can view your Instagram Insights. Learn your followers' locations, age ranges, and gender breakdown. This will give you some clues as to how you might position your posts. For example, are 75% of your followers local? They might enjoy hearing about where you'll be selling your crafts and seeing pictures of you in a well-loved local institution.
Understanding Posts vs. Stories 
You can post content in two different ways on Instagram: posts or stories. 
Instagram Posts
Your posts contain pictures with captions or short videos that remain in your feed. They're typically curated content and carefully planned in advance with expert lighting and attention to detail. Check out NextFab member Idol Light to see great curated content including expert use of lighting. She even covered product photography how-to's in our From Making to Selling online webinar series, which can be reviewed here.
View this post on Instagram
Posts also allow you to sell your products directly from Instagram. This great new feature is called shoppable posts. If you have a Facebook Shop or an e-commerce site like BigCommerce or Shopify, you can simply connect your online shop to your business page and tag your products. Customers can click on them to learn more or complete their transaction right from the platform.
Instagram Stories
Stories, on the other hand, create a more intimate vibe with your followers. Since they're more informal, stories are a great way to talk about what's happening in the moment, or to let your personality shine through. They're only posted for 24 hours, then disappear (unless you save them to your highlights). 
Stories also have interactive features, such as polls and countdowns, that can help increase engagement between you and your followers. For example, you can create a poll to ask your followers to choose between two color palettes for tomorrow's work. Follow the one that gets the most votes, then post the results, making followers feel a part of your process. 
How Often and When Should You Post?
Consistency is key. Many Instagram users make the mistake of starting out strong, only to lose engagement as their posts taper off. Experts suggest posting one to three times a day – but this may not work for you. It's more important to decide on a cadence and stick with it so followers know what to expect. As you'll learn, quality is better than quantity.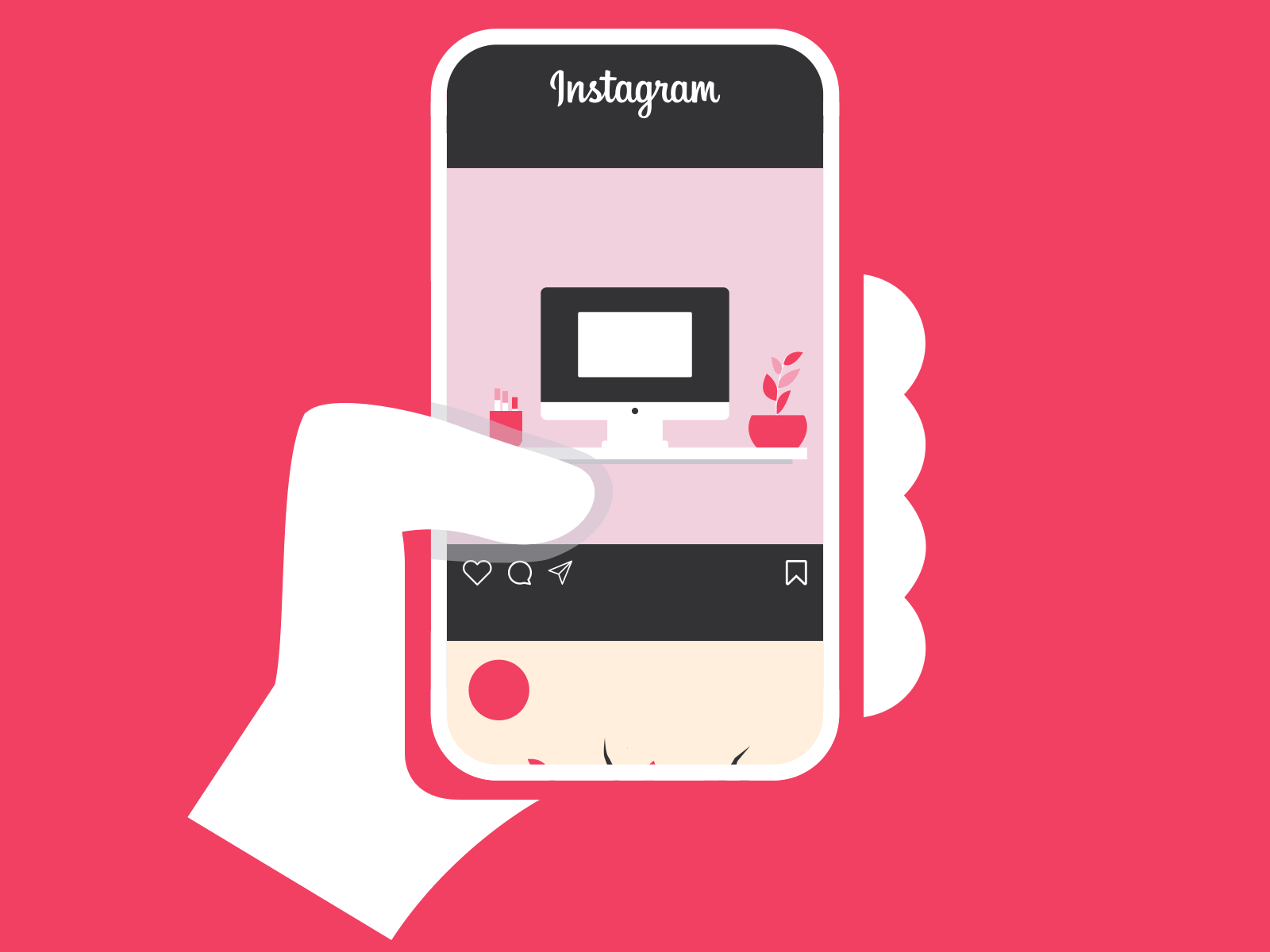 Best Time to Post
Instagram users typically scroll first thing in the morning and after work, so those times work well for most brands. However, you can figure out the best time for your specific audience by experimenting. Plus, Instagram Insights also allows you to see the exact reach of a post and what time your followers use Instagram. This data will help you create an ideal posting schedule.
Planning Saves Time
Free services like Later or Hootsuite can help you plan your posts in advance. You can schedule a week's (or more) worth of posts in one sitting. And when you're busy, this can be a lifesaver! 
Why #Hashtag?
Hashtags help you reach the right customers for your brand. They organize and categorize content, and will be visible on their corresponding hashtag page. This means users you might not normally reach can find you through use of a common hashtag. Plus, posts with hashtags receive almost 12.6% more engagement!
Choosing Hashtags 
Use hashtags that are relevant to your business and make them specific.  For example, use #artist and your posts can easily get lost. But #stainedglassartist is more descriptive and will stand out.  
There are several ways to help you choose which hashtags work best:
Hashtag Analytics –

Check your hashtag analytics to determine which hashtags drive engagement. 

What's Currently in Use –

Learn which hashtags current customers and competitors use and follow. Look to similar Instagram influencers to see what they use. 

Use Suggested Hashtags –

Use Later's hashtag suggestion feature to help you determine which ones might help your post reach more users. 
How Many is Too Many? 
Posts can have up to 30 hashtags and stories, 10. So how many do you use? If you can find 30 hashtags that produce results for you, then go for it. If not, it's best to go with a smaller number that works. Remember, quality over quantity.  
Branded Hashtags 
Did you know that you can create a branded hashtag just for your company? Ours is #NextFabMade. Use it in your posts and it's an easy way for users to find your brand. The goal is for your followers to use your brand hashtag when they post about your product.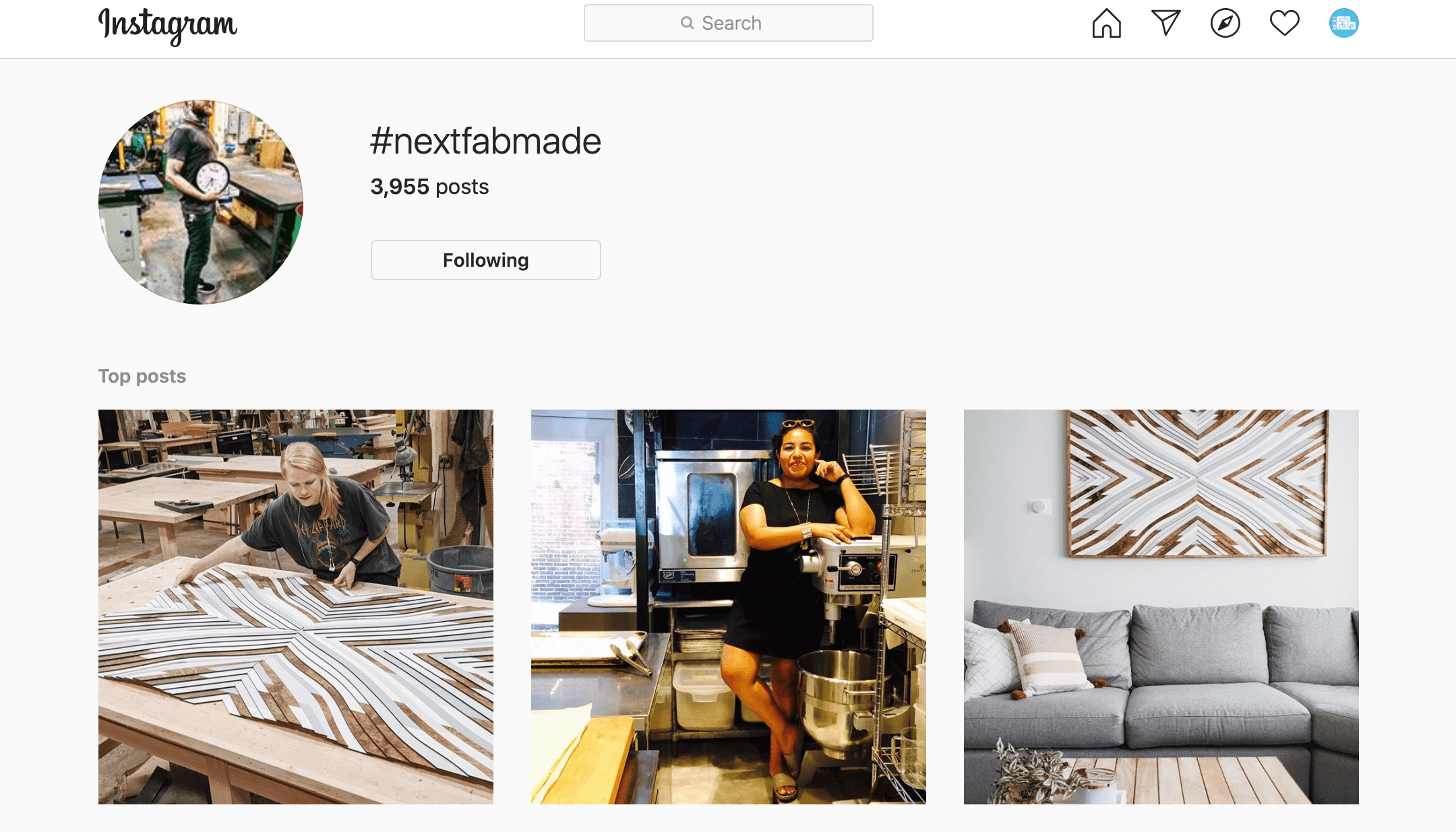 When choosing a branded hashtag, keep it short, specific, and unique. Make sure it isn't already in use. Something fun or simple will help people remember it. Place your hashtag in your bio so users can easily find your branded hashtag page. Remember to include it in your other digital and print marketing materials – not just on Instagram. 
Engagement and Followers
While increasing your number of followers is important, it's engagement that counts. Think of it this way: 300 quality followers can be more impactful than 10,000 unengaged followers. Here's how to raise your visibility and get them talking about you!
Finding New Followers
One way to find new connections is to use Instagram's suggested users feature. These suggestions are based on people you follow, your connections, and posts you've liked, so chances are the suggested users will be interested in your work.
Respond to Your Followers
Engagement begets engagement. It's important to post, but it's also important to engage with others' posts and stories. Always respond to comments on your posts. Even if it's just a simple "thank you." 
Promote Your Handle 
Always let your customers know you're on Instagram. "Remember, when you're meeting new customers at craft fairs, tabling events, and in-stores, there's an opportunity to gain quality social media followers. Make sure your signage and handouts have your website and social media handle on it," says Rebecca Ledbetter, NextFab Marketing Manager.
After all, your loyal customers won't want to miss out on all of your great posts and stories to come! 
Ready to up your Instagram game?
Follow these tips and you'll be an Instagram guru in no time. Check out NextFab's four-part webinar series, From Making to Selling, for more insights about online marketing, branding, and social media.
If you'd like more one-on-one support, NextFab recently partnered with Bad Town LLC, an independent art label that serves the Greater Philadelphia area. Bad Town rolled out a comprehensive digital marketing brand audit and analysis service package (at a special rate of $199) that assesses the artist's style, examines their current channels, and recommends a customized pathway for accelerating their business.
Sign-Up for Our Newsletter