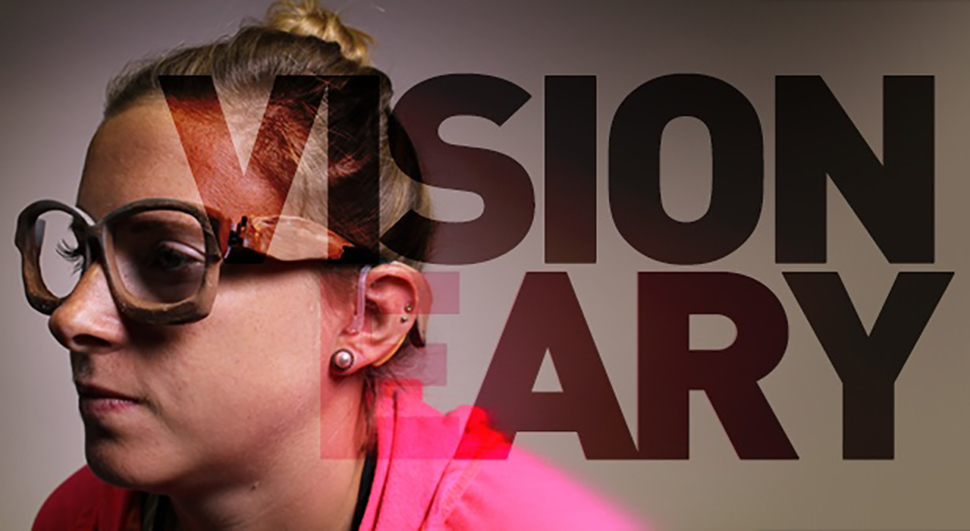 "Growing up, I was always active in school and athletics. In elementary school I wanted to get involved in every project or activity. I started learning sign language at age 7 and at age 8 became friends with some wonderful deaf and hard of hearing kids in my class.  This was my first experience realizing that I wanted to do something that cared for others."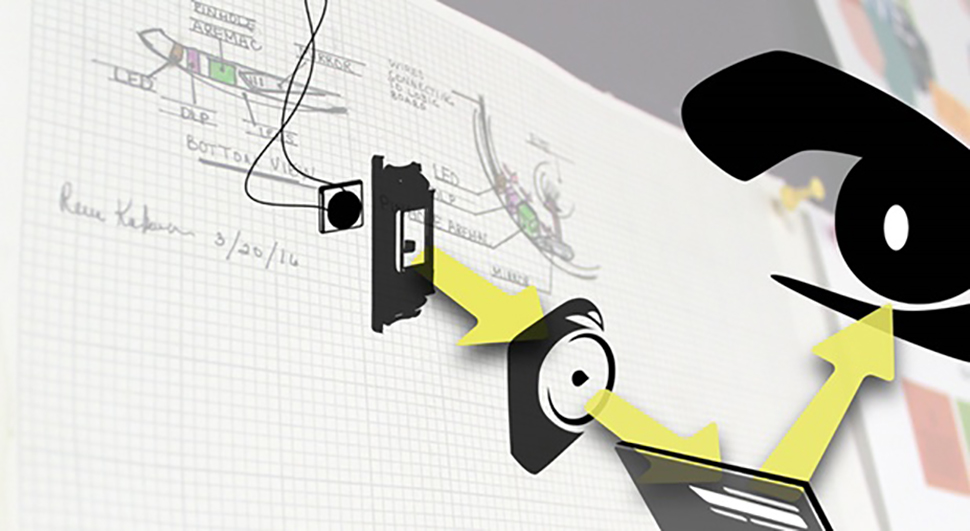 NextFab student member, fresh Philadelphia University grad and Olive Devices founder, Renee Kakareka founded her company in order to create assistive medical products to "create superpowers for different abilities." Their first product, which is now in development, is a deaf/hearing impaired assistive device. The device is worn like a pair of eyeglasses and uses a virtual retinal display to project a virtual image on the wearers retina. It "hears" spoken words and translates them from sound to text which is then made visible to the wearer.
Kakareka's background with American Sign Language (ASL) and strong, early friendships with deaf students in her class helped to inform her product development. Understanding limitations in translator based educational development, she designed a product that would circumvent human translation and give an educational experience that was closer to what non-hearing impaired students receive.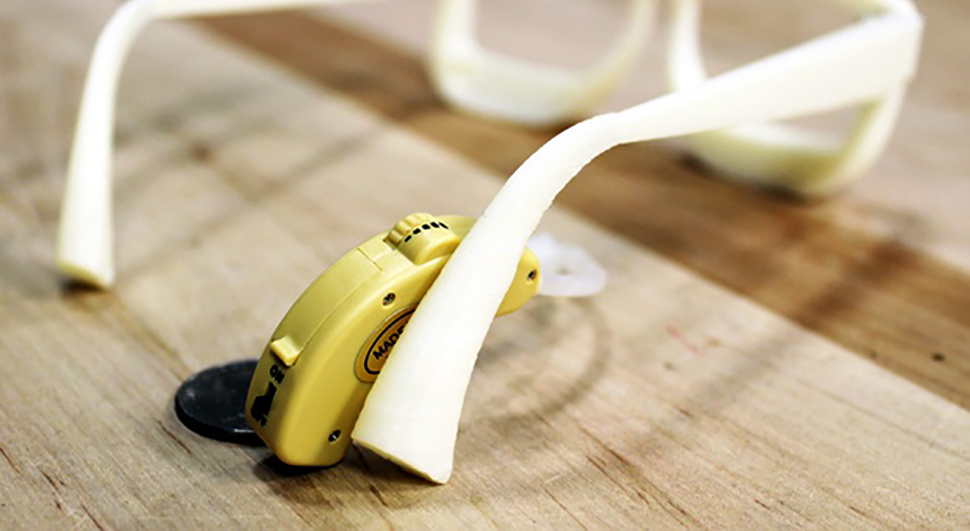 Kakareka explains, "The experience in education for deaf and hard of hearing are limited in a few ways: Although unintentional, interpreters provide more answers than the student should get which hurts the student from learning the material; Some kids that wear hearing aids or cochlear implants will not understand the full word and will think it is a different word. Say they heard 'home' but the teacher said 'clone', that is a very different message and the kid will sit there trying to figure out what the word should've been and miss part of the lesson; Kids that use separate mics to gain information miss out on what their peers are saying. If the microphones range doesn't reach or they don't turn their microphone in the right direction the student will again miss part of the conversation and often get lost; In groups and during class it gets very exhausting for a kid that is deaf or hard of hearing to follow conversation and pay attention to everything that is being said. Although microphones in hearing aids amplify volumes they are all at the same volume and are not 100% clear so the student will start to zone out."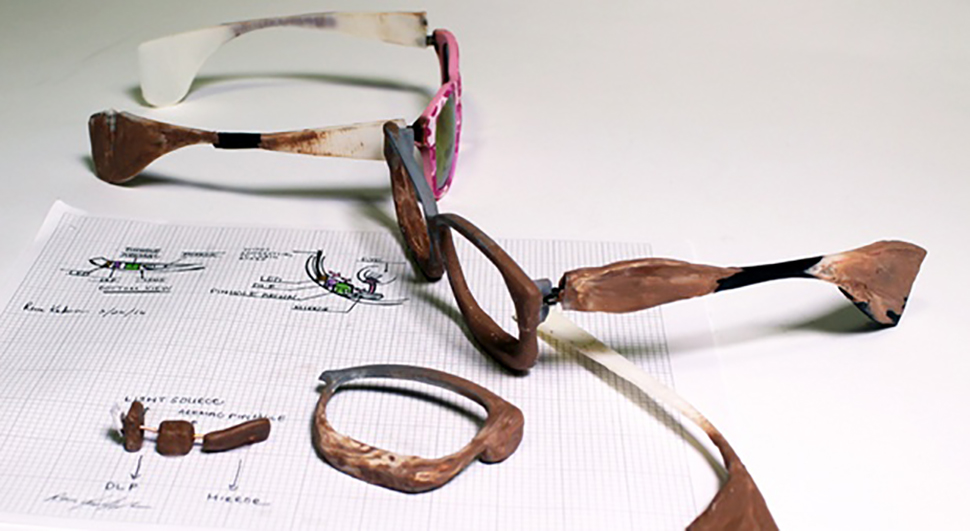 Kakareka has done some creative hands-on prototyping. She 3D prints and laser cuts frames, molds Sculpey (clay) onto them and refines them with a Dremel tool. She then measures the models and goes back to her CAD drawings to make adjustments based on the physical prototypes.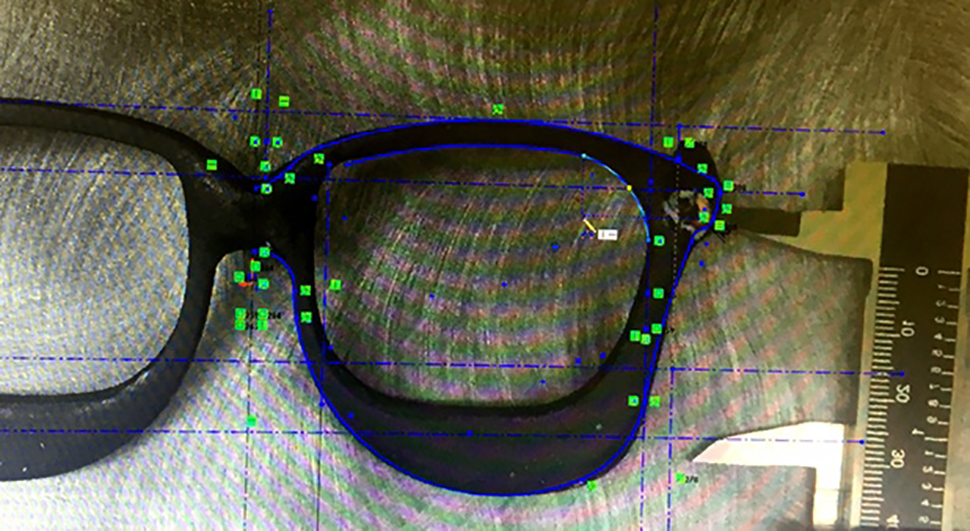 The next step is integrating the Raspberry Pi, a credit-card sized computer, into the prototypes. The Raspberry Pi is an educational computer science tool that is great for makers and prototyping, as it is small, cost effective and very accessible. There are many add-on modules making adaptability and customization simple. Kakareka and her team are working on integrating an audio card into the Raspberry Pi to detect sound from multiple microphones. The microphone system will help with fatigue in educational settings. By having the options to scroll through captions directly on the glasses or refer back to the saved captions on an integrated mobile app later, students will not have to exert mental energy to figure out who is speaking and determine the veracity of the words they are hearing.
The app also has a feature that allows teachers to edit captions retroactively. This allows verification for the student and the teacher and creates documented notes for future reference.
Kakareka has just completed her degree at Philadelphia University and looks forward to digging in deeper at NextFab, "I am very excited about taking more classes at NextFab. I plan to take the consumer grade 3D printing course some electronics courses and coding courses. Possibly a course on Rhino too. Being able to use all these programs and equipment will be very beneficial for our start-up progress. My NextFab membership is allowing me to gain knowledge, relationships, and progress in product development without breaking the bank!"
Want to learn more about circuits? Get started with our Circuits 1 Class
Interested in 3D printing? Take a 3D Printing Class!
Check out our student pricing: