Community First
NextFab's Wilmington, Delaware location, which opened in June of this year, is an exciting extension of NextFab's commitment to community involvement. The genesis of the Wilmington location was itself a community development effort.
Our latest location was willed into existence through the collective effort of many teams, including the incredible contributions of our forward-thinking partner, The Wilmington Renaissance Corporation (WRC). The WRC was established in 1993 to revitalize the downtown Wilmington area to increase the economic, educational, cultural, and social vitality of the area. A central component of this effort was the establishment of a creative district. Understanding the value of coworking, makerspaces, and other creative spaces to this effort, a planning firm (Interface Studio) recommended NextFab as a "best-practice" model. Board members visited NextFab's Washington Avenue location, and the seeds of a great relationship between the WRC and NextFab were planted.
We have so much to offer here and NextFab being here only adds to that! – Dr. Carrie Gray
Dr. Carrie Gray, Managing Director of WRC explains, "The idea of a makerspace was pretty important to the vision for the Creative District and we knew that NextFab's presence here would be critical to our path forward. NextFab's decision to locate here signaled to a lot of creatives in Wilmington that a significant investment was being made in creating a space where not only their careers could grow, but our community could grow and connect as well."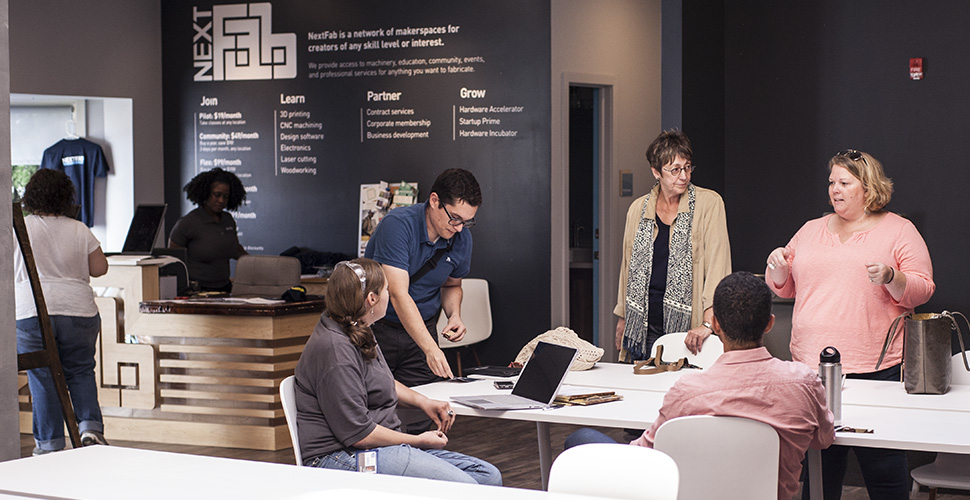 Forging Strong Partnerships
As soon as NextFab's Wilmington studio opened in June 2017, the organizational partnership kicked into high gear. Starting with the Innovation Workshop Series, funded by the Delaware Division of the Arts, WRC was able to provide NextFab scholarships to about 20 local artists. Dr. Gray explains, "This gave them a 4-month free membership to NextFab and the ability to take a series of workshops in a variety of content areas – everything from woodshop to Photoshop! The best story that has come out of that is that of a local nonprofit organization, Wilmington Placemakers."
Making Places
Wilmington Placemakers is a dynamic team of three friends and business partners, John Naughton, Jason Aviles and James Thompson. Wilmington Placemakers share a passion for community improvement and were excited to collaborate with NextFab to build their Greenbox project. Greenbox is an infill greenspace on the 400 block of Market Street out of which they sell fresh fruits and vegetables, fresh-pressed juices, and more. They also host community programs, including open mic nights.
NextFab Technical Supervisor, Chad Repaal, proved to be a valuable partner in ensuring the success of the Greenbox project. Repaal taught the Placemakers team how to design, build and transform their ideas into a physical construction in a matter of weeks – he also taught them how to maintain the property by planting, weed whacking and watering.
In turn, Naughton, Aviles, and Thompson then taught [some young individuals] the skills they learned from Repaal. The process was a perfect example of how the empowerment of making can be infectious and cascade through communities.
NextFab empowers the individual to shift from a consumer mindset to an entrepreneurial mindset. – Jason Aviles, Wilmington Placemakers
Aviles speaks enthusiastically, "NextFab is a resource that's needed, but at the same time, people don't know they need it until they experience it." Aviles had heard about NextFab prior to the Wilmington location opening but was initially intimidated by it, not having had any experience working with his hands. That all changed as soon as he got his hands dirty, "NextFab turned a non-builder into a builder and a non-believer into a believer," he says, "Through the tools, the assistance and the vision, NextFab empowers the individual to shift from a consumer mindset to an entrepreneurial mindset."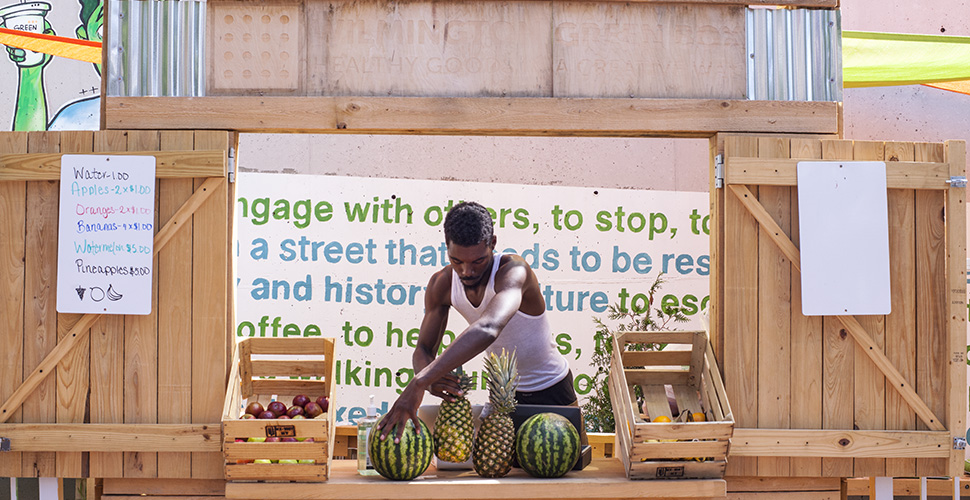 Block Party
The success of projects like Greenbox quickly led to other community-based opportunities. Within only a few weeks, NextFab's Chad Repaal was tapped again to work with another local community group, West Side Grows Together. Their events are typically small block parties to draw attention to an area and propose and find support for redevelopment. Instead of simply doing the work, NextFab helped the organization learn how to fish. Two teammates from West Side Grows Together joined NextFab and worked hand-in-hand with Repaal.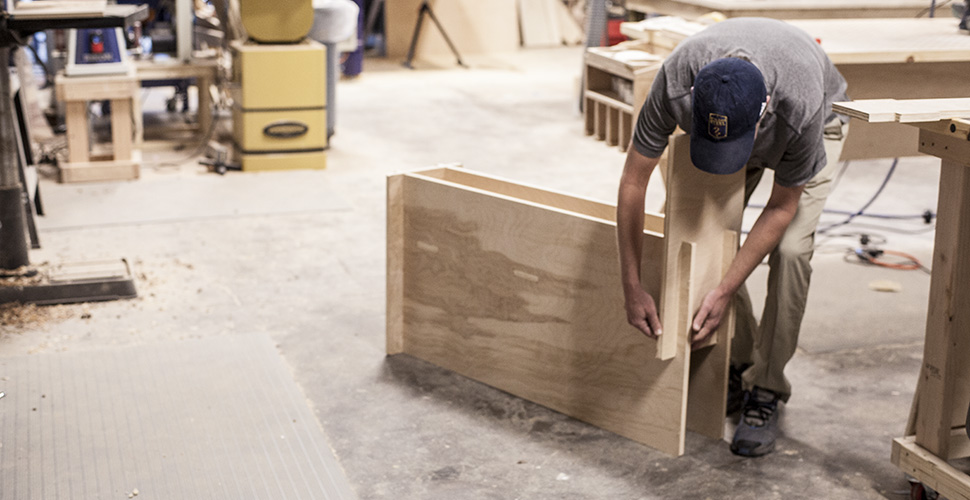 In quick succession, Lester, Brown, and Repaal were able to create simple slide-and-lock furniture to be used for their events. They were able to accelerate their work by using existing designs from a national organization called Better Block. Better Block has a Wikiblock link that offers open-source design files for mobile event furniture. Using these files as a foundation for their work, Repaal cut the furniture on a ShopBot, making modifications to the designs to speed up production and reduce material waste. Within only a few weeks (from initial conversation to final installation), West Side Grows Together furnished a pop-up block party on the 1500 block of 4th Street.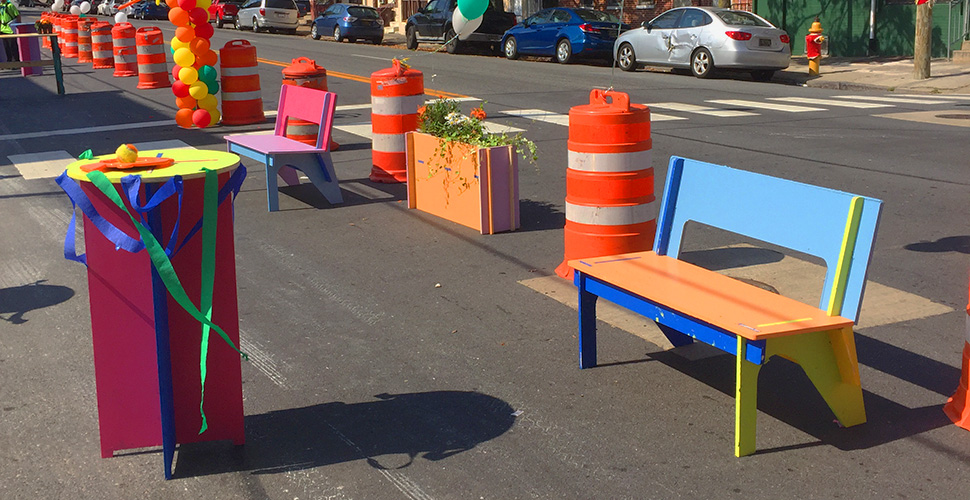 Creative Growth
In addition to the local community support that these partnerships provide, the community itself is very welcoming to outside talent. Encouraging and fostering local talent is an enticement to creatives from outside of Wilmington.
Dr. Gray adds, "I think the future for our creative community is going to focus on growth. Specifically, the growth of creative individuals that are already here. They will hone their crafts and grow the community by meeting other creatives and creating exciting collaborations. This growth will make Wilmington a destination for creatives from the entire region and beyond. We know that having NextFab in Wilmington only rounds out our entrepreneurial ecosystem and adds to Wilmington's attractiveness for entrepreneurs who are looking for a city in which to get their start."
In support of those entrepreneurs, NextFab Wilmington has an expanded incubator program. Todor Raykov, NextFab's Venture Services Manager, comments, "Aside from providing the incubated companies with access to tools and equipment, we are also working on bringing partner organizations and external experts like patent attorneys, marketing professionals, contract manufacturers, and successful startup founders to our spaces. We are doing this successfully in Philadelphia and we hope to replicate this model in our Wilmington location too. The goal is to connect the entrepreneurs working out of NextFab's locations with the resources they need to grow their business, hire local talent, and stay in the region."
Wilmington's Future is Bright
"Only six months after opening our doors, we have over 120 members," says Laate Olukotun, NextFab's Director of Marketing. "We're so excited to see that our collective vision of a vibrant community in the heart of Wilmington's Creative District is becoming a reality."
Are you interested in partnering with NextFab Wilmington? Are you looking for a little inspiration before you get started? Do you want to come in for a tour? There are millions of ways of participating in our community – from attending a Show & Tell event, to taking your first 3D printing class. The Future of Making is yours to create. We can't wait to see what you choose to do.
Sign-Up for Our Newsletter