Meet Our Monthly Maker: Erik Curtis
Website: Encurtis.com
Instagram: @encurtis
Tell us about yourself
I am a woodworker and sculptor who enjoys blurring the lines between fine furniture and art.
What's your educational background?
I earned a BA in religion and philosophy from Eastern University in 2009. I attended the 9-month program at the Center for Furniture Craftsmanship in 2012.
What do you make/what are you currently working on?
Most of my furniture is carved or shaped in some way, focusing on line and movement. Whether that's a cabinet door, a box lid, or a table leg. Sometimes the entire form is carved, such as a twisting pedestal base for a dining table. Currently, I'm working on a commission for a coffee table and light fixtures using resin as a sculptural medium.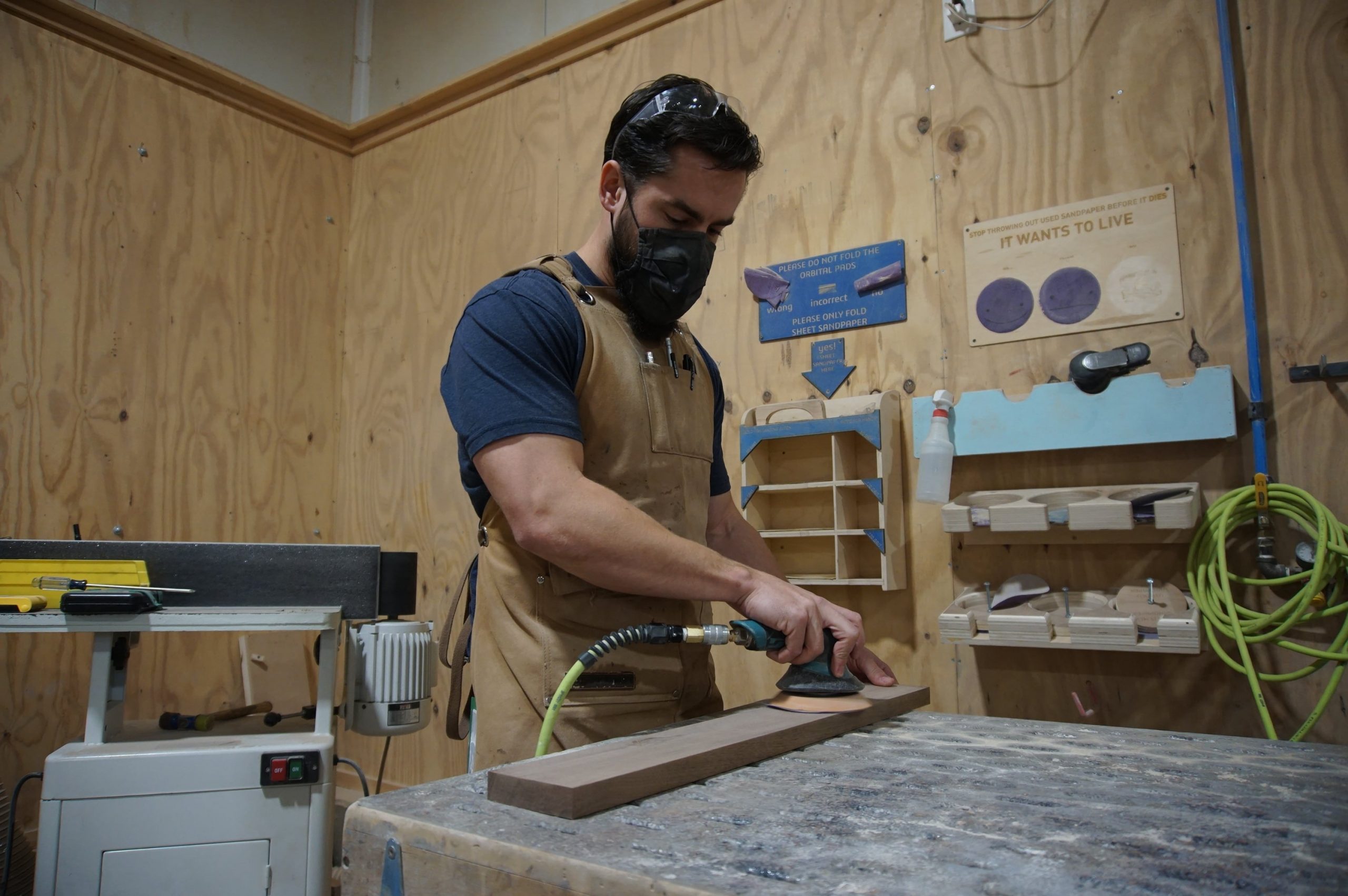 How did you come up with this idea/how did you get started?
Most of my ideas are discovered during my long walks around Philadelphia. Whether it's a philosophical concept that I want to express visually or a simple exploration of technique or material, once the idea is discovered I discuss it with the client before starting drawings and models.
What's the story behind your business's name?
ENC are my initials!
What's the hardest part?
Of being an independent artist? Developing long-term relationships with clients that value your work and will keep you fed and warm. It's not hard work, per se, but it does take a long to develop a client base that you are happy to work with and who can support you.
What are your goals?
I would love to make large installation works someday. A series of pieces to help beautify the city of Philadelphia. Work that everyone can feel some ownership over. Beautiful objects and spaces do not belong only to the wealthy and helping to beautify our city is one small way that I can contribute to the greater good.
What inspires you?
People inspire me! Their kindness. Their toughness. Their perseverance. The struggle of being human is timeless and deeply profound. You can express things visually that transcend language and connect with people all over the world. We have triumphs and failures and heartbreak and joy. Those universal human experiences inspire most of my work in one way or another.
What's your most rewarding memory?
I was working on a speculation piece. A small breakfast table with a carved base. The goal of the piece was to make a piece of furniture that invited the viewer to walk around it 360 degrees. The day I finished it, somebody walked into the community shop where I was working. I was across the workshop so he didn't say a word to me, but he approached the table, stopped for a moment, slowly walked around it in a full circle, smiled, nodded, and continued on his way. I knew then that I had succeeded in exactly what I set out to do. It was the first large piece of sculptural furniture I had ever made.
What makes your business unique?
About half of my business is making content on social media. It's an odd mix of speculation work for companies and commission work for clients, but it's a balance that works wonderfully for me.
View this post on Instagram
What machinery/shops do you often use at NextFab?
I'm a woodworker by trade, so I spend most of my time in the wood shop. The table saw and the bandsaw are the two most utilized machines in my work.
What advice would you give to aspiring makers?
Don't go full time too soon! This may sound counter intuitive, but get a job that you enjoy that helps you to develop your skill and knowledge base. Work on your portfolio outside of work hours. Take your time. Focus on mastering your craft first, lest you fall into a mad dash of paying bills rather than actually being excellent at what you do. Clients will come. Money will come. But you have to be excellent at what you do so you stand out.
What is your favorite part about NextFab and why?
The community! The other makers I've met have been warm and welcoming, generous with advice, and always happy to offer feedback and critique in needed.
What's next for you? 
The plan for the next year is to broaden my partnerships with companies and begin to take on larger commission work.
---
Create your own making story here at NextFab. Tour any of our three makerspace locations today, by reserving your spot here.
Sign-Up for Our Newsletter