Monthly Maker: Kate Leibrand of TWEE
TELL US ABOUT YOURSELF
I have my MFA in Fine Art and am a former preschool teacher who was always looking for new things to create. About three years ago I tinkered with a sidewalk chalk recipe, and it took over my life! I became obsessed until I had a perfect recipe, and then I thought "why not make it look like a donut?" I founded TWEE, a company that makes handmade sidewalk chalk and now sells all over the world.
WHAT ARE YOU CURRENTLY WORKING ON?
TWEE makes sidewalk chalk in all kinds of crazy shapes- donuts, pizza, sushi, unicorn horns, planets, you name it! Everything is hand poured into molds, then decorated, then packed. We are currently working on a new design that will be available in November- fortune cookies!
WHAT'S THE HARDEST PART?
The hardest part for me is harnessing creative juices and making them work efficiently in the business world. There's so much I want to do, I have to remind myself to focus and work towards specific goals and deadlines that will benefit TWEE.
WHAT ARE YOU GOALS?
My main goal is to learn as much as possible through this process- I never thought I would be utilizing skills like 3D design and animation in a chalk business, but I am! The possibilities are endless.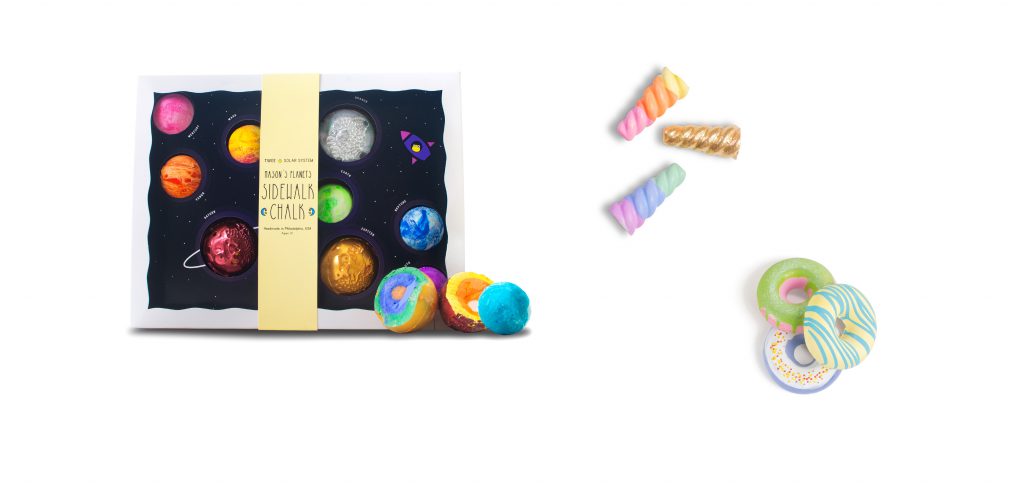 Sign-Up for Our Newsletter