Electricity was pulsating through the air at the Fall 2019 RAPID Hardware Accelerator Graduation on the night of Thursday, December 12th, 2019, and it wasn't just from Kovarvic's CALM brainwave stimulator. More than 300 people milled excitedly around the Venture Cafe throughout the evening, networking and learning firsthand how each of the four featured devices worked as they sipped craft beer and snacked on pizza.
NextFab bills itself as "a network of collaborative makerspaces," and every presentation reflected that sentiment. Thrivo's LJ LuBow, and Daniel Couser of Kovarvic spoke especially passionately about how NextFab allowed them to be in close proximity with other makers, which gave them the ability to network, experiment, and use the tools, expertise, resources, software, and equipment available through the RAPID Hardware Accelerator.
For the past twelve weeks, four teams – Alternate Devices, Kovarvic, Strella Biotech, and Thrivo – have experienced "supercharged progress" and continued expansion under NextFab's accelerator. LuBow expressed feeling "as if everyone from NextFab is on our team".
"We are very grateful to Venture Café Philadelphia and the Science Center for providing the venue for the 2019 Fall RAPID Hardware Accelerator graduation showcase. Their records showed us that over 300 people participated in the various office hours and workshop sessions, and spent their afternoon/evening with the startups graduating from our program," said Todor Raykov, Venture Services Manager at NextFab, who runs NextFab's accelerator.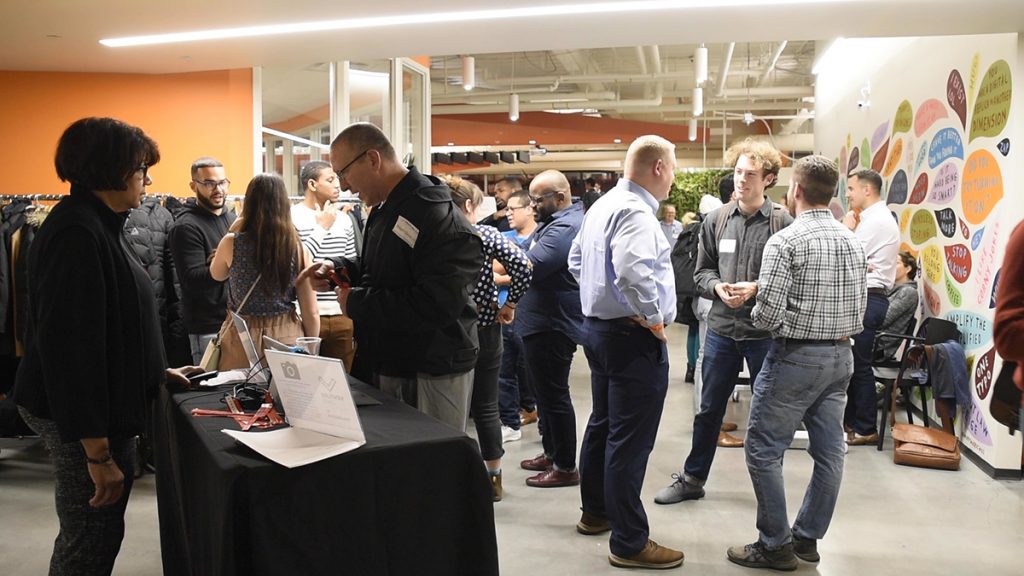 Accessibility for All
"It translates user intention and movement into action." Derek Yerger, founder of Alternate Devices, needed a solution. His hands and one arm rendered ineffective after an accident, Yerger realized how typical devices are not accommodating at all to the more than 20 million people with disabilities living in the United States. Alternate Devices arose out of the need to knock down the barriers to independence placed upon people with upper limb disabilities, including amputated limbs, and conditions such as Bell's Palsy and tennis elbow.
 Yerger's Vectis is a streamlined universal device with a wide range of technological applications. It acts as a computer mouse replacement, and is ready to use straight out of the box, requiring neither advance setup nor extra configuration. This will prove invaluable to both people with disabilities and the occupational therapists aiding them. NextFab's RAPID Hardware Accelerator program allowed Yerger to attend workshops for equipment and business development, and the NextFab Contract Services team provided a holistic overview on how to build a hardware product. He made connections with Inglis – a rehab facility – and Temple College of Public Health, won the Monroeville Maker Award. In a huge step forward for Vectis, Comcast has turned to Alternate Devices when looking for device accessibility. As the company moves toward becoming accessible to all of its users, regardless of dexterity, they have been searching for solutions to ensure that everyone is able to use their products, and Alternate Devices plays a role in learning how to establish best practices and set them in motion.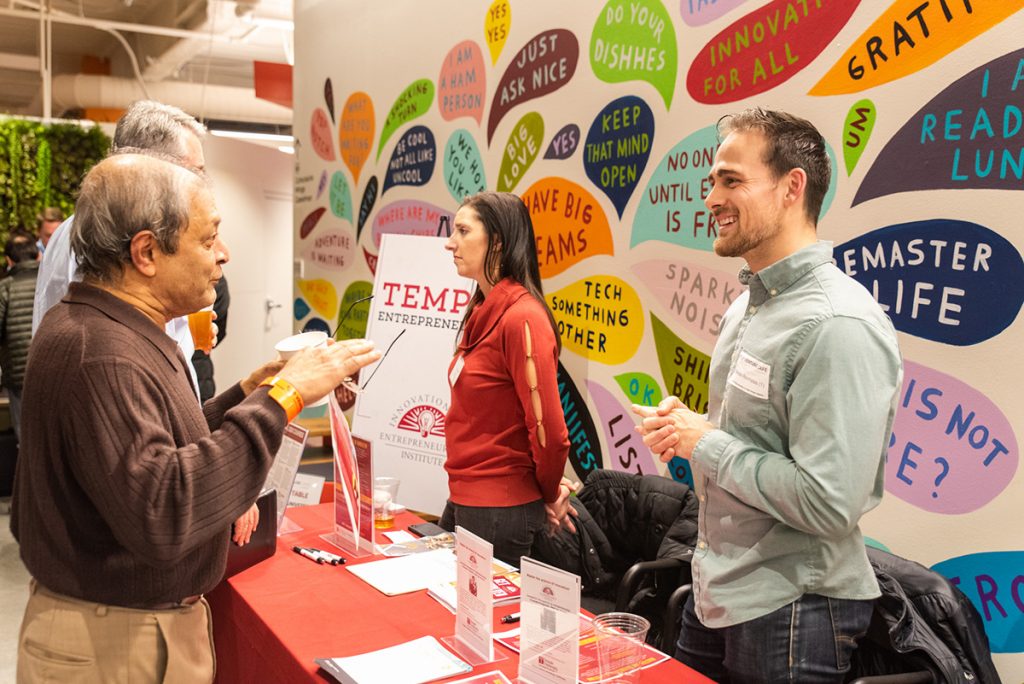 Keep CALM and Carry On
Daniel Couser grew up with a close friend whose life was ruled by his anxiety, which led him to develop CALM, a self-deployed pulsing, brainwave-stimulating tool to de-escalate rising stress. The "machine-to-brain" delivery method of his "general wellness device" can adapt to the specific needs of each of the 40 million people – a whopping 18% of the population – in the United States who suffer from anxiety, giving this user-friendly machine the ability to become a household good. According to Couser, he invented CALM so that "millions of people will never have to worry about rising stress interfering with their lives again." A winner of the Temple University Fox School of Business Institute of Entrepreneurship and Innovation's Idea Competition and Be Your Own Boss Bowl, Couser appreciated the accelerator's approach to giving participants everything they could need under one roof. He was able to utilize the equipment present at NextFab to implement and physically create his design, along with the brainpower, funding connections, and innovative resources accessed throughout the duration of the Accelerator.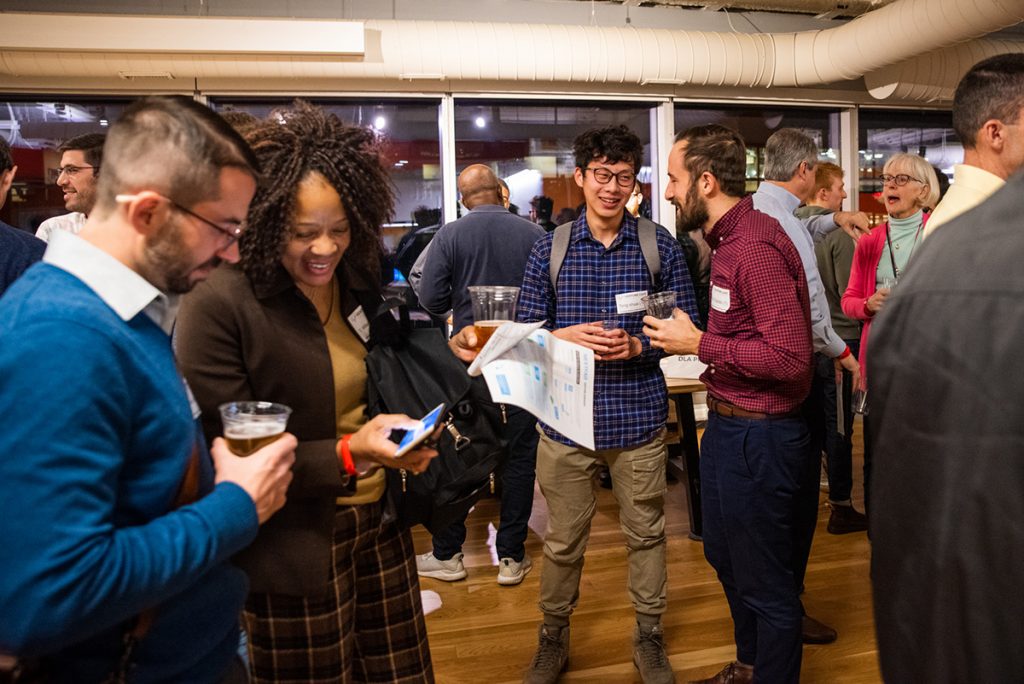 One Bad Apple No Longer Spoils the Bunch
"Our efforts have been fruitful," joked Strella Biotech's VP of Engineering, Zuyang Liu. Strella's Head of R&D, Malika Shukurova, discussed in her rapid-fire description of their high-tech produce pallets, how the fruit we buy in the grocery store might have been picked over a full year ago. Unlike ordinary pallets, which either use faulty methods for determining fruit ripeness, or don't measure for ripeness at all, Strella Biotech's pallets continuously detect changes. Strella was able to help one company save $600K worth of produce from spoiling – and that was in just one of the ninety rooms of a typical produce packing and storage unit!
Packers tend to experience 10-14% profit loss from overripe produce spoilage in storage, but Strella Biotech's pallets have sensors which can determine longevity and shelf-life of produce, and provide actionable data for the packers. NextFab provided business and creative resources, including the technology necessary to create the hardware and to optimize the pallet design for lower-cost production. The Strella Biotech team also received critical funding from the investors they met during the Accelerator, both at the Accelerator's Happy Hour in October, and throughout the program.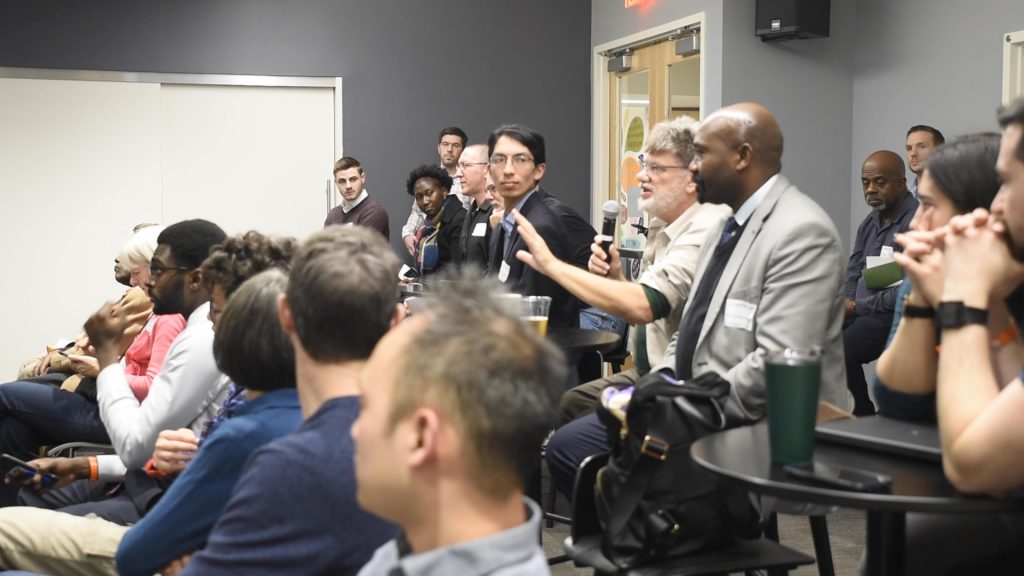 Hair Today, Dye Tomorrow
Seemingly the accelerator's outlier team, no one expected a group of guys to come up with an idea for hair salons. But, after Thrivo founder LJ LuBow saw a hole in the market (and a way to fulfill a need), he took it. "One of the only robotics systems that increases jobs", Thrivo's ability to mix hair dye thirty times more accurately than the current hand-mixing process allows salons to save money twofold – by not wasting hair dye, and by freeing up precious minutes per dye job to give hairdressers the chance to provide greater customer care. The robotic system allows salon workers to use only the exact amount of dye needed for each client, and provides consistent color every time.
Beginning in stealth mode at NextFab, LuBow and his team – consisting of multiple family members, including his brother and wife – were convinced after two years to join the accelerator. Since engaging with the 2019 Fall RAPID Hardware Accelerator, Thrivo has been able to speed up their design process, and "articulate [Thrivo's] mission statement down to something 'Steve Jobs-ian'". First place winners of the Alpha Lab Gear Pitch Competition, Thrivo fights to combat the 20% ($17K) annual loss that hair salons experience. Taking only seconds to mix dyes, their machine is accurate down to 1mL, and seamlessly replaces and shortens the long hand-mixing process that has been the go-to method since the 1970s. A benefit of Thrivo over similar devices is that salons can continue to use the same dyes, so there is no learning curve other than learning how to mix dyes in the machine. Others require salons to use their company-specific dye in order for the machines to work, leading salons to throw out thousands of dollars-worth of dye during the transition.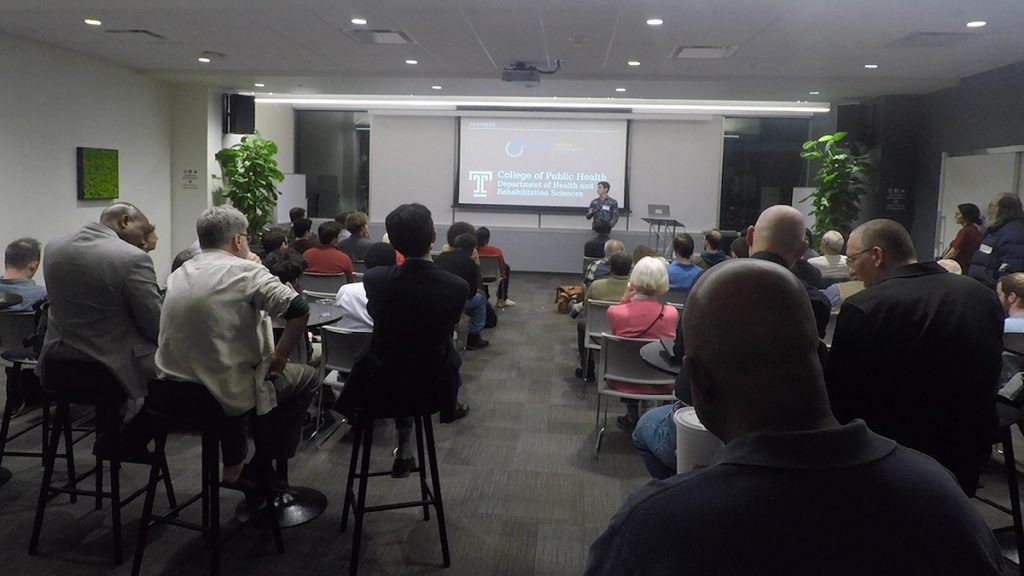 According to Raykov, "In addition to the four teams, we had some of the most active champions of entrepreneurship in our region exhibiting at the venue – DLA Piper, WSFS Bank, Temple University's Innovation & Entrepreneurship Institute, Ben Franklin Tech Partners, and Samtec USA. This made the event a true celebration of business innovation in the Philadelphia area and we are excited to support even more start-ups together with these amazing partners."
One constant current throughout the presentations – each team spoke about the growth involved in their next steps. All were searching for seed funding and testers, and are on the lookout for business partners and employees to expand their companies as they expand their impact.
---
Want to be a part of the next cohort of RAPID superstars? Sign up for the Spring 2020 RAPID Accelerator here, and watch your dreams become reality.
Sign-Up for Our Newsletter