The NextFab North Philly location is officially moving to 1800 North American Street in Spring 2020, after closing up the current location on November 30, 2019. Why is this happening? NextFab founder and president Dr. Evan Malone explains the reasoning behind moving and expanding our new North Philly location:
"Fundamentally, NextFab's mission is to help you make a living doing what you love – creating things. Our South Philly location was for many years our only location, and supported all types of creators, but since the addition of business incubation and the RAPID Hardware Accelerator program, NextFab South Philly has focused predominantly on fostering growth in our tech community.From its start, our North Philly location has specialized in supporting artists, artisans, and craftspeople, many of whom aspire to or are already selling their works. To support these dreams, my vision for the new NextFab North Philly is 24,000 square feet of space, purpose-built to serve artisan professionals, with expanded departments, large reconfigurable production space, and both rentable private workspaces and rentable storage spaces. In 2020, NextFab will also be launching RAPID for Artisans, an accelerator program specifically for artisan professionals." – Evan Malone

Our new RAPID for Artisans program will provide the resources, tools, community, and space that will allow artists to enrich and grow their craft into a sustainable business practice, and possibly transition into it full time. In addition to the expanded departments and rentable workspaces, this new space will have memberships with access to tools and equipment across all departments, an on-site parking lot with adjacent public transportation,  increased programming and event space, and creative partners and tenants.
The new North Philadelphia location will become a critical component in the redevelopment of the American Street corridor, which is currently undergoing roadway resurfacing, landscaping and the addition of bike lanes. One of the key features of the American Street opportunity zone is the tax breaks for local small businesses, aiding in the budding neighborhood artisan community. As the neighborhood develops, NextFab is striving to be an example of the potential of the American Street Empowerment Zone to generate economic growth through programming and initiatives in targeted areas. 
Meet the Team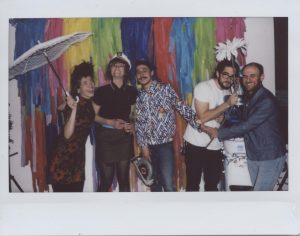 Melissa Guglielmo: Location Manager and Jewelry Supervisor
Our North Philly location will continue to be run by our current North Philly team of expert educators, led by Location Manager and Jewelry Supervisor Melissa Guglielmo. She has been running the 1227 N.4th location for the past five years, while assisting beginner and expert jewelers as they expand their practice, with many turning it into a full-time passion.
"I went to art school for crafts. Beyond solidifying my eternal love for glitter, my crafts background has brought me to working with many materials and processes. I am a true believer that there is craft in everything and that anything is possible. I joined the team at NextFab to develop the Jewelry Department and I currently manage our North Philly location. Building out 1800 is the largest and longest term project that I have contributed to, and I am thrilled to see all of the influence from our community brought to life in this physical space. We are launching with the dream team and a vision of cotton candy sunsets – let's make it shine!"
Kelly McGovern: Textiles Manager
Kelly McGovern, Textiles Manager and all-around expert at North Philly, comes from a vast background with experience in everything from sculpture to welding to photography. She brings to NextFab a passion and zeal for helping every maker launch their ideas to fruition, and is eager to bring that same level of excitement to the new location.
"My name is Kelly, I'm the Textiles Department Manager here at the North Philly NextFab. My background is in sculpture and I have my Masters in Visual Studies. Though I teach the textiles and welding classes here, my personal work is primarily in photo and collage-based art. I have shown my work in galleries all over the US and some in the UK. NextFab has been an incredible space to learn, work, and grow and I am HYPER STOKED for the new work our members will be making there. I am most stoked, however, for the new textiles studio and the possibilities the new equipment will open up."
Ben Fries: Community Manager
The new location staff will also include Ben Fries, Community Manager. Given Ben's diverse education and training, he will be focusing on fostering the same collaborative spirit of the current location, while welcoming new artisan entrepreneurs.
"I am a native Philadelphian and this city has taught me a lot about hustle and heart. I bring this to what we do, and I believe if you make it here, you can make it anywhere. What gets me going is the satisfaction of learning new things, and with the variety of projects that come through the shop, there is never a shortage of exploration. Before NextFab, I went to Temple for audio/video production, and after graduation I fabricated projects for an architectural metalworking company and joined a band. I am proud to support the ideas and life that exist in this space and I know the new facility will only further our ability to execute and deliver for the community. I look forward to welcoming our old friends and meeting new ones. See ya there!"
Matthew Malesky: Implementation Manager
Matthew Malesky, our Implementation Manager, has been the driving force and the sound visionary for creating and building two out of three of our NextFab locations, and this role is no different with building the 1800 location. Although coming from a similar creative background to much of the staff at NextFab, he combined his experiences to fuel the 1800 project.
"Over the years, we have been developing our facilities, working to build spaces where people can come to learn and thrive as artists, designers, entrepreneurs, and more. When I first started at NextFab, looking to teach woodworking processes, I could not have imagined that I would have such a close role in the development of our spaces/facilities. However, I am honored to have this opportunity. I am especially excited for our new facility, which is the result of our own members feedback, as well as a long study in what will allow our community to thrive. Originally from rural western PA, I moved to Philadelphia to attend The University of the Arts, where I received my BFA in Craft: Woodworking. I have experience in custom and production furniture making processes, as well as a general interest in problem solving."
Tim Burns: Technical Supervisor of Wood Processes
Tim Burns, Technical Supervisor of Wood Processes and additional all-around expert, is the go-to when it comes to troubleshooting ideas, or the positive reinforcement of members' across-the-board ideas. 
"Hi, my name is Tim and I started here at the fabulous Fab three years ago when I migrated from the frozen pine forests of Maine with the hopes of discovering a community of makers and weirdos with interests as far reaching as my own. During my formative years I studied art, music and woodworking, with a focus on undertaking large and far-reaching projects. After finding NextFab, my heart burst with the glory of realizing the true reaches of possibility and I was soon on my way to becoming the maker I had always dreamed of. I look forward to fostering the brilliant minds that walk through our doors everyday and continuing to add to my abstract skill set."
Culligan the Water Cooler: Hydration Specialist
Rounding out the team is hydration specialist and unofficial North Philly mascot, Culligan the Water Cooler. He first started his residency in the lobby area of the 1227 N.4th location years ago. As the community grew, it was a common occurrence for members and staff to gather there, and "talks around the water cooler," became a key value to the growing number of members. It wasn't long before staff and members alike concluded that Culligan was part of the family. He is equally charged to hydrate the new location and all of its occupants.
Meet the 1800 tenants
Our team at the new North Philly location is fundamental in driving our artisan focused entrepreneurial vision. With their individual and group passions, they're helping to lead our charge of supporting economically motivated and collaborative makers. This mission not only applies to our business of providing access to tools, space, education, and business resources, but also to growing demand for locally crafted, artisan goods. 
By developing a collaborative ecosystem of craft-focused businesses, maker resources and complementary services, we aim to trademark the 1800 North American building in a similar fashion. The tenants in the building have joined that same charge, motivated to deliver a similar set of creative resources and values to the Philadelphia region, both sustainably and collaboratively.
The Resource Exchange 
The first tenant to move into the new location was The Resource Exchange, a nonprofit reuse center that promotes creative reuse, recycling, and resource conservation by diverting valuable materials from the waste stream and redirecting them to artists, builders, educators, and the general public. NextFab saw the perfect opportunity to partner with Resource Exchange after they moved in last September, by combining NextFab's tools and resources with their reclaimed materials and sustainable arts mission and programs, to help fuel our mutual sustainable objectives. We plan to build our community through shared programming, which has already started, with our co-hosted Making Materials Matter open forum last year.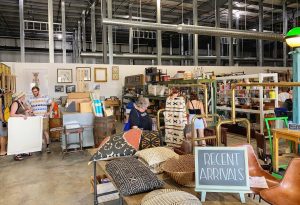 Sor Ynez
Sojourn Philly, familiar to many South Philly members through Cafe Ynez, will be opening its sister location, Sor Ynez, at 1800 North American. Featuring fresh juices, along with vegetarian and vegan-friendly Mexican cuisine with Aztec influences, Sor Ynez will fuel our community with its great food and beverages and outdoor seating area, and will act as the central hub of many partnerships.
Keystone Bicycle Co.
Keystone Bicycle Co. is a worker-owned full service bicycle shop, staffed by several NextFab members, that will be joining NextFab in Spring 2020. Through their years of combined experience in the cycling industry, their goal is to bring together a community of cyclists interested in riding, wrenching, and learning together. Focused on quality services, practical bicycle builds, and educational opportunities, KBC plans to be a hub for all cyclists in Philadelphia. With the common building and "getting their hands dirty" mentalities, KBC looks forward to working with the other businesses joining this community as well.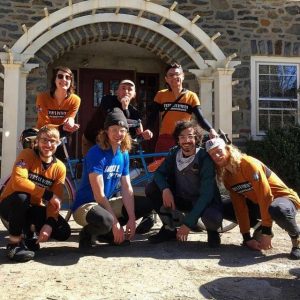 The Neon Museum of Philadelphia
Len Davidson has had a long and enlightening history with Philadelphia, and he's excited to bring that journey together with his Neon Museum of Philadelphia. For decades, he has fabricated new neon and displayed vintage signs, including Philadelphia staples, like the Pat's Steaks and the Reading Terminal signs. This historic collection will light up the halls of the new location, and Davidson is excited to bring the community together with his similar set of educational curriculum and creative resources, including neon programming with videos, and an art gallery and museum store.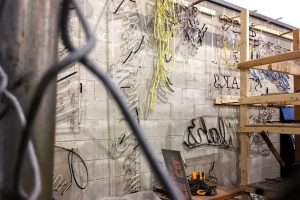 Beaty American
Beaty American, much like the Resource Exchange, drives a sustainable mission for reuse and repurposed materials. Owner Bob Beaty has focused a lifetime on hunting and preserving the architectural treasures he forges out of deserted buildings. This preservation of  the historic architecture of Philadelphia is the mission of Beaty American. Bob is incredibly knowledgeable about the Philly landscape, and he's excited to share this with the community at large. Along with his sustainable values, Bob is sourcing partnerships with non-profit work programs for the unemployed, returning citizens, and veterans.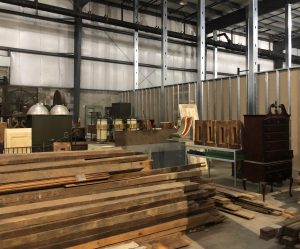 Destined Goods
Mark Brandon, proprietor of Destined Goods, is already a familiar face at the South Philly NextFab location, running his business out of the spaces and as a member. His mission is to make high quality, handcrafted items customized to provide you with a daily reminder of your favorite memories and objects. As an already central part of the NextFab network, Destined Goods is looking forward to expanding into the new space and sharing their knowledge of small-batch manufacturing with the community.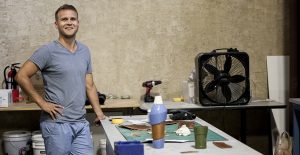 So what's next?
NextFab has officially closed its doors at 1227 N.4th Street in preparation for the big move to 1800 N. American Street, opening in Spring of 2020. During this time, equipment, furniture, and of course Culligan will be moved over to the new location. Some new faces might pop up at the South Philly and Wilmington locations, as members who predominantly utilized the North Philly spaces are heading to other NextFab locations to continue their making. During the interim, staff will be working hard to finish up the new building, coordinate with new members, and officially turn the lights on at 1800 North American Street.
---
Interested in learning more about the new location, renting a private workshop, or building your business? Subscribe to all our updates at nextfab.com/1800.
Sign-Up for Our Newsletter