RAPID Hardware Accelerator Ends 2018 with a Bang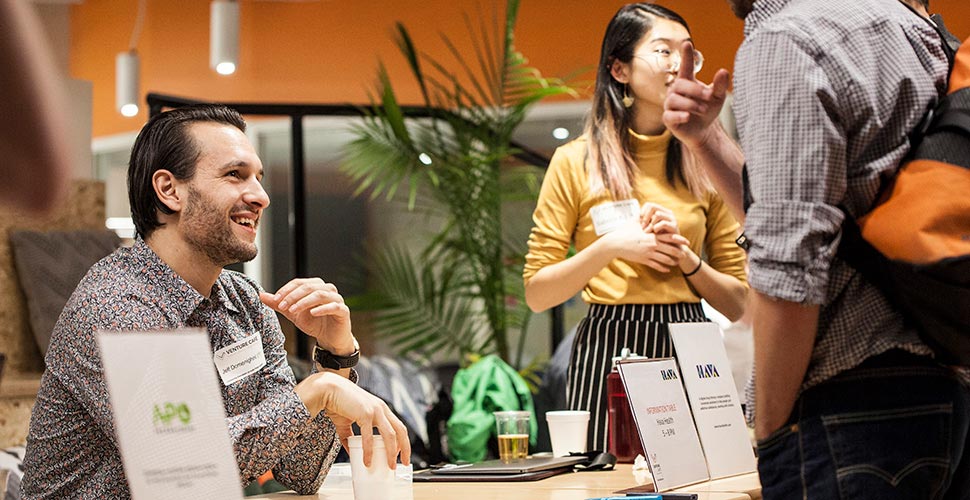 It started with four great ideas on September 6th, and finished with four great companies and prototypes three months later. NextFab's Fall 2018 cohort celebrated the completion of their program on December 13th at the Venture Café. This cohort is the fifth to complete the RAPID Hardware Accelerator program which began in 2016. In a nutshell, the accelerator provides consultation on product development, business coaching and pre-seed funding to startups. In a broader sense, it launches entrepreneurs into the dynamic startup ecosystem in Philadelphia through diverse networks and partnerships.
It's been exciting to watch the program evolve under the direction of Venture Services Manager, Todor Raykov. And it certainly has evolved. As I've observed (and blogged about) the program since its inception, I've witnessed its steady growth. The latest cohort represented that growth beautifully at the recent graduation. The clarity and professionalism of their presentations was truly impressive. The venue and event were a fun, celebratory way to finish out a great year for makers in Philly and an enticing predictor of the fast growing startup community in Philadelphia.
A Startup for Startups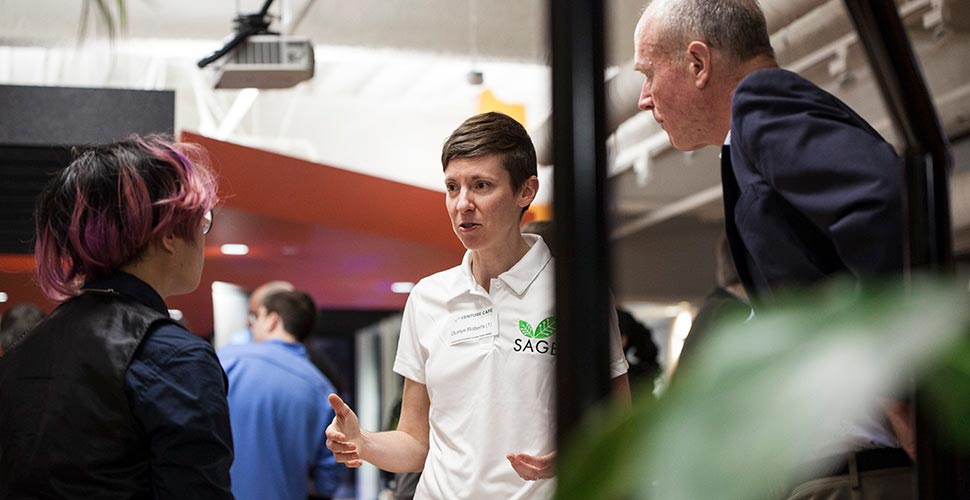 Todor reflects, "I've been fortunate enough to be a part of the RAPID Hardware Accelerator program since its inception in 2016. Back then I was tasked with development of the program from scratch and what better way to do this than to implement the Lean Startup and Customer Development methodologies popularized by Eric Ries and his mentor Steve Blank. We've been running RAPID as a startup since day one. We've worked hard to refine the program so that the teams can get the most out of it.
This cohort did an excellent job navigating the resources available at NextFab, and in Philadelphia as a whole. They successfully raised funding from various sources. With the great foundation they've built during the past couple of months, they are just getting started. We are excited to hear about their successes raising money and growing their teams in our region."
The Graduates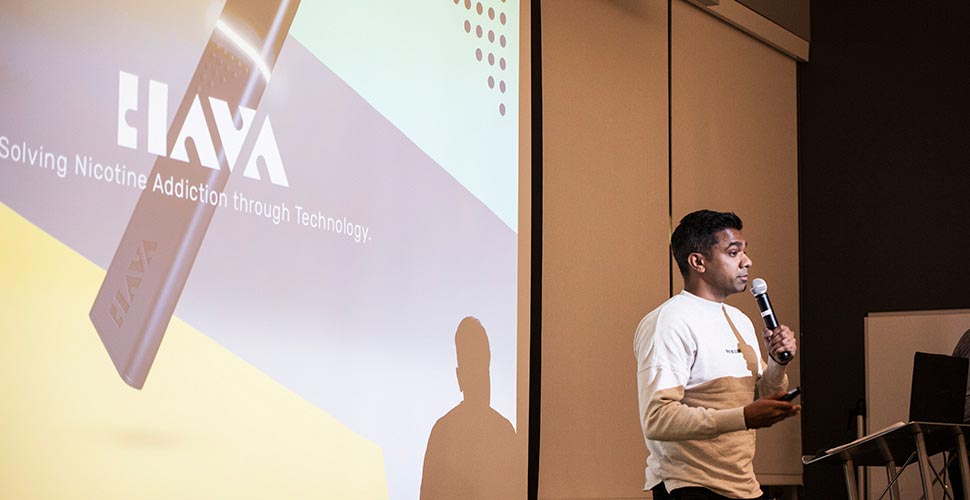 The four teams in the Fall 2018 cohort were APO Technologies, HAVA Health, Sage Smart Garden and Sublight Dynamics. Covering a diverse range of products and hardware development needs, each team really excelled in their areas. They developed hardware for addiction remediation, prosthetic limb calibration, gardening and gaming. The graduates also run the gamut from experienced entrepreneurs to first-time developers and business owners.
Josh Israel and Devin Serago, the team behind HAVA Health, have started and sold a successful startup in the past. The team of two brothers (Ben and Dan Stack) that are Sublight Dynamics are first time business owners.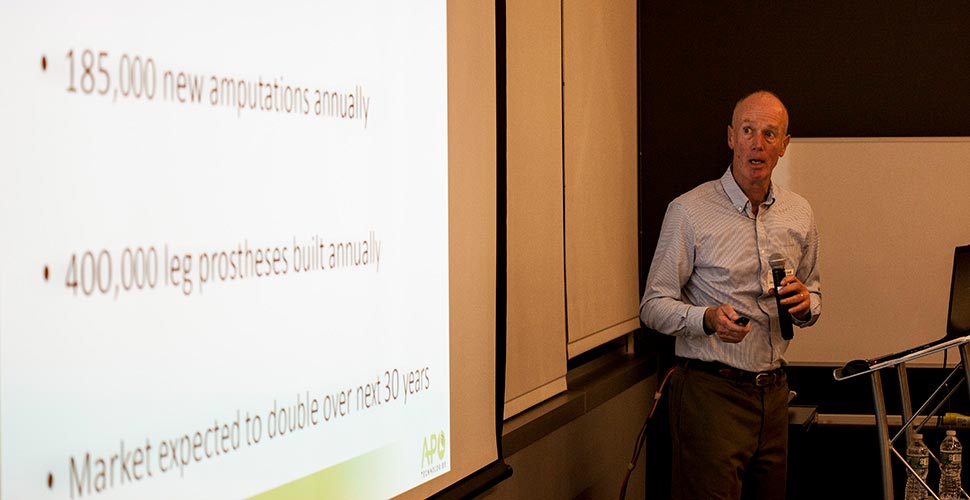 The huge crowd of attendees responded very favorably to the graduate presentations. One attendee, a Silicon Valley expat, said to me, "Philadelphia today feels like Silicon Valley did at the beginning!" This kind of excitement permeated the evening. The vitality of the Philly startup community was apparent in the graduate presentations and the attendee response.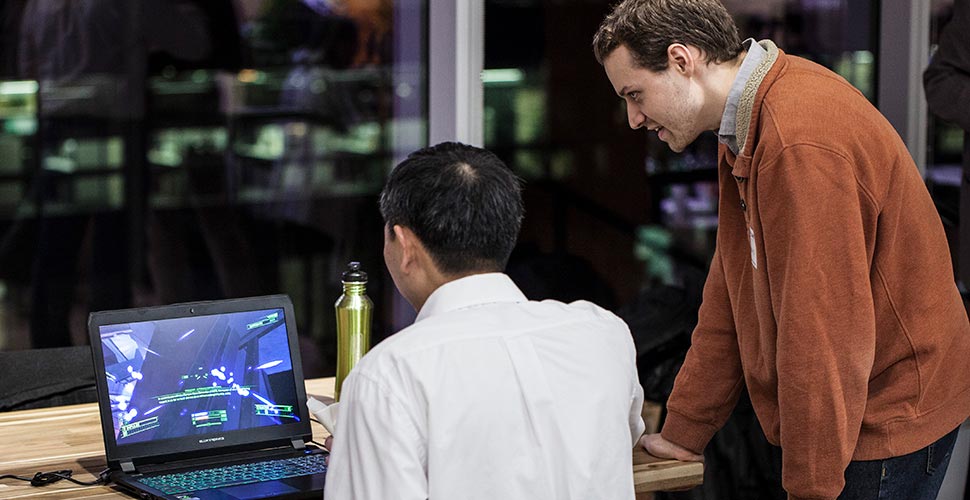 Venture Café
Marvin Weinberger is the driving force behind Philly's Makers Meetup and Maker Faire. He and Todor saw the opportunity to bring the RAPID Hardware Accelerator event to the Venture Café, in concert with the Maker Meetup. Venture Café is a non-profit networking hub with the mission of connecting, "innovators and entrepreneurs with high-impact programming and events."
The RAPID graduation event is usually held at NextFab and it was really nice to share it with the broader community via an off-site venue.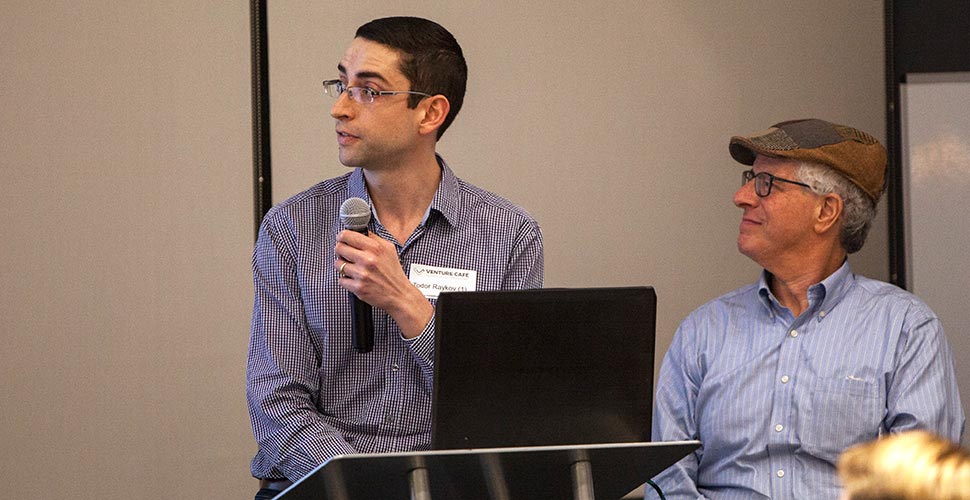 Todor relates, "The event went really well and we had more than 140 engaged attendees. We couldn't have been able to fit that many people at our main location at 2025 Washington Ave. Even at the Venture Cafe's larger venue, many people had to stand during the presentations because there weren't enough seats! Overall it was a great event and there was lots of positive energy! Most importantly, the startup teams had a blast!"
By holding the event in tandem with the Maker Meetup at a venue that draws a broader crowd, program awareness increases. Todor says, "Some of the attendees always apply for the acceleration program. They come to meet in-person with the NextFab team and our portfolio companies. That's always a smart move because there is no better way to understand what a pre-seed investor like us could provide to a startup team than go and talk with folks who have received funding and support from us."
RAPID in 2019 and Beyond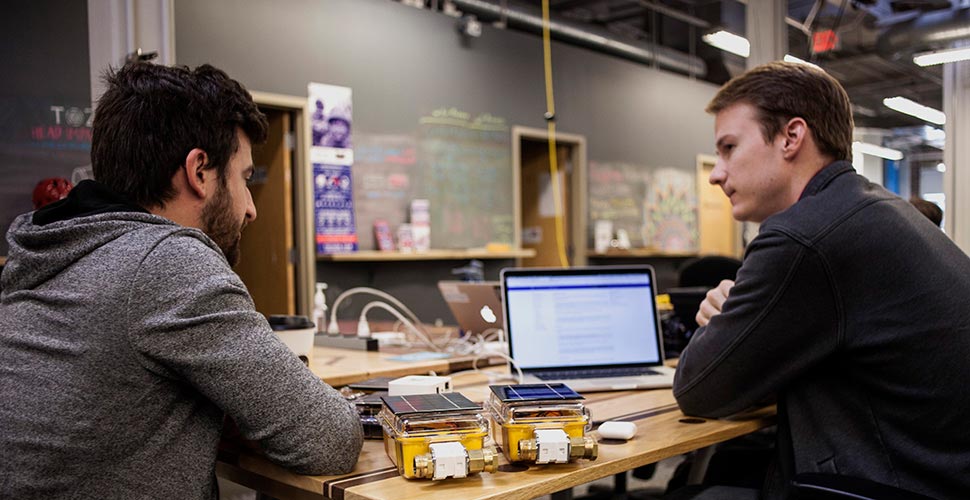 "In 2018, we worked extensively with local partners such as Ben Franklin Technology Partners (BFTP), the Small Business Development Center at Temple, as well as with mentor organizations such as Beacon and SCORE Philadelphia." Todor tells me,"We see these organizations as essential allies that could help us grow the startup community and keep its vibrancy alive for the years to come. We know that we can't deliver everything that the startups in our cohorts need to survive and thrive, but we can connect them to our network of partners and resource providers that can supply what's needed. For next year, our plan is to expands this network even further and make sure that the selected startups take advantage of the available opportunities."
Interested in NextFab's RAPID Hardware Accelerator? If you have a product idea but lack the experience or facilities to produce a viable prototype, it might be a great fit. In addition to top notch business incubation and prototype coaching, RAPID provides a host of benefits through networking and partnership opportunities. NextFab is taking applications now through February 15th. Accepted applicants will receive up to $25K in funding.
Sign-Up for Our Newsletter