Meet Our Monthly Maker: Troy Musto
Website: www.fishtownsigns.com
Instagram: @TXFishmonger
TELL US ABOUT YOURSELF
I love riding bikes and would call myself an active urban cyclist. Recently I purchased a custom cargo trike and have incorporated it into my business by using it to help promote, deliver and install signs. I can fit a 17' ladder in it! I'm a bit eccentric, enjoy collaborating with others and always have a sketchbook in hand. I like old school coffee shops and armchair philosophy.
WHAT'S YOUR EDUCATIONAL BACKGROUND?
I have an associate's degree in graphic design from the Hussian School of Art in Philadelphia, now Hussian College. I have also continued my art education locally by taking numerous classes over the years at the Fleisher Art Memorial and Studio Incamminati. Additionally, I've hosted numerous and sometimes scandalous life drawing events throughout the City.
WHAT'S THE STORY BEHIND?
I live in Fishtown and make fish signs, so my business name is fairly straight-forward. But honestly, a lot of it had to do with the domain name "www.fishtownsigns.com" being available. As for TXFishmonger, that's me diving into the deep end and committing to swimming with the fishes. I came up with the idea of making fish signs while recovering from cancer in 2018. I couldn't concentrate on my own art at the time, and I thought I could at least make the fish sign I had always wanted to make. So I made it, and I felt good, then I made another and another. Then one neighbor after the next wanted one. I realized I had a real business when a previous buyer put their house on the market without "my sign" hanging, and was not able to sell it unless the sign went back up and was a part of the sale.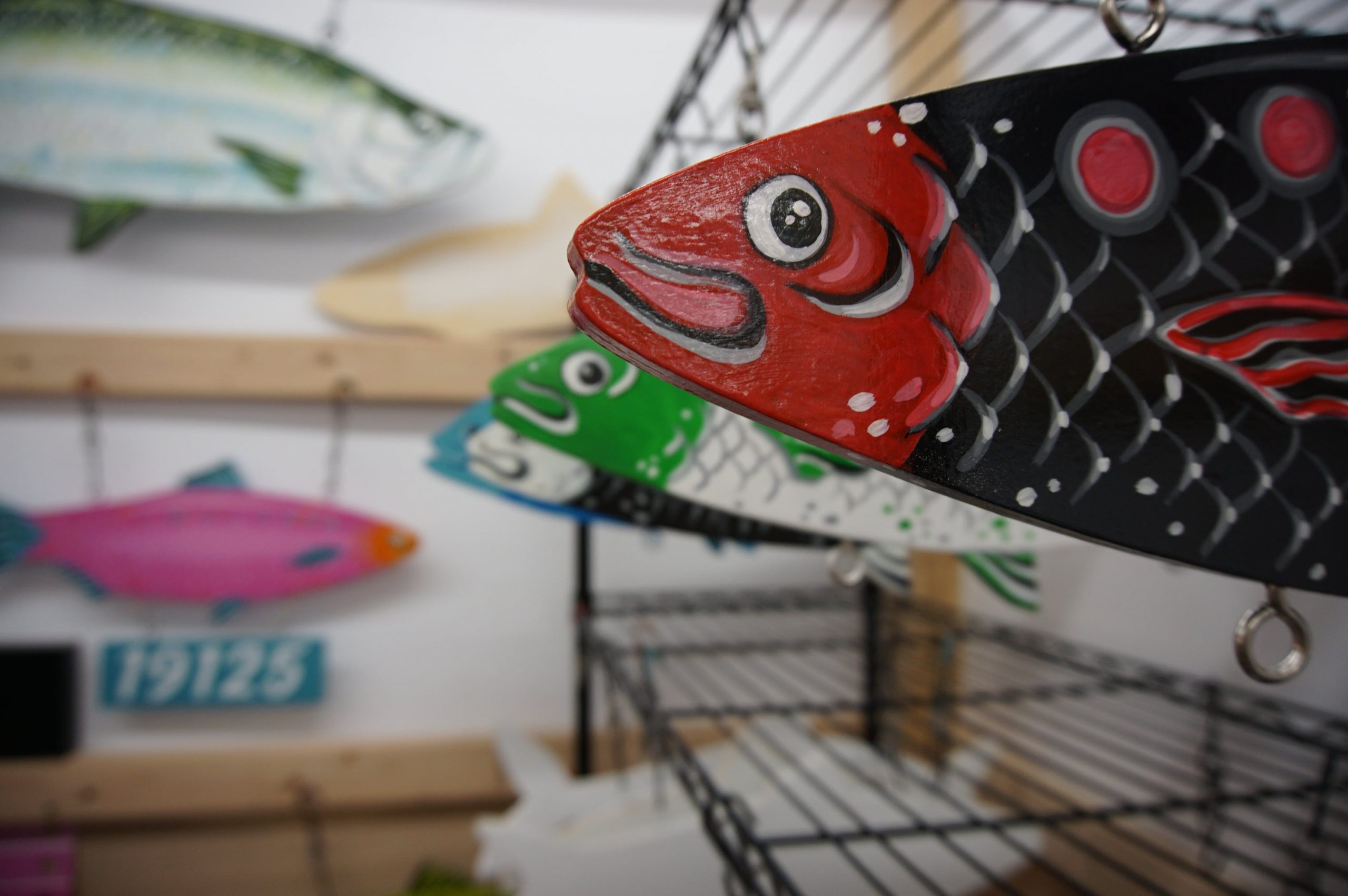 WHAT MAKES YOUR BUSINESS UNIQUE?
I work directly with individuals to personalize and in many instances create their own unique sign. For some new homeowners these signs have been a simple way to say "hello neighbors", for others it's been the final detail or splash of color to their new door or facade. I can match any sign to a specific color, and use high quality outdoor paints. I specifically make art sturdy enough to withstand being outdoors, but good enough to be hanging on a gallery wall… well some of it anyway.
WHAT INSPIRES YOU? 
My inspiration comes from the personal connections I make with individuals, but it didn't start off that way. The initial inspiration was simply wanting to be part of the neighborhood when I first moved in. I wanted to let my neighbors know that I loved it here and that I wanted to be a part of the community. What inspired me after that were those personal connections. Most of the signs I make come with a little story of how the person or couple came to be in the house, or why they chose these particular colors. I enjoy those challenges and I hope it shows.
My goals are to bring these Fishtown fish to market (pun intended). I've been sending them down the East Coast, and they are in every state from here to Florida. I plan on increasing production to meet the demands and share some of what makes Fishtown and its surrounding neighborhoods so unique.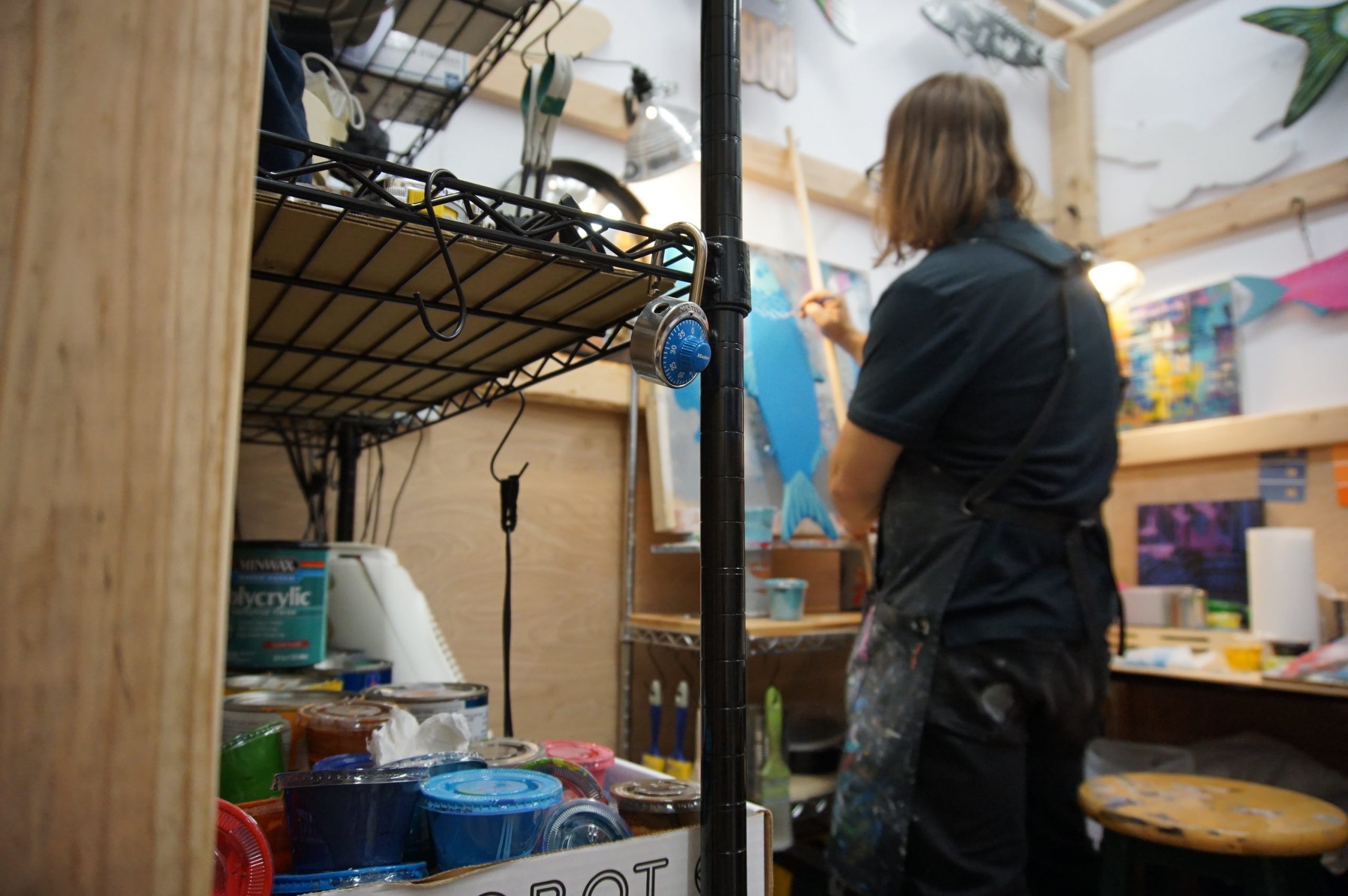 WHAT'S THE HARDEST PART? MOST REWARDING MEMORY?
The hardest part of Fishtown Signs has been setting up the business and managing administrative side of things while still keeping up with production. It's also been equally as challenging, if not more to keep up with the custom sign orders I've received. A few weeks ago I literally strained my elbow and neck from painting so much, I now have to do specific exercises so it won't happen.
The most rewarding memory is one that still happens regularly: it's the sight of little kids and babies looking and smiling at my signs and interacting with them.
On my block you can literally see and hear: "One fish, two fish, red fish, blue fish".
HOW HAS NEXTFAB IMPACTED YOU AND YOUR BUSINESS? 
I primarily use the woodshop and paint booth at NextFab. In the woodshop, I use the table and mitre saws primarily, but also a fair amount of time using the sanding equipment.
My favorite part of NextFab has been the connections I've made, both personally and professionally in such a short amount of time. I fit right in the makers' culture.
WHAT'S NEXT FOR YOU? 
The next step for me is getting the production up without compromising quality and work towards a healthy, sustainable and most importantly profitable business/art studio.
WHAT ADVICE WOULD YOU GIVE TO ASPIRING MAKERS? 
Come by my studio and let's make something together.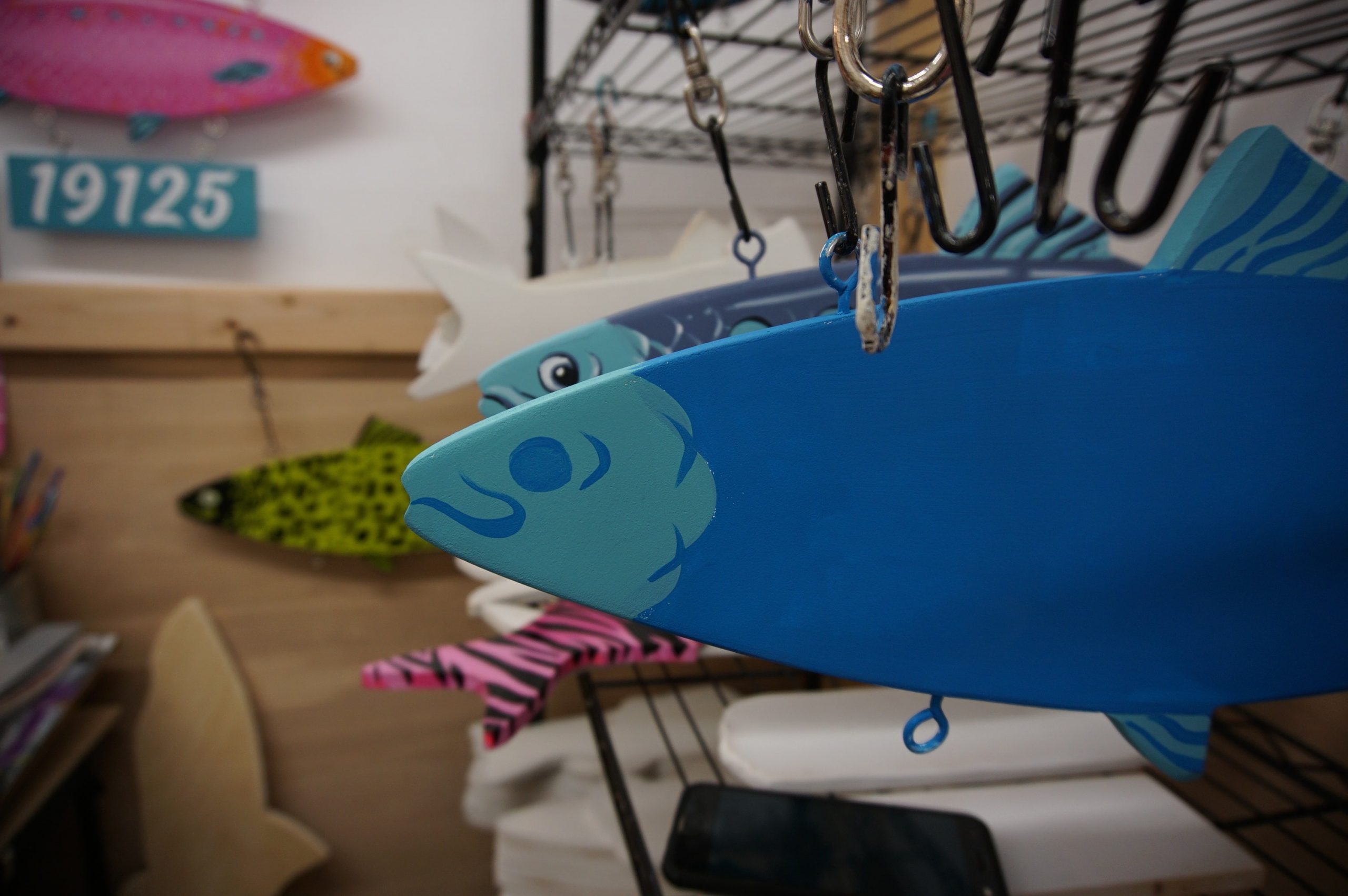 Sign-Up for Our Newsletter