Year One at NextFab Wilmington, In Retrospect
NextFab Wilmington opened its doors in June of 2017. It was the culmination of an incredible amount of vision and hard work. Looking back a year later, NextFab Wilmington has had a lot of successes. To celebrate these sucessess is to celebrate the incredible staff, inspiring members and a host of community partners that made them possible. In October, we will celebrate year one with the #OneYearInTheMaking community block party.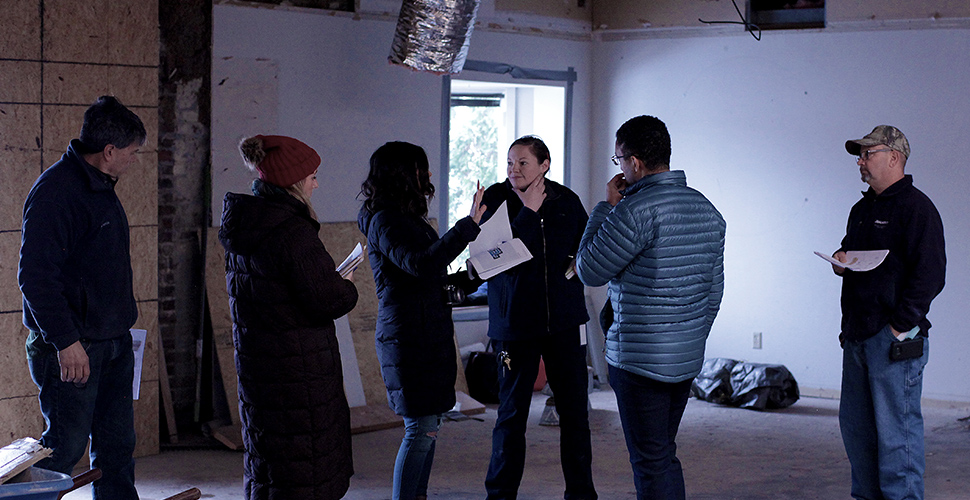 NextFab came to Wilmington at the request of the Wilmington Renaissance Corporation (WRC) and in turn, WRC provided the first batch of members. Through their Innovation Workshop, they brought 26 members to NextFab from day one. Continuing with that support through their NextMakerz program they sponsored another twenty or so members. Accordingly, many of these members have really become the core of the membership in Wilmington and some of the most inspiring success stories. WRC's Martin Martinez tells me, "One of our favorite success stories is that of Yemina Israel and her company, Addi Naturals. She started her hair and skin care product line out of her home and has now expanded way beyond what she thought possible thanks to our collaboration with NextFab on the NextMakerz project."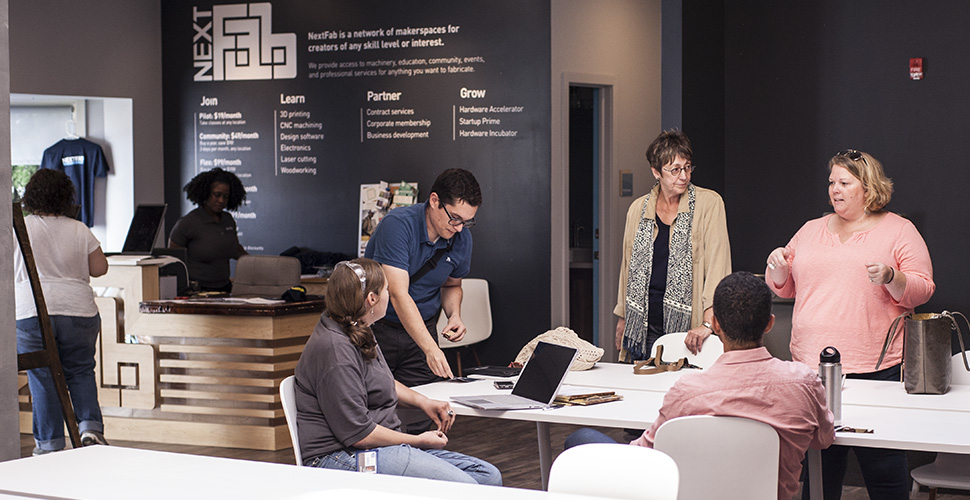 NextFab offers something special in the Creative District. Part of our mission is to create space where entrepreneurs and artists can produce and sell their creative goods and works. NextFab fits right into that aspect of our mission. – Martin Martinez, Wilmington Renaissance Corporation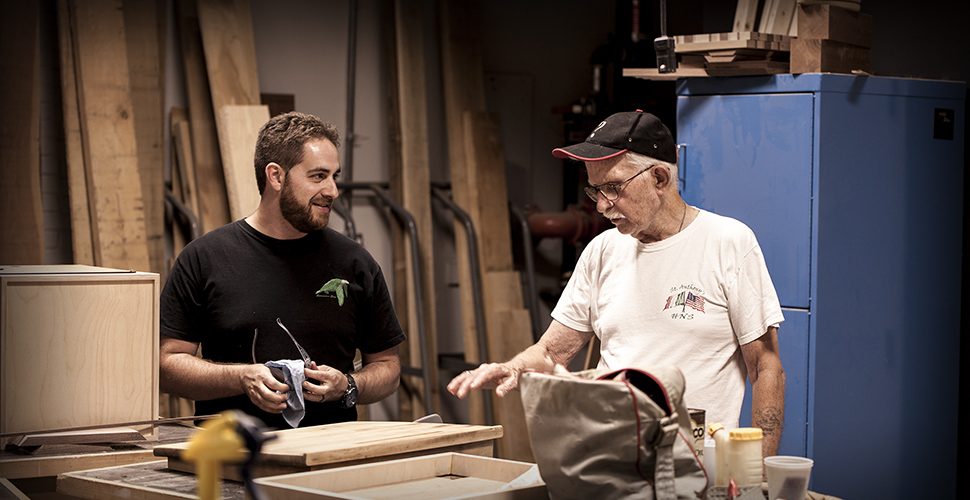 Year One Milestones
Valerie Kent, Assistant Manager and Community Coordinator, is the first smile that you see when you enter NextFab Wilmington. Her enthusiasm and affection toward the members are immediately apparent. She is a big reason that, as she puts it, members quickly become "part of the family" at NextFab. Valerie put together an event earlier in the year called Mind, Body and Soul which showcased members who run small businesses providing products that nourish the mind, body and soul. Valerie tells me, "The purpose of the event was for these members to tell the community, 'Here's my story and here's how you can do this too.' They were able to display what they made here and explain how NextFab has helped them." The event was well attended by an enthusiastic audience and helped to lay a foundation for future events.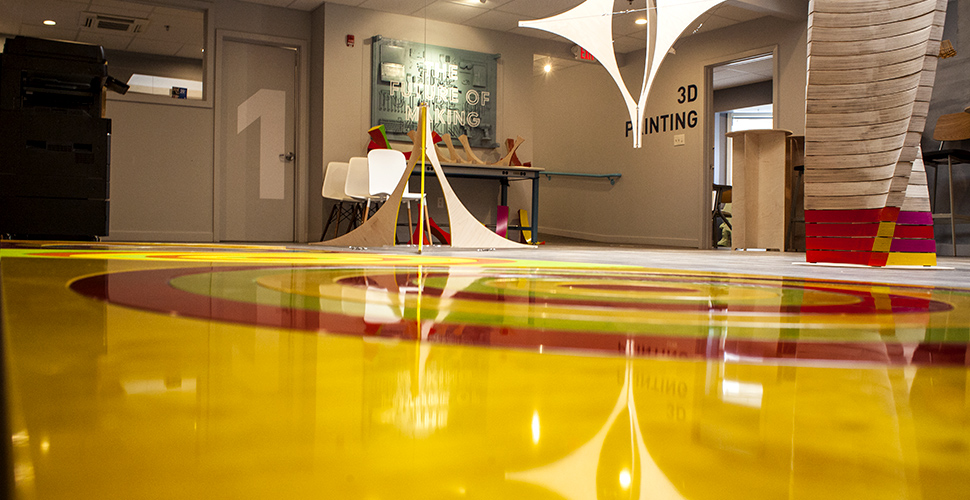 Wilmington Arts Community
Another connection to the community is NextFab's recent commitment to ArtLoop Wilmington. ArtLoop is a first Friday arts event that has been around for 30 years. NextFab's most recent opening showcased the work of member Dennis Beach, a highly successful local artist. Technical Supervisor Chad Repaal enthuses, "Dennis Beach has been a member from day one. I'd never met him but I knew his art and I've always loved it. When he walked through the door I was like, 'this is incredible!.' My favorite local artist and I'm mentoring him on machines! For our first showcase we wanted to get the biggest guy we could, and we got him, because he's a member."
Technical Supervisor James McGall adds that members in the arts community have really coalesced around NextFab. "It's a cool spider-web of people. A lot of our membership base is word-of-mouth, a member told this person about it, they told their friends and we end up with a membership that's very connected."
One Year In The Making – The Celebration
This October 11th, NextFab Wilmington will be hosting the #OneYearInTheMaking block party. The street-festival-style celebration will feature 3 local bands, a fleet of food trucks, local craft beer, interactive exhibits and even a puppy corner provided by the Delaware Humane Association. Eric Kaplan, NextFab's Director of Sales and Marketing, has been hard at work planning the event. Eric explains, "We are really celebrating the staff, the members and all of our partners. We wouldn't be here without Wilmington Renaissance Corporation (WRC) and support from the city of Wilmington, the State of Delaware, Creative District Wilmington, Delaware College of Art and Design (DCAD), Colonial Parking and others." In that spirit, #OneYearInTheMaking is truly a community affair.
It's really a chance to enjoy the work that we've all done and a chance to thank the members and community for helping us to grow here. It's definitely a huge thing for us to be celebrating! – Kate Brown, Wilmington Location Manager
In order to execute an event of this scale, NextFab hired marketing firm, Milk Street Marketing. Milk Street's, Ron Bauman, was an ideal person for the job due to his expertise in community based events. Notably, Milk Street has been responsible for orchestrating the hugely successful 9th Street Festival in Philadelphia's Italian Market. Ron tells me, "Eric's vision from the get-go was that this wasn't just a NextFab birthday party. It's a celebration of the revitalization of downtown Wilmington and NextFab's inclusion in the Creative District. The event has been so fun to put together because everyone in Delaware is so helpful, accommodating and enthusiastic. We're looking to really engage the community and make this an accessible public event."
Sign-Up for Our Newsletter